Since its founding in 1977, the Southern Nevada Junior Golf Association has been much more than golf. It's been a family and friend affair, and lifetime relationships have been built through the game of golf. The recent Monday Madness event at Topgolf Las Vegas once again affirmed the SNJGA's mission. 50 golfers participated in SNJGA's first social at Topgolf raising money to help support the many SNJGA's programs.  Each participant was treated to 3 hours of golf, dinner (to include the famous donut holes), a chance to win cash in the 50/50 drawing, most points competition and foot ball squares with the chance to win great prizes.
"This is what it's all about; being together, creating memories and helping continue the proud and rich history of the SNJGA," said Nicole Dutt-Roberts, SNJGA alumnus and Fund Development Manager.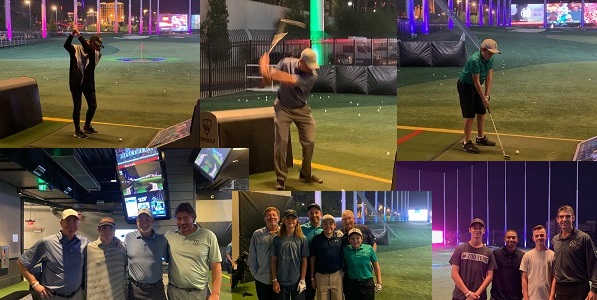 There were nine bays filled with friends and family competing amongst their group for the highest amount of points.  One winner from each bay was awarded prizes ranging from golf at Angel Park, Boulder Creek and Las Vegas National, one dozen Pro – V 1s and PGA Superstore Gift Cards.  SNJGA member, Bradley Bourne, used his expertise to dominate in the most points competition followed by several top competitors.
Bradley Bourne – TOP GOLFER at SNJGA's social at Topgolf fund-raiser
Additional winners
Tony Dazio
Sean Mulvenon
Chris McCullough
Andrew Hawk
Todd Kirby
Lew Carlson
Jason Weiland
Juliet Hebert
The exciting Packers vs. Lions Monday Night Football game did not disappoint due to the Packers come back to beat the Lions with a final score of 22-23.  Below are the square winners:
Dave Wilcoxen -1st Quarter square winner of a 4-some to the beautiful Mountain Falls Golf Club
Phil Ward – 2nd Quarter winner of a Golden Knights hockey puck signed by Ryan Reeves, which he graciously donated back to SNJGA for the upcoming Santa Scramble hosted by Reflection Bay Golf Club (December 8th)
Andrew Hawk – 3rd Quarter winner of 2 tickets to Lake Las Vegas Culinary Feast
SNJGA – 4th Quarter winner of $250 cash
SNJGA Board member, Sean Mulvenon, was the lucky winner of the 50/50 raffle pocketing $500.
Thank you to everyone who attended, your support is greatly appreciated!
About the SNJGA
Since the early 1970's, the leadership and volunteers of the Southern Nevada Junior Golf Association have been helping to positively shape the lives of Southern Nevada youngsters both on and off the course, no matter their economic or socio backgrounds.
Thousands of kids have learned the game of golf and the life skills and character traits it instills. Our kids have flourished in all areas of life.
Our members have won Nevada state high school championships and national junior tournaments while our alumni have earned valuable college scholarships, won collegiate tournaments, and also played and won on the PGA and LPGA tours.