Chuck Buys was born Dec. 10, 1938, and died June 12, 2020. He lived a long and fulfilled life, both serving in the United States Air Force and also as one of the top volunteers and rules officials in SNGA history. "He was one of my best friends and rules officials, and it is a huge loss for the SNGA," says vice president and longtime supervising rules official Sue May.
Buys is survived by sons Chuck, Chris and Clay. His wife, Barbara, passed away in 2013. Buys was a U.S.A.F. Master Sergeant and retired to Las Vegas in 1979.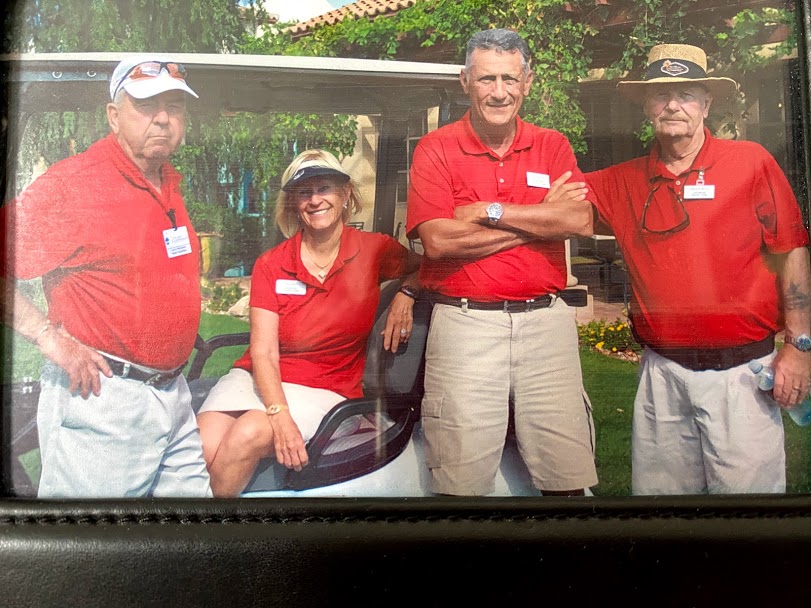 "Chuck was the best of the best and he will be missed by all of us, and we were so lucky to know him," May says. "I could always count on Chuck. He was always there for me and wouldn't let me work a tournament by myself, even if he had other commitments. He kept us all grounded and was loyal to a fault. Chuck stood by my side during the good and bad times, and there were plenty of both. I can't even began to tell you how much I will miss him. Being able to be at the hospital in gown and mask holding his hand the day before he passed was the most difficult thing I've ever done. Having him squeeze my hand letting me know he knew I was there was so emotional."
Amateur golf is what it is because of rules volunteers like Chuck who spend countless hours upholding the spirit of competition and much more. Brady Exber, a 9-time SNGA player of the year and Las Vegas Golf Hall of Fame member, appreciated Buys both on and off the course.
"A rules is official is there to apply the rules fairly and equally in lieu of any personal relationships or other influences, and there is no doubt that Chuck did that," Exber says. "I always felt that Chuck ruled professionally and fairly, and he never let anyone intimidate him, even though some players tried. He would never budge. I respect him for how fair of a man and rules official he was."
May says Chuck's absence was already being felt when his health prevented him from attending tournaments.
"The players all asked about Chuck and wanted to know where he was," May says. "They all loved him. He was there to help them and they knew it. Chuck was the Rules Official who wanted at all costs help the player not to get a penalty. I think he worked more SNGA Tournaments (before he got sick) than any of us. They could always count on Chuck to show up when we couldn't. Also, the SNGA tried to give him the volunteer of the year several times and he always said 'I already got this award, give it to someone else.' He told me when he was really sick that the highlight of being a part of the rules team was me getting into the Las Vegas Golf Hall of Fame because he really wanted that to happen. That's the kind of person Chuck was; always wanting the best for his friends. He will be missed so much by so many people."
Exber will remember Buys more for his conversations than for his rulings.
"I am very sad about this because Chuck and I would share conversations during a round or after in the clubhouse," Exber says. "We'd sit and talk about a lot of things. He was a nice and funny guy. I always took it as a complement that when he would see me out on the course, he would drive his cart over to say hello and we would talk a little bit. I am going to miss that a lot."