Coronado girls golf coach Joe Sawaia has pretty much seen and done it all when it comes to high school golf, both boys and girls. But he has never seen anything quite like the Cougars girls squad that won the school's 5th state title (5A) and 10th between the men and women. Sawaia says he has never seen a team as great as the 2021 version and that Yana Wilson, who won the individual title, just might be the best high school player he has witnessed. –By Brian Hurlburt, Founder, LasVegasGolfInsider.com.
"What comes to mind with this group is just just how talented they are," Sawaia said. "I've never been around a group that has five players, men or women, who could be low medalist at any time. I mean, literally, we never knew who was going to be medalist. Their depth is just incredible. We've had good teams, don't get me wrong, but with this group, there is really nothing they're going to do on the golf course that surprises me because I know their abilities. "
Coronado finished with a two-day total of 2-under par 566 to break the all-time scoring record and defeat Bishop Gorman by 15 strokes. Clark finished a distant third.
What makes the record even more impressive is that Gorman's total would have also broken the previous record. The previous record was 600 recorded by the 2017 Coronado championship team, at Highland Falls Golf Club. The 2021 Coronado team included Wilson, Ali Mulhall, Brynn Kort, Joanne Lee, Lilly Denunzio, Hae Young Lee, Brook Sodetz and Mia Martinez.
Individually, Wilson shot a final-round 6-under 65 at Primm Valley to defeat Kort, her teammate, by one shot. Coronado's Mulhall tied for third with Audrey Brust (Bishop Manogue) and Lauren Pham (Gorman). Wilson is nationally ranked and only a sophomore.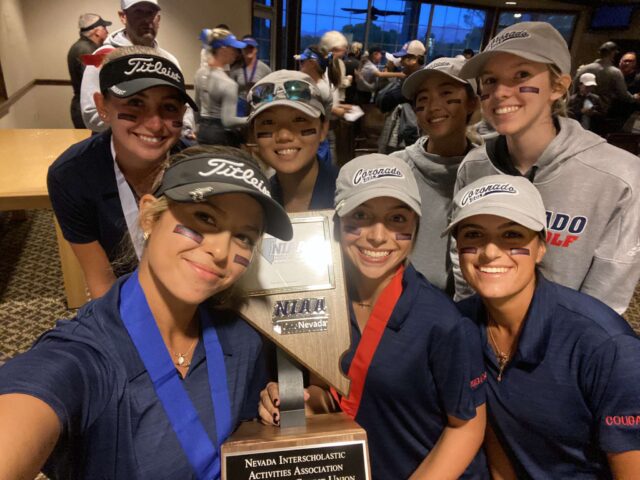 "Our team is very close with each other, which is pretty special," Wilson said. "We all had the same goal to win state, and since we are very competitive, we all worked hard to capture the win and our coaches were very helpful and supportive throughout the season. For me personally, winning the individual title has been one of my goals since I was a little kid. Before coming into high school, I had a goal of becoming the first freshman from Coronado to win state as an individual, and because Covid-19 wiped out our season last year, I was driven to win this year. Being four shots back after the first round, I was determined to go low during the final round. I had a great second round and I'm glad I finished like a Coronado Cougar."
Sawaia was quick to praise all of his players, who he says are each rated within the top 50 nationally (with the exception of Martinez), if not higher, but Wilson continues to impress.
"She really has no weaknesses and she's extremely skilled in every part of the game, as far as driving the golf ball or iron play or short game or putting, especially clutch putting," Sawaia said. "All of that is evident when you watch her play. But she also possesses the intangibles, which not a lot of girls do, especially at her age. In fact, most junior golfers, period, boys or girls, don't have what she has. She has supreme confidence and she is able to develop a game plan of how she wants to play and how she wants to tackle a golf course. She's also very patient. She really has it all. I've said it before, and I don't know if it's fair, but I think she might be the best player I've seen in 30 years of boys or girls high school golf to come out of here. She's amazing."
Sawaia also said due to her national ranking and success, Wilson, 15, is currently qualified for the prestigious Augusta Women's Amateur.
Sawaia recently stepped away from his head coaching role with the Coronado boys program to take on the volunteer assistant position with UNLV golf. His son, Ben, plays on the team while Brett is still at Coronado. The interim UNLV head coach is AJ McInerney, who played for Sawaia at Coronado. Rusty Andersen is set to take over the boys team.
In the state 4A division, Basic won the team title and was led by individual champ Cienna Cabrera. Violet Ritter from Cimarron-Memorial was second.
In the state 3A division, Douglas won the team title. The top individual finisher was Camryn Schaper from Boulder City. She is the daughter of Boulder City golf general manager Andy Schaper, who coaches Boulder City.
In the state 2A division, The Meadows won the team title led by Mizara Norton, the individual champ.
Click for all high school golf state results