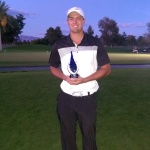 Taylor Montgomery made par on the 4th Playoff hole against Kenny Ebalo to claim his second City Amateur Championship in 3 years.
On a cold weekend in windy conditions, Montgomery fired a final round 63 to post 136 total in the clubhouse and waited while Ebalo was in the final group. Ebalo, the 2014 Player of the Year front runner, made bogey on his 36th Hole of the tournament to tie Montgomery.
Both players birdied the first two playoff holes as darkness was setting in. After two pars on the 3rd Hole, Montgomery made par on the 4th Hole to close out the Championship.
First Round leader, Samuel Mangiaterra from Victorville, California, finished in 3rd after a first round 65. Also finishing in 3rd Place at 2 under par were Blair Bursey, Brayden Eriksen, and the legendary Todd Roberts.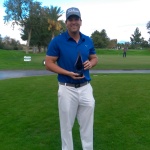 In the Net Division, impressive play by Gabe Shirey led to a runaway victory. Shirey shot a 67-68 net for a two day total of 135 to win by 6 shots of Eduardo Ramirez. 2013 Net Player of the Year, Rob Zoine, finished in third place.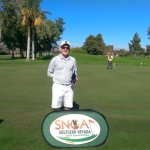 The senior edition of the City Championship took place on Thursday and Friday. The defending champion Gary Carpendale backed up a first round 65 with a final round 74 to hold on for victory. Carpendale shot a 36 Hole total of 139, 3 shots better then in 2013, when he shot 73-69 for a 142.
Carpendale held off a charging Peter Dunlap playing in the group ahead. Dunlap shot a final round 69 to post a 3 under total for the championship, but Carpendale chipped in on the 18th Hole to win by 2 shots.
2012 Champion, Steven Fink, shot a first round 69, but struggled down the stretch to post a final round 76.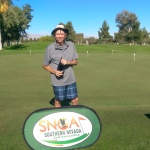 The Senior Net Division was won by Greg Marks, who shot an impressive 2 day net total of 134.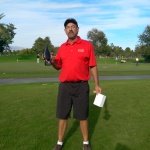 In the Super Senior Field, John Enright beat John Corbin in a sudden death playoff with a par on the first hole. Battling head to head all day, Enright shot a final round 71 while Corbin finished at even par 72. Both players shot 6 under for the tournament. The 2014 front runner for Super Senior Player of the Year, Frank Abbott, finished 3rd with a two day total of 147.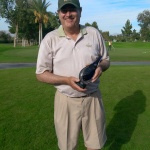 John Corbin took 2nd in the Gross Division, but ended up winning the Net Championship by 1 shot over Jim Burger with an 8 under total of 136.
For Full Tournament Results, CLICK HERE
For Full Tournament Results for the Seniors and Super Seniors, CLICK HERE
Thank you to all the players that participating in the 2014 City Amateur! Also, thank you to all the volunteers for helping make this a great 2014 City Amateur Championship!