Mesquite, Nevada—The $140,000 Nevada Open featured overtime golf as Riley Arp, from Scottsdale, Arizona, and Trevor Simsby, from Carlsbad, California, finished tied at 16-under 200 at the end of regulation. Simsby made a par on the second playoff hole, the first hole at CasaBlanca, to win and claim the $28,000 first-place prize. The tournament was played at CasaBlanca Golf Club and Palms Golf Club in Mesquite, Nevada, a golf destination located 77 miles north of Las Vegas. —By Brian Hurlburt, LasVegasGolfInsider.com.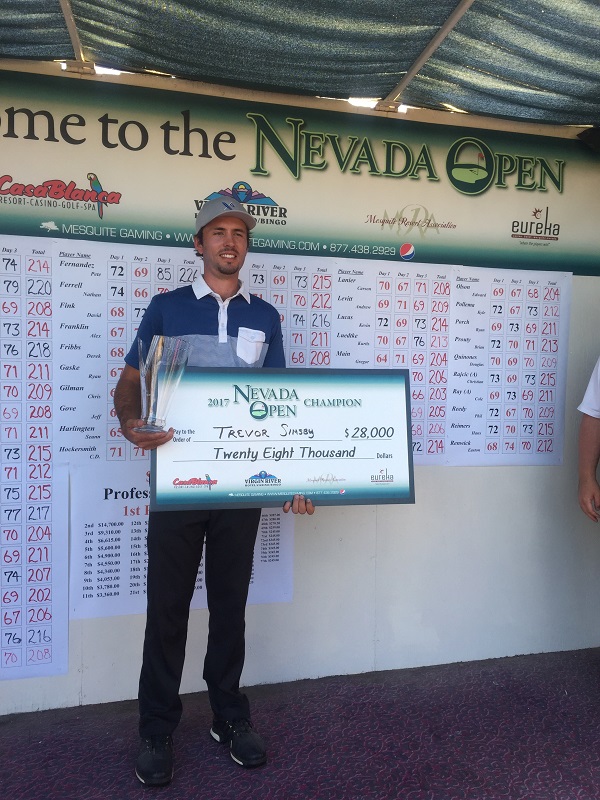 Arp shot a final round 4-under 68 at CasaBlanca to move up the leaderboard and tie Simsby, who shot 1-under 71 in the final round. Both barely missed birdie putts on the first playoff hole, the 18th, before Simsby calmly made his par after Arp missed his own short par putt.
"It's been a bit of a struggle the last few years so it means a lot to me and this is my biggest win," Simsby said. "I played on the Web.com Tour in 2015, but only made two cuts. Since then I've had some good events, but haven't won anything. Obviously, as far as prize money, this is my biggest win. This will open up a few doors for me and I will be able to go to some qualifying events that I wouldn't have been able to go to without this win."
Simsby played at the University of Washington from 2011-14. After this week's victory, he may try and qualify for the 2018 Asian Tour.
Two former champions made the cut. Seann Harlingten, from North Vancouver, Canada, finished 9-under 207 and tied for 17th. Kevin Lucas, the defending champion and a former University of Nevada golfer, finished tied for 59th at 2-under 214.
Torey Edwards, from Long Beach, California, shot 7-under 209 and finished as the low amateur. Edwards is a former Cal State Long Beach University golf team captain who earned his amateur status back following a professional career that spanned from 2003-10. He is now a financial advisor with Bryson Wealth Management.
A record number of professionals and amateurs played this year due to the popularity of the annual event. Tournament director Christian Adderson said 219 professionals and five amateurs from more than 20 states and Canada were in the field.
"We just want to continue the momentum of the last few years and the success we have had," Adderson said. "Our field keeps getting better and deeper, and the players love playing in it. We are going to continue to progress. The quality of golf course they get to play is a main attraction and our fall Southern Nevada weather is hard to beat. This week we were in the 70s and this time of year makes it a perfect fall event for these guys, whether they are trying to qualify for the Web.com or playing other mini tour events."
For the first time, the CasaBlanca Resort is hosting a two-person tournament in the days following the Nevada Open. A purse of $5,000 is available in the three-day tournament that is being played at CasaBlanca Golf Club, the Palms Golf Club and Conestoga Golf Club. Adderson said the event will also be held immediately following the Nevada Open in 2018.
The Nevada Open is presented by Mesquite Gaming. Mesquite Gaming, located 77 miles north of Las Vegas, includes Virgin River Hotel/Casino/Bingo and CasaBlanca Resort-Casino-Golf-Spa. A premier golf destination, Mesquite Gaming owns and operates The Palms Golf Club and CasaBlanca Golf Club. Combined, the two properties feature 1,186 guest rooms, 76,000 square-feet of casino space, with 1,600 slot machines and 36 gaming tables, 70,000 square-feet of meeting and convention space including an outdoor entertainment venue. For more information, visit mesquitegaming.com