It seemed like a quick six years as a Rebel, but UNLV assistant coach Philip Rowe has now accepted the head coaching position at Cal Poly in San Luis Obispo, Calif. Rowe was also a SNGA member and huge supporter of the association, as he played in several events and also encouraged UNLV golfers to play in tournaments. In 2016, Rowe won the Southern Nevada Amateur title played at Jack Nicklaus' Coyote Springs and over the years several Rebels have won major titles. — By Brian Hurlburt, Las Vegas Golf Insider.
"The support Coach Rowe gave to the SNGA was appreciated by everyone here and we will miss seeing him at so many of our tournaments throughout the year, but we know this is a great opportunity for he and his family and we wish him huge success," says Ann Sunstrum, SNGA executive director. "The board, staff, players and volunteers have all worked hard to up the competition and prestige level of SNGA events and having Coach Rowe and the UNLV players involved was a big part of our growth."
While at UNLV, Rowe helped the Rebels–under the direction of hall of fame head coach Dwaine Knight–win three-straight Mountain West tournament titles (2016-18) and also make an appearance in the NCAA elite eight in 2017.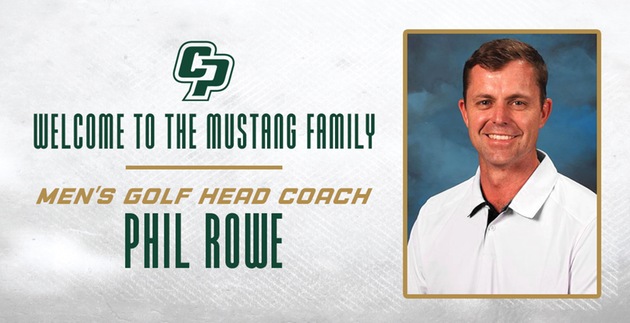 Rowe, a native of England, was also a top level college player and later played professionally around the world. He was a three-year letter winner for the Stanford Cardinal from 1999-2002 and then competed professionally on various world tours, including a five-year stint playing on the professional circuit in France. Rowe won four world-wide tournaments as a professional, including a pair at the Open de La Réunion, and was ranked ninth by the Allianz Golf Tour in 2009. In 1999, Rowe teamed with future PGA stars Luke Donald and Paul Casey on the victorious Great Britain & Ireland Walker Cup team that defeated the United States at the Nairn Golf Club in Scotland. Rowe won all three of his matches to help secure the team win.
"I am very fortunate for a new challenge during  in these times and I can't thank the Las Vegas Rebel golf family enough for the past six years," Rowe says. "As for the SNGA, from the beginning, the  board, Ann Sunstrum and her team were very welcoming to me and encouraging of Rebel Golf team players in our love of competitive golf. I regained my amateur status with the SNGA and made a hot start with a win at Coyote Springs, just one of the many excellent courses in the valley that host great tournaments. The City Amateur is now a must play for Rebel Golf team members to try to earn their place in a legendary roster of past champions. I think the work of the SNGA is one more huge attraction for young, aspiring Rebs on Tour. Most of all, I will cherish the relationships with rules official volunteers that makes the SNGA family special. A special shout out to Sue May and Tim Quinn, among many others, who make those events so classy and fun."
Cal Poly officials realize what they are getting in Coach Rowe as the new Mustangs head coach.
"We are delighted to welcome Phil Rowe into the Mustang Family," says Cal Poly director of athletics Don Oberhelman. "When we began the search, we engaged with our community and our student-athletes to determine what our needs would be and what characteristics we were looking for that would best serve our university. Among those are the ability to recruit to a high-achieving academic university, technical knowledge of the golf swing and teaching, ability to interpret feedback derived from golf technology, fundraising, access to tournaments, teach course management, mentor-ship, leadership, and a disciplined approach to our competitiveness. Coach Rowe checked every single box."