Here's hoping a return to normalcy is on the way in 2021. In 2020, the SNGA worked through pandemic restrictions and implemented safety measures, and ended up successfully contesting many championships. Now, the SNGA Championship–the first major of the year–is near, and all are looking ahead with optimism and embracing the prestigious event. The event is scheduled for March 13-14 at the SNGA's home facilities of Palm Valley and Highland Falls. –By Brian Hurlburt, Las Vegas Golf Insider.
"This is our first of four majors in 2021 and because the majors are worth more player of the year points than our other 2-day championships, players looking to get off to a good start will always gravitate towards this event," says Tim Brand, SNGA director of rules and competitions. "It is difficult to win a player of the year title without performing well in the majors because of their increased importance to the points race. We also are proud that this is now the 3rd year in a row that the SNGA Championship has been held at the SNGA's home Golf Summerlin courses. We have a really good working relationship with Golf Summerlin and I think this is just another way of showing that. It should be an interesting event because some of our players are not cold weather players and so they may have taken a couple months off in the winter. Highland Falls and Palm Valley are challenging, but fair golf courses. It is a great way to kick off the 2021 major season for all of our players of all skill levels."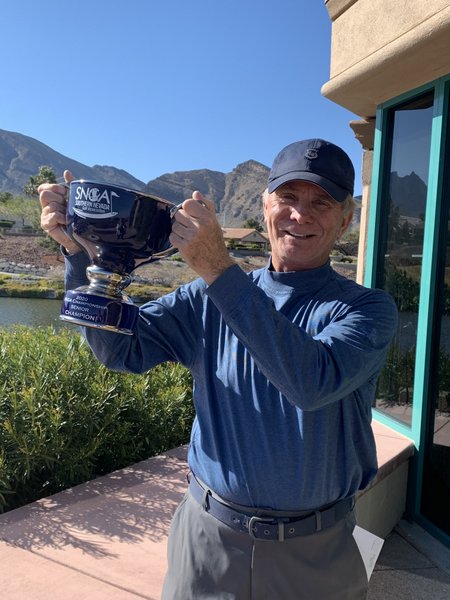 Palm Valley and Highland Falls are both designed by Greg Nash and World Golf Hall of Fame member Billy Casper in addition to Golf Summerlin's Eagle Crest. Both Nash and Casper have passed away, but they left their impression on Southern Nevada Golf.
With Covid-19 numbers waning and restrictions being lifted, the SNGA players and staff are ready to go and also ready to help keep the momentum of golf's popularity moving forward.
"I think we can finally look ahead knowing that the worst is behind us," says Brand. "While we were able to host almost all of our scheduled tournaments in 2020, there was always that chance of something happening and a tournament(s) having to be cancelled or postponed. As we get ready for the first major of 2021, I think we can optimistically hope that all of that is behind us. Tournaments will be played as scheduled. Field sizes should continue to grow to allow for more participation. And we will see more and more new faces in tournaments this year as a large group of people either took up or reacquainted themselves with the game of golf over the past 12 months. Golf as a whole saw a boom in 2020 and I think as we gear up towards our first major of the year, it reminds us that it is our job to keep the momentum going."
Winning gross titles at the 2020 SNGA Championship were Jonathan Minkoff (Championship), Doug Pool (Senior) and John Turk (Silver) while net champions were David Haddock (Net), Terry Martin (Senior) and Steve Liggett (Silver).