We've all been there: You're thinking golf might be fun but you're a little intimidated. OK, maybe a lot intimidated. After all, where do you start? Well, one place to begin is at Eagle Crest Golf Club with the instruction expertise of Greg Wickensimer. In his 30-plus years as an instructor, the last seven at Eagle Crest, he's helped golfers through all sorts of problems.–by Bill Bowman, Las Vegas Golf Insider staff
Call the Eagle Crest golf shop at 702.240.1320 for more information or to sign up.
And now you've got the chance to take those first steps to playing golf as Wickensimer and Eagle Crest will be hosting four golf clinics for adults just starting out in the game in October. Each of the clinics will be held at 9 a.m. on a Tuesday and will feature putting, chipping, short game and irons/woods. The cost is $75 for all four clinics.
Wickensimer said when he sees new students, no matter the age, the one thing most have in common that he tries to address early is they simply don't know the ins and outs of just getting to the first tee.
"The first trip to a golf course they are usually nervous just to show up," he said. "They don't know the routine. They aren't sure of where to go. Once they get past that, it's a little easier."
Wickensimer added going through the process puts them a little more at ease.
"Especially the junior golfers, I want to get them on the course as soon as possible," he said. "We get them to check in, go to putting green, hit the range and then go to the first tee. That way, if we can get them comfortable with that routine, it will help them when they go to other courses."
Wickensimer added that everyone's swing is different so there is no one-size-fits-all fixes. But what he does try to instill are a couple of fundamentals that will help players when they do work on their games.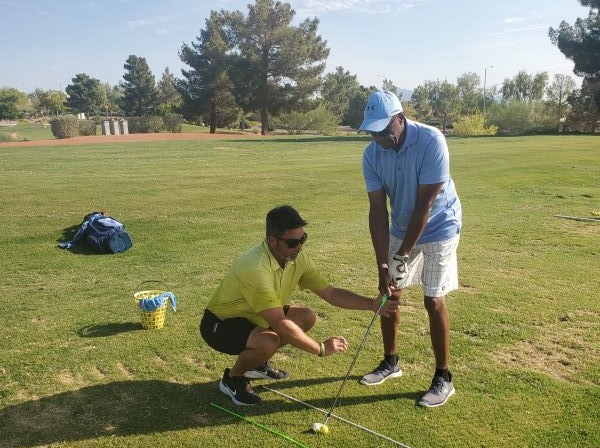 "Early on I try to focus on a few things," he said. "They have to have good aim and a good, balanced finish. If you're not aimed properly and in balance during the swing, nothing else we work on is going to help."
Ah yes, the work. Wickensimer said working on the golf swing isn't a quick fix. It takes time and effort.
"Lessons are different for everybody depending on what part of their game needs work," he said. "We don't do big expectations each time out. We want them to go out and have fun and learn the game. We do want them to practice the right things but we also want them to enjoy their time at the course."
And that goes with golfers of all ages. Working at Golf Summerlin, Wickensimer has many elderly golfers…and they are eager to learn.
"I deal with a lot of women in their 60s and 70s," he said. "They want to play because their husbands play. I just try to get them comfortable. It's all about having fun. They may only hit one or two good shots a round, but that can bring them back. I had a lady today who was ready to quit. She came up 18 and made about a 25-footer and now she wants another lesson."
And then there's the student who brings a smile to Wickensimer and makes his job more worthwhile.
"I have a gentleman, Al Lunceford, who is 79," he said. "He's been coming to me for about five years. He sees me every other week and continues to get better. And he practices every day. Seeing him work on his game makes me come to work smiling every day."
They also haven't forgotten about the kids as junior clinics are on the horizon and will be set up in the afternoons through the SNJGA.