Brett Sodetz (Championship) and Greg Pyszko (Net) captured championships at the 2021 Las Vegas City Amateur held Oct. 30-31, 2021, at the Las Vegas Golf Club. –by Bill Bowman, Las Vegas Golf Insider staff.
Championship
Brett Sodetz started off the two-day event hot…and then got hotter as he cruised to a four-shot victory in the Championship Division.
The first day, Sodetz birdied three of his first four holes. Then he really started sizzling as he strung together five straight birdies on his back nine to open a five-shot lead heading into the final round.
He followed up his 11-under-par round with a two-under-par 70 and his second SNGA title as he also won this event in 2018.
Sodetz, who is a student at UNLV but not playing college golf, said the first day of the tournament was one of those rounds players dream about.
"That was definitely a special round," he said. "And I didn't really do anything special. I hit fairways and then hit everything to five-to-10 feet and made a lot of putts. It was just a fun day."
He added his early success really didn't phase him but once he made the turn, he felt this round had the makings of a memorable one.
"I was five-under on the first nine (the back nine on the course) and thinking I had a good, solid round going," he said. "Then when I made my second or third in a row on the back I knew it was going to be a special day."
Sodetz added that despite the five-shot lead after Day 1, the tournament was far from over.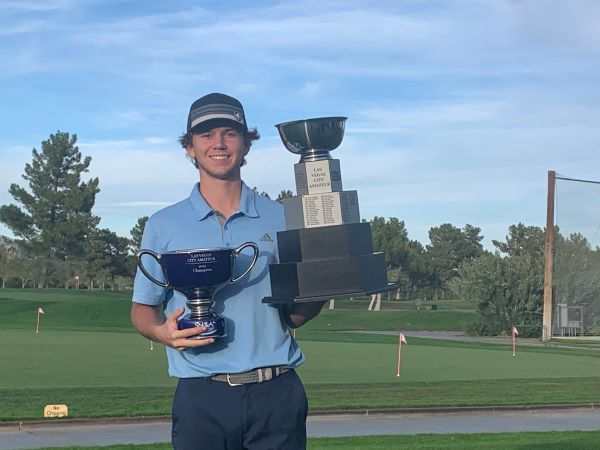 "I came out and wasn't playing too aggressive," he said of the second day. "But when I had a shot I could be aggressive with I tried to take advantage of it. I just tried to play my game and not change my approach."
Overall, Sodetz said his game is pretty solid and he's making strides every time out.
"This is definitely one of my favorite tournaments," he said. "Last year I finished about 10th or so. Obviously I played much better this year."
He said he's also showcased his ability on larger stages with solid results.
"I played in the Shriners Monday qualifier and just missed out on the qualifying for the tournament," he said. "That would have been tremendous to play in that one."
Championship
Brett Sodetz, 61-70—131
Tongun Lako Losarah, 66-69—135
Preston Harris, 69-67—136
Net
Greg Pyszko is making a habit of winning titles in October as he won for the third time in the month–two individual titles and a team title.
In his latest victory he started the final day of the tournament strong, putting up three birdies in his first five holes (one natural and two net) but then had to battle down the stretch to come away with a one-shot victory.
"I played a really solid front nine," Pyszko said. "On the back nine, I got a little nervous once the cameras were on me. It kind of caught me off guard. I went bogey-bogey-bogey but then I got it straightened out enough to hold on."
He said he will learn from the experience.
"Those last five holes were the most stressful I've gone through in golf," he said. "But I will learn from it and be a little more prepared next time."
As he was heading down the homestretch, he said he played the final two holes solid…and smart.
"The 17th hole was huge," he said. "I got up and down for a par (net birdie). I needed that after the three bogeys in a row. That relaxed me."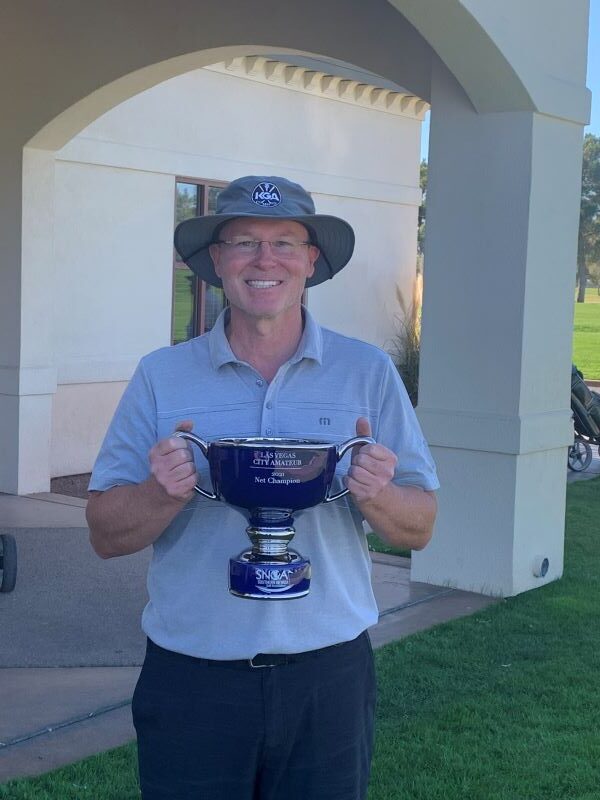 He knew he led by two on the 18th tee and took a moment to compose himself.
"I looked at the score and knew I was up by two," he said. "I hit a great drive and had about 225 out but decided to lay up and take a big number out of play. I hit an easy lob wedge but the wind must have been with us because I flew the green. I hit a nice chip to about 15 feet but left the putt short. I tapped in to win by one. Those last two holes were just great for my confidence."
Net
Greg Pyszko, 72-72—144
Robert Taylor, 75-70—145
David Inman, 76-70—146