Mesquite, Nev.–Taylor Montgomery, the defending champion, used 18 birdies and two eagles over three rounds at the CasaBlanca and Palms golf courses in Mesquite, Nev. to win the $150,000 Nevada Open Golf Championship title for the second straight year. –By Brian Hurlburt, LasVegasGolfInsider.com.
Montgomery, a former UNLV golf star and current Korn Ferry Tour member, finished with a 17-under 199 total to defeat Joe Fryer of Long Beach, Calif., and Drew McCullough of Rancho Santa Margarita, Calif. by two shots. The top amateur was Adam Veenstra from Phoenix, Ariz.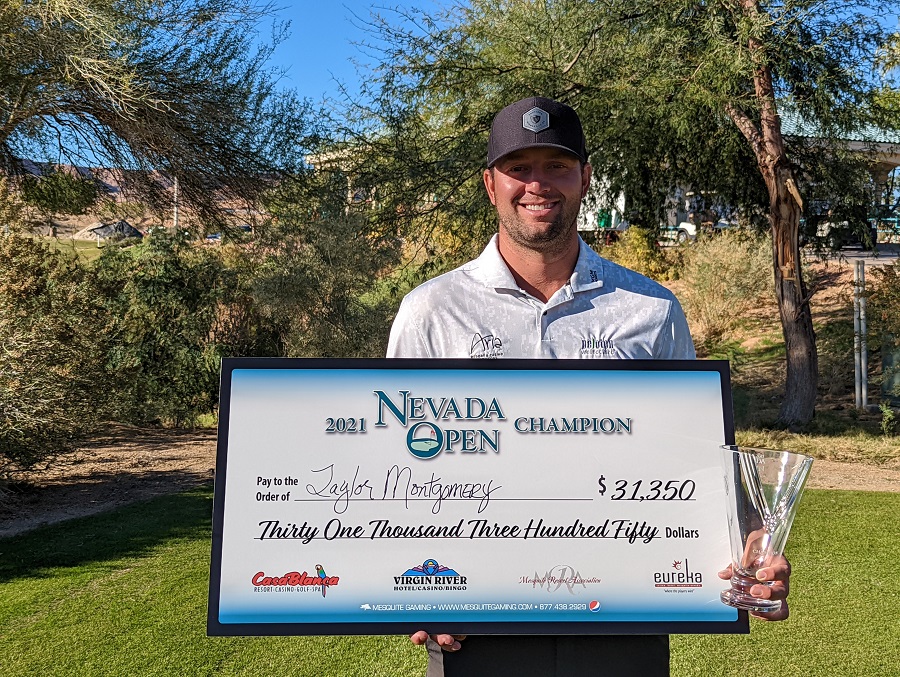 Montgomery fired a final-round 66 at CasaBlanca and earned $31,350 for the victory.
"It is like déjà vu and feels a lot like last year, which is weird, because you don't have that too many times in golf," Montgomery said. "It's always nice to get a win. I would say my play was very sporadic, but I got the job done. I hit a lot of really good shots and then I felt like I hit a lot of like horrific shots. I've been working on a few things with my coach (John Sinclair of Dallas), and it all hasn't together yet. Sometimes I do things correctly and then other times I don't. I am not used to the feeling, and you can see a huge difference when I actually make the correct swing and when I don't."
The victory was a nice addition to Montgomery's 2021 season, which also included some heartbreak along with his success. He narrowly missed out on earning his official PGA Tour status for the 2021-22 season when he finished 26th on the Korn Ferry Tour money list and also 26th at the Korn Ferry Tour Finals. A finish within the top 25 on either list would have secured his PGA Tour playing privileges. He will have full status on the 2022 Korn Ferry Tour.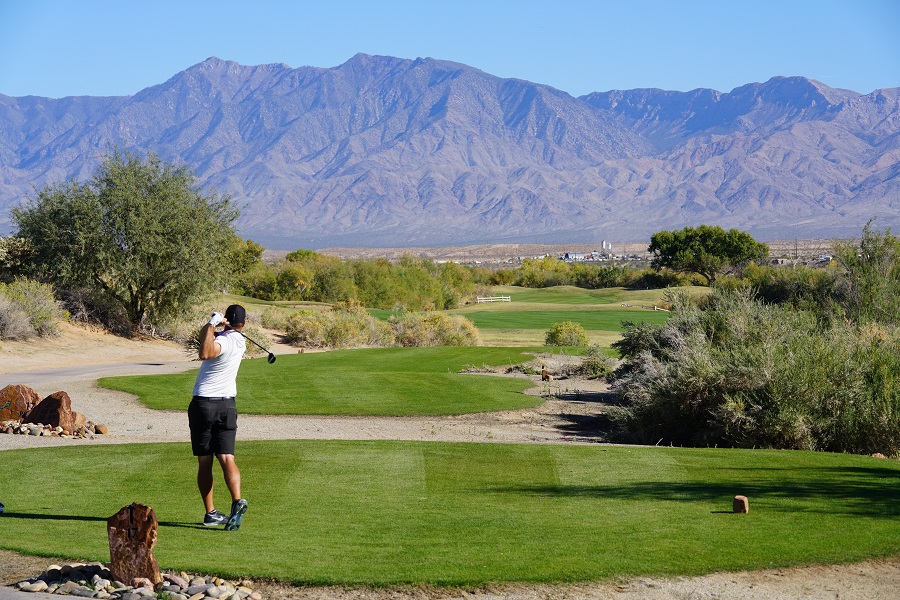 "Winning the Nevada Open is terrific because I can basically play and pay for 75 percent of the events right off the bat next year with the check that I just won, which is very nice," Montgomery said. "I am excited to start playing next year and my main goal during the off season is to get better ball striking wise. That is my total focus right now and it has been nice being able to practice quite a bit without many tournaments."
The Nevada Open Golf Championship has a long tradition and past champions have included Tom Whitney, Mark Anguiano, Trevor Simsby, Robert Gamez, Vic Wilk, Kevin Penner and Tom Lehman, while PGA Tour players who have participated in the event at one time during their careers are Tony Finau, Nate Lashley, Charlay Hoffman, Craig Barlow, Boyd Summerhayes, Kevin Stadler and Jay Don Blake.
Christian Adderson, Mesquite Gaming dual property general manager of Virgin River and CasaBlanca, has been a driving force of building the event into a Mesquite and Nevada tradition. The 2021 rendition featured more than 220 golfers.
"I am impressed again by how we consistently have a deep field of players at the Nevada Open," Adderson said. "The final round was a great round of golf and we had plenty of players in contention. Taylor Montgomery is the first back-to-back champion that I can remember for the event. He is such a great player and a great champion for the Nevada Open. Mesquite and the CasaBlanca Resort and Casino continually show why Mesquite is such a great golf destination. The Nevada Open highlights not only the great golf courses of CasaBlanca and Palms, but also the great hospitality that the CasaBlanca Resort provides to the players who participate in the tournament. Our golf groups and individual golfers that come to the CasaBlanca Resort get to experience the same great golf and hospitality that the pros get to experience."
Additional Nevada Open notes:
–          – Brian Wursten and his team along with Superintendents Jeff Martin, Palms Golf Club, and Matt Hewitt, CasaBlanca Golf Club, organized the event and had the courses in top-playing conditions.
–          – Sponsors that make the Nevada Open possible are the Mesquite Resort Association and the CasaBlanca Resort and Casino.
–          – USGA and SNGA rules official Sue May headed up the wonderful rules team and volunteer Lenora Hutchins oversaw a generous group of volunteers.
–         –  The Nevada Open will be making a $1,000 donation to the Mesquite Junior Golf Program.