CasaBlanca in Mesquite Hosts Nevada Open as Stanley Wins Title
It was close for Las Vegas resident and former SNGA member Van Thomas at the Nevada Open, but he ended up runnerup by a shot to Texas pro Preston Stanley (-14). The event is annually played at the Palms and CasaBlanca courses in Mesquite. –By Brian Hurlburt, founder, www.lasvegasgolfinsider.com
"This win means that a lot of hard work has paid off," said Stanley, who pocketed $31,350 for the victory. "I've come close a couple times this year and I played well in the Oklahoma Open, so to finish this one off with a win is very nice. In round two, I had a couple bad holes at the end, but today was a lot better. I finished strong through the end. This win is definitely one of the top five moments in my career. Like I said, it's a grind. I got here at two o'clock in the morning before the final round, had no practice round, and I just went out and played. This is very satisfying."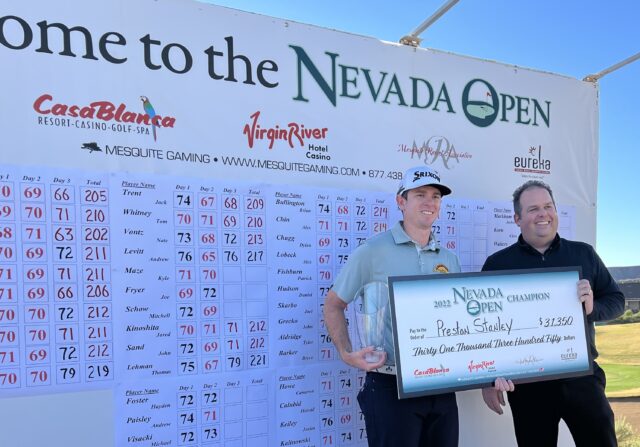 Southern Nevada Golf Association rules officials oversee the event for Christian Adderson, tournament director and assistant general manager for Virgin River and CasaBlanca hotels. The tournament is a must-play on the calendar for many aspiring professional golfers.
"The Nevada Open has been an important launching point for a lot of careers in professional golf and we've seen a lot of great names come through over the years and this year was no different," Adderson said. "This year, we had some past champions come back like Bob May, Greg Bruckner, and Tom Whitney. Those players and the other players supporting the event means the world to us and it shows the respect the Nevada Open has due to its longevity and quality."
For Thomas, the more he puts himself in position to win, the more confident he becomes.
I've been playing pretty well the last year and a half and I've been in these situations before," Thomas said. "Being in a final group is, is different than teeing off on early on the last day. It's just experience and it's growing and it's building confidence for these situations. The more opportunity you get in these situations, the more comfortable you are."
For more on the story, click to LasVegasGolfInsider.com for Nevada Open coverage.