Jack Trent wins the Clark County Amateur by two shots over Zane Thomas
High School Sensation Jack Trent Wins Southern Nevada Golf Association Major Championship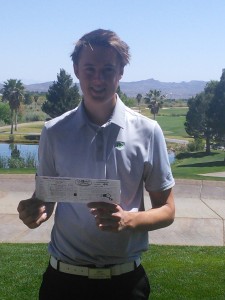 Jack Trent, a sophomore at Palo Verde High School, fired rounds of 64-76—140 to win the Clark County Amateur, a major championship on the Southern Nevada Golf Association Championship Series presented by Las Vegas Golf and Tennis.
Las Vegas, Nev.–Jack Trent fired an opening round 8-under par 64 at Boulder Creek Golf Club in the Clark County Amateur and never looked back. His final-round 76 was good enough to close out a victory over current UNLV golfer Zane Thomas, who finished alone in second place with rounds of 75-68—142 (-2). Thomas shot 31 on the front nine on day two, but a bogey bogey finish on Holes 17 and 18 doomed him in the end. Trent finished the two-day event at 4-under par.
Ryan McCullough (73-71—144) finished in a tie for third with current UNLV golfer A.J. McInerney (67-77—144). Former UNLV All-American and PGA TOUR player Edward Fryatt was fifth with rounds of 72-73—145 (+1).
The Clark Country Amateur is a major championship, and Trent, a 16-year old, became the youngest winner of a major in SNGA history. It was Trent's first win on the SNGA Tour. Trent moved to Las Vegas from Australia last year to pursue golf full time. Trent is one of the top recruits in the world in the class of 2017.
Jim LiCausi won the Net Championship with an adjusted score of 139 for two days. Andy Sessa finished in 2nd, two shots back. Rob Zoine, the 2013 and 2014 Net Player of the Year, finished 3rd with a two day adjusted total of 143.
For Full Tournament Results, CLICK HERE
Thank you to Boulder Creek Golf Club for hosting this great event. The Clark County Amateur is the first major on the schedule for the SNGA in 2015. Next up is the Southern Nevada Amateur at Spanish Trail Country Club, June 5 – 7.