Contest Winner — Golf at Pebble Beach Now Checked Off Bucket List
Let's face it … we all have a golf bucket list that includes a tee time at a world-class golf resort along with impressive accommodations. But for many of us, it's usually just a wish that doesn't come to fruition. For Mark Burton, he can now check this item off his list as he won the SNGA-sponsored 'The Bucket List Sweepstakes-Play Pebble Beach.' contest. –by Bill Bowman, Las Vegas Golf Insider. staff
The contest, which drew more than 15,000 entries, featured a prize package that includes two nights at The Lodge of Pebble Beach, two rounds of golf–one at Pebble Beach and one at The Links at Spanish Bay–and $500 to cover caddie fees. Overall, it winds up being a $5,000 experience. Stick close to SNGA.org for information on future contests and other member benefits.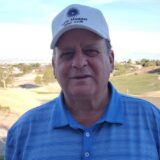 Burton sees winning the contest as amazing, but feels a bit guilty because he is a relatively new golfer.
"I'm certainly lucky to have won this trip which is every golfer's dream," the 71-year-old said. "But I've only been playing golf since 2016, so I'm definitely a newbie."
He said once he started playing golf he found out he needed to have a handicap to play in tournaments, so he turned to the SNGA. That led to him receiving e-mails from the association, which included the latest one about the bucket list contest.
The rest, as they say, is history. And now, Pebble Beach is in his future.
"With the COVID situation, I'm not sure when I'll be able to go, but I'm working on my game to get better," said Burton, who retired after working in the finance and investment world.
He added he's been working with Ryan Mills.
"I bought a lessons package from him and made a commitment to improve my game," he said.
Helping bring the contest to fruition was Brian Foster, former Executive Director of the SNGA. Foster is now the Managing Director of the National Golf Association Media Network, the group that helped set up the promotion.
"Our primary goal is to help state and regional golf associations grow their memberships, and events like this help a lot," Foster said. "It's definitely an impressive prize package."
Foster said the association's group has a variety of packages they offer, with more in the works.
"We run contests with Pebble Beach and Cabo San Lucas," he said. "We've also worked with local PGA sections to offer winners free golf for a year."
Also helping put the contest together was Greg Knuth, founding member and U.S. director of Underpar.com. The company's main business is offering players access to golf courses at reasonable prices. But they also reach out to golfers with platforms, such as this contest.
"Places like Pebble Beach want to reach avid golfers and this type of event is a great benefit for everyone," Knuth said. "We've had a lot of good dialogue with Pebble Beach. We talked to them about the benefit of giving someone a chance to win the trip and what good will that would have for them. And at the same time it gives the association a chance to attract new members with this kind of prize package."
In the end, Burton has a simple outlook on his trip to one of golf's most prestigious sites.
"I just want to do my best out there and have fun," he said. "Every once in awhile I have a pretty good round so that helps me stay positive. I'm hoping to have a good score on at least one hole to make myself proud."