Erickson, Haas Win Crowns at 2021 Clark County Amateur
Craig Erickson (Championship) and Michael Haas (Net) won titles at the 2021 Clark County Amateur. The SNGA event, the final major of the year, was held Nov. 20-21, 2021, at Boulder Creek Golf Club.–by Bill Bowman, Las Vegas Golf Insider staff
Championship
It was a heavyweight title fight between Craig Erickson and Daren Johnson over two days.
The two traded blows (birdies in this case) over the two days and in the end, Erickson came away with a one-stroke victory. It was his second win as he won the 2019 Nevada State Match Play event.
Erickson, who had 12 birdies over the two days, said it was great to be back in the winner's circle.
"I hit the ball so good," he said. "I hit maybe two bad drives and I hit a lot of irons to within 15 feet and had a lot of good birdie looks. I had several more putts that could have gone in."
Still, he couldn't shake Johnson.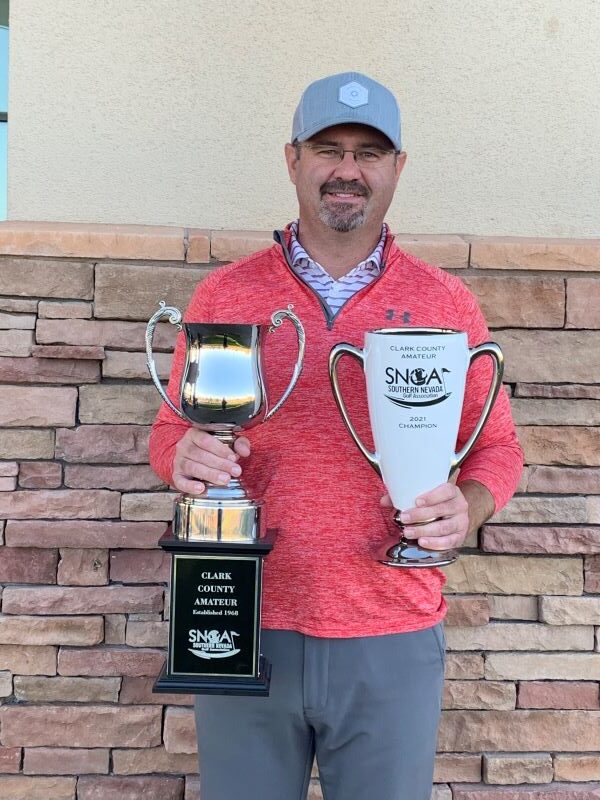 "It's always fun playing with Daren," he said. "He is just never going to quit…he never lets up."
Erickson, who works for a mechanical contractor, said work and family life have kept him from competing as often as he'd like.
"This year I didn't play much," he said. "I've got the job, a wife and kids. If it's not a bigger tournament I don't like to miss the kids' events."
Today he did…sort of.
"I missed one of their games today but I was watching him on an app," he said with a laugh.
Erickson had two hot streaks that helped his cause. On Saturday, he had four birdies in a five-hole stretch on the back nine and then Sunday he had four birdies in a six-hole stretch on the front nine.
"I just gave myself a lot of good looks," he said. "It was weird because I played (Nov. 11) and then took nine days off. I showed up (Saturday) and was hitting it good."
Championship
Craig Erickson, 68-69—137
Daren Johnson, 69-69—138
Scott Lytle, 72-69—141
Net
Consistency was the name of the game for Michael Haas as he won his second SNGA title, this one a major.
For the two days, Haas had net birdies both days on the first, second, fifth, seventh and 11th holes to race to a seven-shot victory.
Haas wound up with 16 net birdies and a net eagle for the two days and said the key was easy: "I just tried to play smart," he said. "I kept the ball in play and didn't have any three putts. It was just two solid days."
He added winning a major shows perseverance pays off.
"This is probably my 50th or 60th SNGA event and I've played in all the majors," he said. "And I finally won one. I'm super-excited about winning and also happy to win a two-day event."
He added he's working on his mental approach.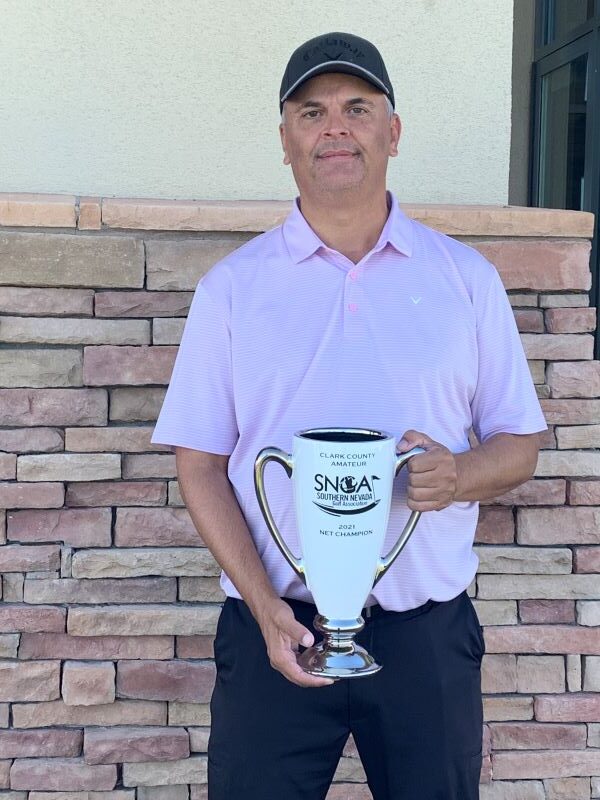 "I really played it safe on par 5s," he said. "I'd hit driver, pitching wedge and pitching wedge. I took out my 3-wood and just decided to play it smart and I played the par 5s better than I usually do."
In the end, he said the 11th hole proved to be the key for the two days.
"I parred it both days and that was great," he said. "That hole usually gives me trouble and to get two pars set me up pretty well."
Net
Michael Haas, 67-68—135
Jay Ship, 69-73—142
Trevor Coss, 74-69—143