Former Northern Nevada Golf Association Exec. Director Steve Rydel Passes Away
RENO, Nevada – Steve Rydel, a well-known member of the golf community in Northern Nevada, passed away April 11, 2022 from complications due to cancer. He was 67 years old. An avid golfer, Steve moved to Reno in 2000 from Washington State, where he took early retirement from a career as a Teamster to pursue a second career in the golf industry.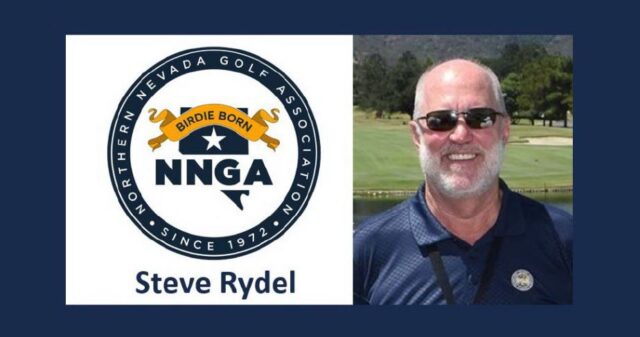 Steve interned with then NNGA executive director Pamela Whalen and was subsequently named assistant executive director. Pam recognized that the future of golf was going to be heavily dependent on computerization. "Steve had his own computer repair business in Washington," Pam explained, "I saw that he had the computer skills necessary to bring NNGA into the 21st century. I knew that the next executive director must have strong computer skills and be highly computer literate." Pam retired from NNGA in 2005 to focus full time on Northern Nevada Junior Golf Association as executive director, a position she still holds.
As executive director of NNGA, Steve continued his golf education. He passed the Professional Golfers' Association of America (PGA) Playing Ability Test, clearing the way for him to complete the necessary requirements to become a Class A PGA Professional. Steve's close friend and fellow PGA professional Mike Mazzaferri said, "Steve was very proud that he became a PGA member and went on to help countless other professionals achieve the same goal. He gave his time freely to help anyone that needed help in becoming a PGA member. More than a few professionals became PGA members because of Steve's assistance."
Steve also made contributions to the game of golf through his work with the United States Golf Association (USGA), serving on many USGA committees. Mike Sweeney, Director of Regional Affairs – West for the USGA said, "On behalf of our USGA staff, we are deeply saddened to learn of Steve's passing. Steve worked closely with our USGA team for 20 years with hard work and leadership that strengthened and unified the game in Northern Nevada. His contributions to golf were immense, including advancing the game through the development of junior golfers, administering and promoting the World Handicap System, conducting USGA championship qualifiers and providing exceptional golf experiences for all NNGA members. Steve made a difference in the lives of many golfers, young and old. He was a wonderful representative for the USGA at the local level and will be missed immensely."
As executive director, Steve worked closely with the NNGA executive board comprised of NNGA member representatives. Former NNGA board president Ken Clarke said, "Steve ran the NNGA with the satisfaction of the members as his number one goal. He had a good team in place and strived to make each event as good or better than the last one. I tried to give Steve raises each of the years I was president, but he declined, stating that the money was better served going to the organization."
Steve mentored many young golfers over the years, from serving as team captain for several Boys' and Girls' Junior America Cup Teams, to hiring interns to work for the NNGA through the USGA'S PJ Boatwright Internship Program for individuals who are interested in pursuing a career in golf administration.
A former USGA intern at NNGA, Dean Miller remembers Steve fondly. "My internship at NNGA was supposed to be a quick stop on my journey, but I ended up spending seven years working with Steve," Dean said. "Looking back, it was the best decision I ever made and some of my fondest memories are of those years. Steve was not only the best mentor I could have ever asked for, but more importantly, I was truly blessed to call him my friend."
Northern Nevada Golf Association was founded in 1972 and is one of 58 state and regional golf associations recognized as an Allied Golf Association of the USGA. Dependable leadership is one of the hallmarks of NNGA. In the 50-year history of the organization there have been just four executive directors. Founding director John Whalen not only had a vision for the NNGA, but he was also instrumental in the formation of the Sierra Nevada Chapter of the PGA and the Nevada State Golf Association. John passed away in 1998 and his wife Pam continued with NNGA as executive director.
Steve Rydel was NNGA's third executive director, selecting Andrew Workman to succeed him as the fourth. Andrew served as NNGA assistant executive director in the year prior to Steve's retirement. "Steve gave so much to the NNGA and its members throughout the years," Andrew said. "His true impact was much larger than many of us could know because he liked to work behind the scenes and keep his name out of the spotlight. All of us at the NNGA owe a lot to Steve and we were very sad to learn of his passing."
Steve retired from NNGA but not from the game of golf and golf administration. He completed the TM Certification Program for Golf Genius Software in 2021 and was often the man behind the little orange HELP button on the night shift at Golf Genius. Steve divided his time between staying and golfing with friends in Northern Nevada and living in Cabo San Lucas in Mexico, where he enjoyed both working and playing golf at the spectacular oceanfront resort Cabo del Sol.