Golf and Glam – Ups and Downs By Seema Sadekar
Seema Sadekar, a UNLV women's golf team star from 2003-07, is now a Las Vegas professional golfer, women's golf specialist and vice president of @pgdglobal, a company that creates, activates, and produces product showcases and event platforms for people, brands and organizations. Partners include Julius Erving, Calvin Peete and Los Angeles Clippers, among others. Seema is firmly dedicated to making golf more exciting and appealing to the masses. 
Sadekar is known for combining golf and fashion flare, is continually focused on growing the game for women and other positive initiatives, including the soon-to-launch ProjectFairway.org. And she launches the Golf & Glam series with the WSNGA.
By Seema Sadekar
Throughout my competitive years, I have developed a passion for growing the game for women and young girls in a positive and self-fulfilling way. I want to share with them how golf can bring confidence, self-awareness and healthy competition into their lives.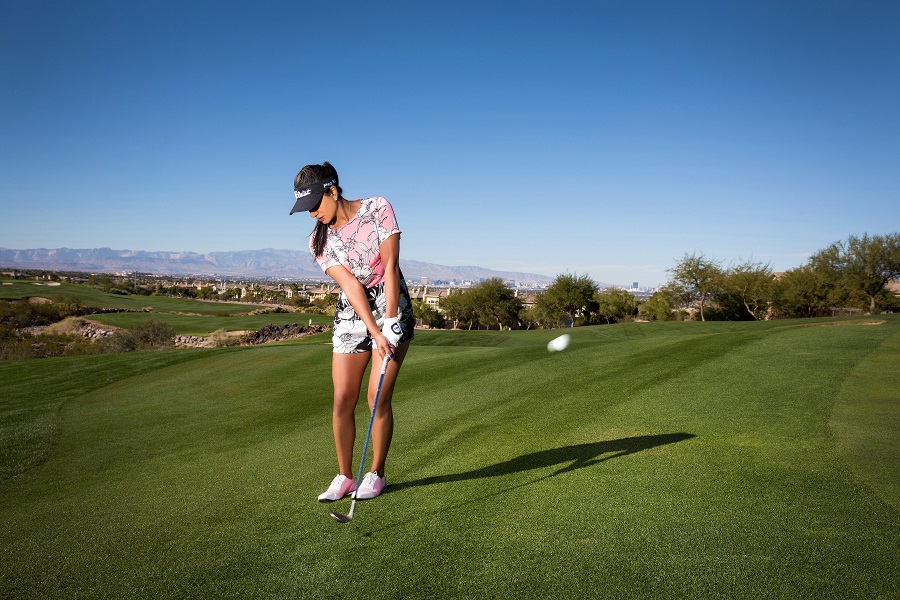 Golf
Golf is a game of ups and downs, and I believe that no matter how far you hit the ball, it is how much finesse to you have on the green.
It's always important to have some fun and challenge yourself when you are practicing your short game. One of the best ways to do practice is when you are on the course and you have to be focused and competitive, the "Up and Down" competition with yourself is more valuable than the competition you have with anyone else.  You work hard to develop "feel", you work hard to develop "touch", what will make the different from when you "practice" to when you "apply" on the course?
The "Up & Down" Challenge
Step 1 | From around the greens choose nine "tee box" locations that you will chip from – three easy, three medium and three challenging.
Step 2 | Each hole is a Par 2 and by playing all nine (9) holes your short game challenge is a Par 18.
Step 3 | All you need is your chipping clubs, your putter and one golf ball.
Step 4 | The goal is to chip and putt as you would on the golf course, getting your ball "up and down" in as few strokes as possible.  This game will really help improve your short game around the greens.
Get to the golf course early and play some games with yourself, use the time to develop your mental and physical skills.  If you challenge yourself and work on your mental skills, you will be stronger on the course and execute great shots.
GLAM
I'm wearing a black and pink romper with cute decorative flowers to accent the outfit.  Rompers are the perfect summer trend, they are flexible and easy to move and breathe in when you swing.  Rompers are also very transitional outfits when you move from course to dinner or 19th hole with friends.
I always try to pair my outfits with cute and stylish FootJoy shoes.  With this outfit, I paired my romper with white and pink FootJoy classics and a black Titleist visor.  Visors are a great way to keep your hair in place and maintain body as you play, hats can make your hair flat and your hair humid if you decide to play 18 holes.  Make sure to have fun with your outfits and headwear on course, make sure that it is right for you and your style first.  Creating your own personal identity on course with your headwear.
*Remember to wear to wear your mask if you are around large groups of people, or communicating with people within 6 ft.  It is so important to protect yourself, and as well, protect those around you as we go through this global panemic and work together to get through Covid-19 . #AllTogether
For more information, please visit www.pgdglobal.com or www.projectfairway.org to help grow the game of women's golf in Las Vegas.