Here's Why WSNGA Members Should Try Silver Cup Qualifier
Annually, women amateurs from Northern and Southern Nevada compete in the Silver Cup matches, and earning a spot on the team is an honor. –By Brian Hurlburt, Las Vegas Golf Insider
"I believe the history of the event is what makes it special," multiple Southern Nevada player Ronda Henderson says. "It's a fierce but friendly three days of match play golf. The Silver Cup is amateur golf at its finest, whether the matches are between two 15 handicappers or two single-digit handicappers. Each player is grinding it out, giving all they have, to win that point for their side."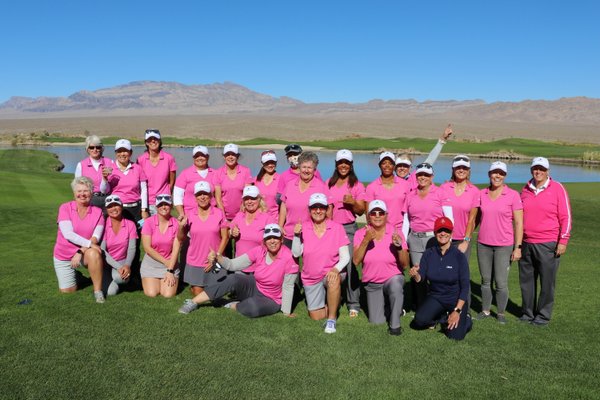 The 2022 Silver Cup Southern Nevada qualifier is scheduled for June 20-21 at Reflection Bay Golf Club as part of the Southern Nevada Women's Amateur. The South will be looking to win after taking a loss in 2021.
For complete Silver Cup South information, click to this link.
Each 20-member team consists of 20 players and a Captain, and Co-Captain.  The captain(s) are appointed by the governing body of each association for a two-year term. The WSNGA conducts a two-day qualifying event at least six weeks prior to the Silver Cup to establish the South's team members for the Silver Cup Event.
There are 18 automatic players pulled from the qualifier based on the playing results (9 lowest net scores and 9 lowest gross scores). The captains then pick 2 players which also must come from the qualifier.  The qualifying event provides the captain(s) with a list of all players in order of their gross or net two day finishing scores.  The top 9 gross and net players earn a spot on the team.  The captain(s) have 2 spots that are "Captain's picks."  A limited number of alternates are identified for spots that become open. (10th & 11th finishers Gross and Net in the qualifier).  For vacancies on the team outside of 30 days of the competition the captains must fill those from the alternate list or if none, from players in the qualifier. Additionally, within 30 days of competition, the captain(s) may make discretionary replacements to the team should qualifying players become injured or for whatever reason can't play.
There have been 176 players from Southern Nevada play in Silver Cup. The players playing the most Silver Cups are Brenda Knott playing in 19 and Doe Emes who has played in 18.  The most successful Silver Cup Players winning the highest percentage of the points available and having played in at least 3 Silver Cups are Julia Choi at 89%, Lynn King at 80%, and Gabrielle Buonacorsi at 77%.