Honored to Play, Win Is Icing at Tournament of Champions (video)
Jared Smith (Championship), Steve Fink (Senior), Cyrus Whitney (Silver) and Ronda Henderson (Women) won gross titles in the 2022 Tournament of Champions tournament held Jan. 31, 2022, at Red Rock Country Club. Daniel Castro (Net), Jeff Coppens (Senior), John Pappas (Silver) and Sarah Scott (Women) claimed net crowns. –Bill Bowman, Las Vegas Golf Insider staff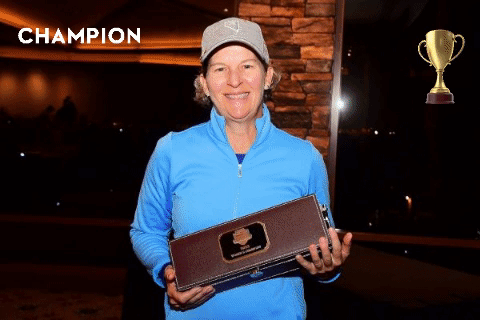 The Southern Nevada Golf Association annually hosts the Tournament of Champions, which features more than 100 champions from the SNGA, WSNGA, state association and member clubs from around Southern Nevada. It's an honor to be invited and winning is icing on the golf cake.
Championship
Jared Smith started 2022 with a win in the Championship Division, posting a one-under-par-71 to win by one stroke.
It was Smith's second victory in just his third SNGA event.
Smith said the win in the Tournament of Champions is special as he's already qualified for next year's ToC.
"That's probably a good thing," he said. "With my work schedule coming up I won't be playing much in the near future."
That schedule starts next week when he heads back to Georgia as a caddy at a little place called Augusta National.
"I'll be there until it closes at the end of May and then I'll be in Aspen (Colorado) in the middle of June through mid-September. Then Augusta again through the end of the year."
Smith added his win shows his game is moving in the right direction.
"My ball-striking really carried me," he said of his victory. "I've made a couple of swing changes and Craig Barlow is helping me out. I'm trying to get more rotation through the swing and it's getting there."
But, there's still other work to be done.
"I'm still working on my putting," he said "I missed a seven-footer for birdie on the first hole. But I hit it well enough to offset not putting very well."
Now it's back to helping others navigate around the golf course. It's a job he says helps him with his own game.
"When I'm caddying at private clubs like these, I get to see the course from all different points of view," he said with a laugh. "Let's just say we wind up in some unique spots and I get to see a lot of the golf course."
Championship
Jared Smith, 71
Kevin McEvoy, 72
Marcus Mullins, 72
Net
Dan Castro put three birdies on the scorecard to offset three bogeys and won the Net title with an even-par 72.
Castro, who won by two strokes, said he wasn't sure what to expect heading into the tournament.
"I really didn't think I would play well," he said. "I was struggling with my game but it just seemed to come together. Hopefully I can keep it going for the rest of the year."
Castro said his goal was just to be consistent.
"From tee to green I was pretty comfortable," he said. "I wasn't making too many mistakes and found a nice groove in my game and it kept me going."
He added it was halfway through the round he knew he was playing decent…and wanted to keep it going.
"Midway through the round I realized I was hitting my drives and irons pretty well," he said. I just thought I would have to putt well and I could have a decent round."
It all worked out in the end, but not without a few hiccups.
"I did three-putt three times so it obviously wasn't as easy as I thought," he said with a laugh.
Net
Dan Castro, 72
Justin Nimrock, 74
Greg Pyszko, 75
Senior
Steve Fink birdied three holes in a six-hole stretch and posted a one-under-par 71 score to win the Senior Division by a stroke.
Fink, who won 10 times in 2021, started off 2022 with a solid opening event.
"I hit it very well except for two drives that cost me bogeys," Fink said. "But I putted very well. I didn't have any three putts and that's how I won a lot of tournaments last year…with good putting."
He defended the Tournament of Champions title he won last year.
"I didn't know if my score was going to be good enough," he said. "There are some great golfers in the Senior Division. Red Rock played tough and I was fortunate enough to hang on down the stretch."
Senior
Steve Fink, 71
Russell Sloan, 73
Glenn Hogle, 75
Senior Net
Jeff Coppens had two net birdies and two natural birdies in posting a two-stroke victory in the Senior Net Division.
Three of those birdies came in a four-hole stretch. But it was the other birdie that stood out for Coppens.
"It was the 17th hole and I knew I was in the hunt," he said. "I hit one of my only bad iron shots and hit it into the waste area. I ended up holing it out. I was just hoping to get it on the green but it worked out perfectly and went in."
He said the win came because of his off-season work.
"I've had issues with my short game and I've been working on my game the last two months," he said. "I focused on my putting and chipping the last two months and it really paid off."
While he's happy with the win and how he's playing, he's not getting complacent.
"Golf's a funny game," he said. "You can have a tough tournament and be ready to throw in the towel. Then you can have a tournament like this one and gain a lot of confidence."
Senior Net
Jeff Coppens, 70
Scott Moon, 72
Scott Riggers, 72
Silver
A five-birdie, two-bogey round helped Cyrus Whitney race to a four-shot victory in the Silver Division.
"It was a nice round," Whitney said. "I had a couple of birdie putts go in and just tried to keep it in front of me. There was no stress and that's always good."
He added he hit 16 greens and that helped calm the nerves of the first tournament of the year.
"I didn't have any trouble today," he said. "And I usually find disaster on one hole but today I just played solid. It was nice not to have to grind it out."
He said the Tournament of Champions event is a great way to start the year.
"The SNGA does such a great job for us," he said. "It was a great day of golf and a great dinner. They put on so many events and they run things very smoothly. It's just really enjoyable."
Silver
Cyrus Whitney, 69
Mel Collins, Jr., 73
Douglas Pool, 74
Silver Net
John Pappas had back-to-back net birdies twice and recorded five net birdies overall in posting a five-shot victory in the Silver Net Division.
He said course knowledge helped his game.
"It was probably the fourth time I've played the course so I had an idea of where not to go," he said with a chuckle. "It can be a difficult course if you're not hitting it well."
On this day, he was hitting it well. Very well.
"I think I only missed one fairway and that was in a bunker and I got out of that OK," he said. "And I didn't have any double bogeys and only three-putted one time so it was a very solid round."
He said getting off to a fast start also helped.
"We started on a par-3 and I hit the green and made a par," he said. "It was a real positive way to start and I had good momentum after that."
Silver Net
John Pappas, 68
Ernie Ortega, 73
Ernie Alaan, 74
Women's
Ronda Henderson, who won the 2019 Tournament of Champions, is back in the winner's circle after claiming the Women's title in a scorecard playoff over Regina Quintero.
Henderson edged Quintero by a stroke in that 2019 event. Overall, it was her third Tournament of Champions victory.
It was a win she never saw coming. After parring the first two holes Henderson had a quad on her third hole.
"Playing against those ladies you usually don't have much hope after that," she said. "I didn't know I had tied Regina until after the round. I just minded my own business and started working on my mental game."
It all worked out.
"It was definitely a backdoor win," she said. "I just tried to stay patient. Other than the eight, I struck the ball well except for a couple of wedges. And I putted well but I just didn't get any of them to fall."
Women's
Ronda Henderson, 80
Regina Quintero, 80
Debbie Love, 84
Women's Net
Sarah Scott put a net eagle on her scorecard early in her round en route to a two-stroke victory in the Women's Net Division.
Scott said the eagle definitely steadied her play…well, at times.
"It certainly helped me out," she said. "I started off with a bogey and then got the (net) eagle and then a double bogey. I then parred three and four. Yeah, it was definitely a roller coaster of a round. I'd have three or four good holes and then a couple of bad holes. But, that's golf."
She also added she had an edge when it came to the course.
"Red Rock is my home course and I know it pretty well," she said. "Overall, I hit some really good shots and was able to come out on top."
She said a near chip-in was one of those good shots.
"I thought I had a second eagle," she said. "I thought I had chipped in on No. 9 for another eagle but I had a tap-in for a birdie."
Women's Net
Sarah Scott, 78
Rusty Beckel, 80
Yoshie Masuda, 80