Inaugural Mid-Amateur, Senior Amateur Champions Crowned in Boulder City
Kim Braaten (gross) and Shayna Bott (net) won titles in the inaugural Women's Mid-Amateur event, while Regina Quintero (gross) and Linda Cartwright (net) claimed Senior Amateur championships. The events were held simultaneously April 18-19, 2021, at the historic Boulder City Golf Club. –by Bill Bowman, Las Vegas Golf Insider staff.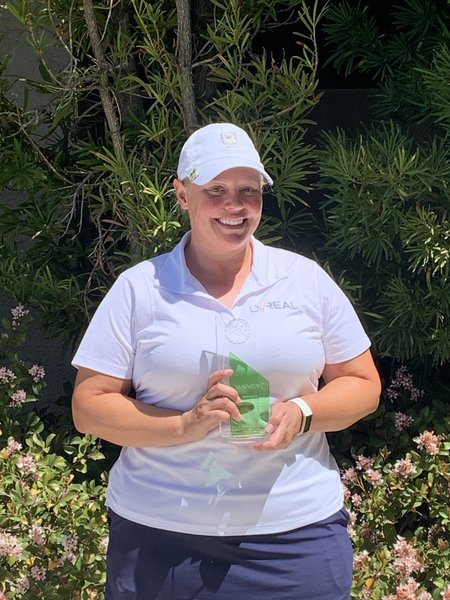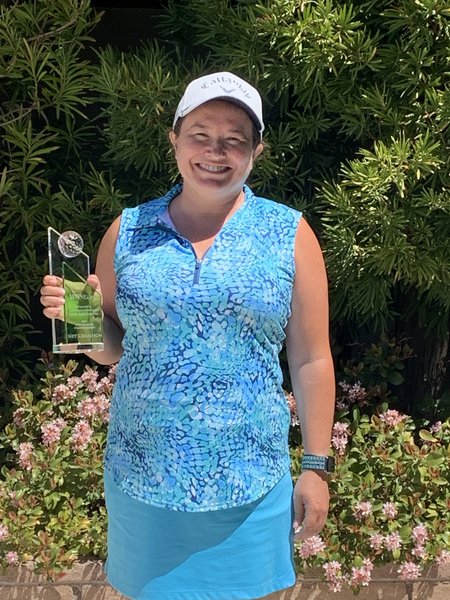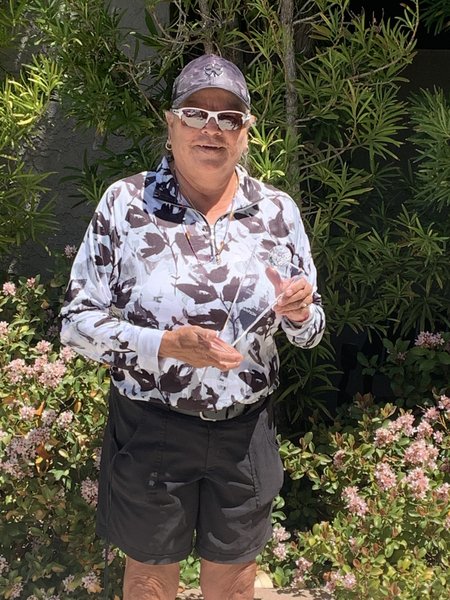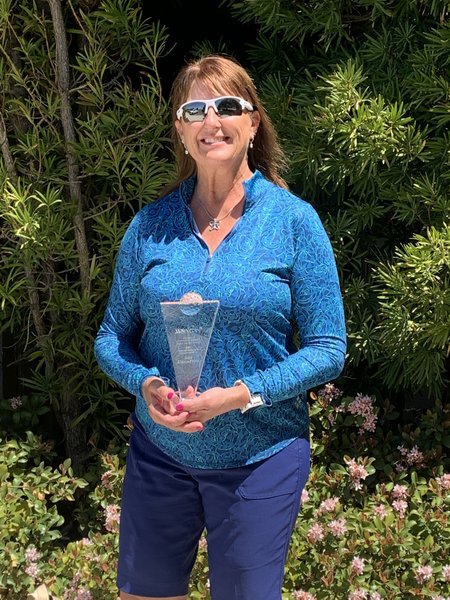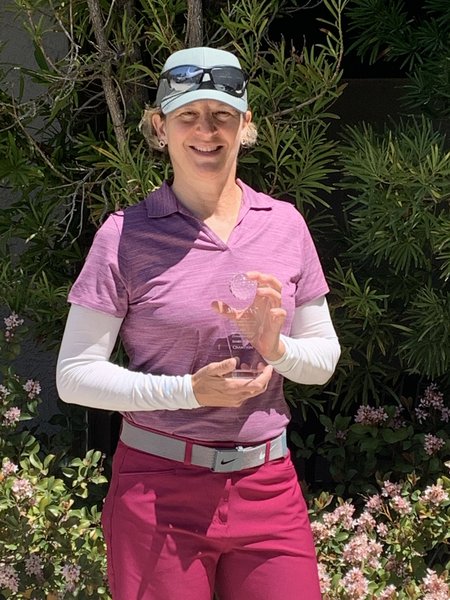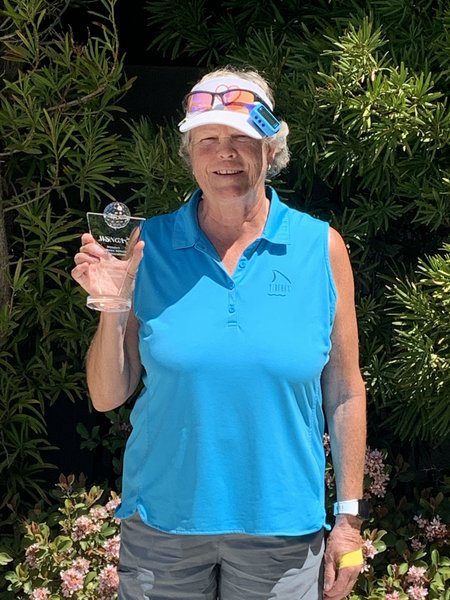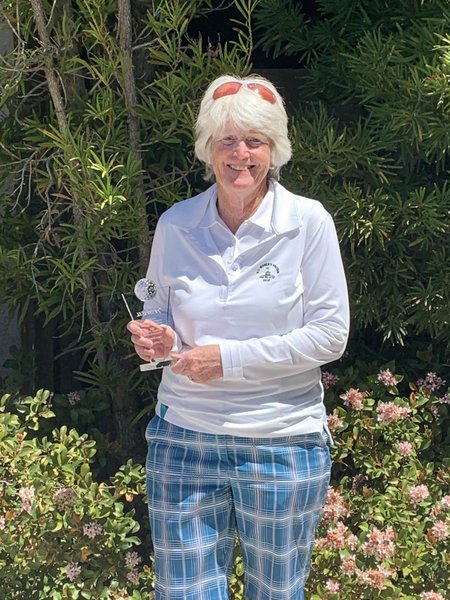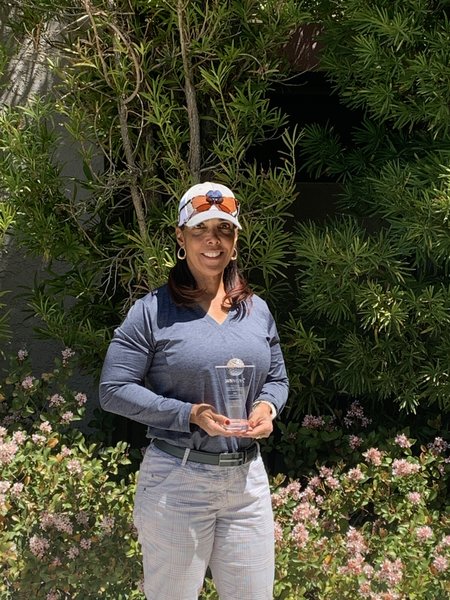 Women's Mid-Amateur, Gross
Kim Braaten finished strong both days (two-under-par on the back nine the first round and one-under-par on the back nine the second day) and breezed to victory.
Despite struggling on the front nine both days, Braaten was happy with her finish each day.
"I essentially had to tell myself, 'this isn't how you play golf,' " she said. "I told myself to just relax and swing the club. I had to trust my swing and I played a lot better after that."
Part of the problem was also mental as she held a double-digit edge after the first day.
"In some ways, I felt a lot of pressure because I had such a huge lead," she said. "It was hard to stay mentally focused."
But, she got the focus back the back nine on the final day.
"(Monday) on the back nine I played my game," she said. "I wasn't thinking about the scores…I was thinking about playing my own game and that worked out very well."
This was the inaugural playing of the event and Braaten takes being the first champion seriously.
"It's really nice to be the first winner," she said. "It's definitely special. I'm glad they added this event and hopefully it will continue to grow. I'm also thankful that the WSNGA is giving us more chances to play. Women's golf in the valley is in a good place right now."
Women's Mid-Amateur, Gross
Kim Braaten, 73-77—150
Brittany Bronson, 92-84—176
Maria Rances, 86-91—177
Women's Mid-Amateur, Net
Shayna Bott put four net eagles and 10 net birdies on the scorecard over the two days and won the Net title by 10 strokes.
Bott said her game has been coming around lately.
"I'm very happy with my play right now," she said. "I took a year off during Covid and my handicap shot up but now it's starting to shoot back down."
She had a solid lead after the first day but her second-day start didn't boost her confidence.
"I missed a tiny, tiny putt on the first hole and then had a nine on the second hole," she said. "I was a little scared that I was going to give it away."
But she calmed down and got the round going in a positive direction.
"I did turn it around and I had three pars in a row and I felt good about that," she said. "I just tried to play steady the rest of the way."
Bott added that even with the victory, she still has work to do on her game.
"I definitely need to work on my chipping," she said. "I also didn't putt it very well. This course will make you scared about putting. The contours can fool you. You don't see the break sometimes and there are putts that break much more than you think."
Women's Mid-Amateur, Net
Shayna Bott, 67-68—135
Lyndi Snyder, 77-68—145
Maria Rances, 81-86—167
Senior Amateur, Gross
Regina Quintero carded a four-birdie, three-bogey round of one-under-par 71 in the opening round en route to post a five-shot victory in the Senior Amateur gross division.
The second round, well, that's a different story.
"A lot of people think Boulder City Muni isn't that challenging," Quintero said. "But it's a course where you have to hit it straight and be ready to putt well."
Quintero was very satisfied with her opening round of one-under-par.
"Yesterday, playing in the wind, it was very windy and I was super happy shooting that 71," she said. "Today it was perfect weather and I shot a 77. Sometimes you forget to concentrate and it shows. But, anytime I can be in the 70s that's a good thing."
She said her two rounds were solid…except for the 8th hole.
"Today, I took a seven on No. 8," she said. "My brain got in the way. I thought about it too much. I normally hit a certain shot on the hole but today I tried to think my way around the hole and that got me in trouble. I hit two in the water after hitting one in the water yesterday. It wasn't good but it just shows you that any hole can jump out and get you, even a short hole like that one."
Senior Amateur, Gross
Regina Quintero, 71-77—148
Ronda Henderson, 76-77—153
Karen Kerness, 77-78—155
Senior Amateur, Net
Linda Cartwright had a net eagle on the 16th hole both days to help her post a one-shot victory in the Senior Amateur net division.
"Those were a big advantage," Cartwright said of the net eagles. "I barely missed natural eagles both days. Today I was pin high and eight feet away. I missed the eagle putt but it was a nice birdie."
Cartwright said she's been in position to win tournaments before but she has, well, struggled to close them out.
"I can't tell you, for state events, how many times I've been in first place after the first day and then I played like a donkey," she said. "It was amazing how bad I would play the second day. This week, it all worked out…despite the fact I had a couple of double bogeys."
What kept her focused the second day was her driving.
"I never missed a drive today," she said. "I'd like to put a bow on my driver. My confidence is up and that's the whole thing. I took a lesson from Don Callahan at the Butch Harmon school and things have finally gelled. I finally realized what I was doing wrong and I'm hoping to keep that feeling going. The last two days were just great."
Senior Amateur, Net
Linda Cartwright, 70-70—140
Sandi Wade, 71-70–141
Sandra Jenkins, 71-70—141
Other Senior Amateur Flights
Silver Flight, Gross
Ronda Henderson, 76-77—157
Carrie Langevin, 87-77—164
Laura Kennedy, 88-81—169
Silver Flight Net
Theresa Summers, 76-67—143
Margaret Cashwell, 74-69—143
Lai Rippee, 76-69—145
Gold Flight, Gross
Rusty Beckel, 84-78—162
Sherry Jackson, 80-82—162
Yoshie Masuda, 87-78—165
Gold Flight, Net
Sandi Wade, 71-70—141
Sandra Jenkins, 71-70—141
Lorraine Altman, 75-69—144
Platinum Flight, Gross
Karen Herness, 77-78—155
Peggy Gore, 84-89—173
Eanna Imboden, 86-91—177
Platinum Flight Net
Yangcha Crabb, 66-75—141
Laura Faulkner, 77-70—147
Lynne Miller, 79-75—154