Looking Back – 1998 Las Vegas Golf Hall of Fame Induction Class
Three key figures in Southern Nevada golf history were inducted into the Las Vegas Golf Hall of Fame in 1998. James Cashman, Jr., Ernie Haupt and Conrad Pat Walker made up the second official class of the Hall of Fame.
The 2022 Las Vegas Golf Hall of Fame Night of Induction is scheduled for Oct. 1 at The Hill at TPC Summerlin when new inductees Jeremy Anderson, Bob Coffin, Dale Hahn, Dave Johnson and Ann Sunstrum will be inducted.
Tickets will be available beginning by July 5 but pre-registration can be made by emailing lasvegasgolfhof72@gmail.com. More information to come in future articles about the class of 2022. The induction will kick of Shriners Children's Open week in Las Vegas.
Additional information: LasVegasGolfHOF.com
About the 1998 Inductees
Mr. James Cashman, Jr. (1943-2005)
Cashman was one of the foremost people responsible for Las Vegas blossoming into one of the world's most exciting golf destinations. In the early 1980s, Cashman, Jr, worked very closely with fellow Las Vegas Golf Hall of Fame member Jim Colbert to help bring the PGA Tour back to Las Vegas for the first time in many years. In 1983, Cashman, Jr, Colbert, and the Las Vegas Founders Club, a group Cashman helped form, created the Panasonic Las Vegas Pro-Celebrity Classic, and it was the first PGA Tour event in history to boast a total purse of more than $1 million. A stellar field of professionals played in the first event, and the worldwide exposure the event generated helped display that Las Vegas was a place that could become a quality golf destination. "In the early days, when it took strong character to get people involved, Jim was always willing to take on those duties and use his considerable influence to get things done," said Tom Hartley, another original member of the Las Vegas Founders Club.
In addition to helping operate the Las Vegas Founders, the PGA Tour event, and a Senior PGA Tour event, Cashman was also very active in other community endeavors including working with the Las Vegas Chamber of Commerce, the Helldorado Days event, Las Vegas Convention and Visitors Authority, and the Southern Nevada Junior Golf Association. Cashman, and later his sons James Cashman III and Tim Cashman, served in nearly every leadership position for the Las Vegas Founders Club, including stints as PGA Tour event chairman, Senior PGA Tour event chairman, and chairman of the Las Vegas Founders Golf Foundation, the philanthropic arm of the Las Vegas Founders Club that went on to raise more than $13 million for worthy charitable organizations in Southern Nevada.
"Jim was the prime mover behind the idea from conception to creation," said former Las Vegas Founders Club President Bob Cole. "He started the club, encouraged the first members to join, and ran it from there."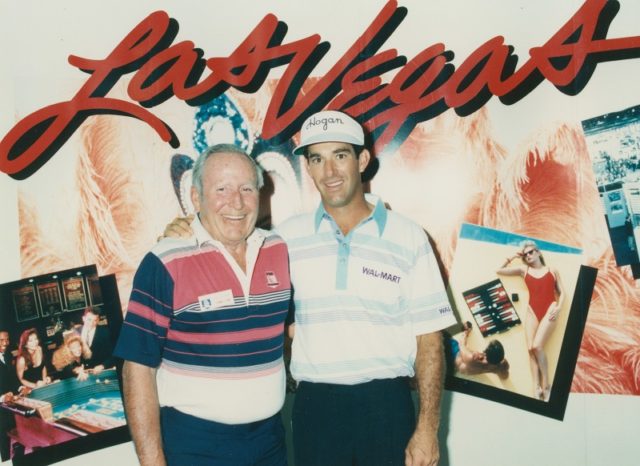 Ernest Haupt (1922-2008)
"Ernie was one of those guys that was always there," said Stuart Reid, Class of 1991. "He would do anything for you, or in this case for the SNGA. You just couldn't keep Ernie down which can be attested to by the number of plane crashes he walked away from."
A 60-year Las Vegas resident, Haupt was born June 3, 1922, in Alliance, Ohio. He served as an officer in the U.S. Army Air Corps during World War II as a B-17 and AT10 bomber pilot and flight instructor staying in the active reserve until 1950. He served at Las Vegas Army Airfield (now Nellis Air Force Base), then under the command of General Howard Cannon, former long-time U.S. Senator. On his honeymoon, he flew in his own plane into Las Vegas at George Crockett's Alamo Airways – landing on a dirt runway. After the honeymoon, the couple returned to Ohio. In the spring of 1948 they returned to Las Vegas, beginning a 60-year commitment to Las Vegas. Haupt owned and operated Mayfair X-ray and Laboratories for more than 35 years.
Following his retirement from the medical profession, he became very involved with the United States Golf Association, rating golf courses all over the United States and officiating at golf tournaments. He served as a Golf Rules Official for more than 30 years. Up until his death he served on the Las Vegas Parks and Recreation Board (a park will be named in his honor at a later date). For many years he served on the YMCA Board of Directors and sat as President of the Board for two terms and was a past president of the Las Vegas Exchange Club and was a member for over 53 years. He helped organize the first Senior Golf Association and served four terms as president of the association and state president.
He was past president of the Southern Nevada Golf Association, past president of the Nevada State Golf Association and was named "Amateur Golfer of the Year 1982." He was a past president and 40-year member of the Las Vegas City Golf Board and served as a trustee of the Pacific Coast Golf Association and awarded member emeritus.
Conrad Pat Walker (1924-2000)
"I knew Pat Walker as a player and as a fundraiser for the junior golf association," said fellow Las Vegas Golf Hall of Fame member Stuart Reid. "Pat was dedicated to the junior program and worked closely with Joe LePire Jr. as Joe developed a junior program at the old Winterwood property."
Walker was born August 15, 1924, in Duluth, Minnesota. He was an Army Air Forces veteran of World War II, a retired insurance company manager-agent, a member of St. Viator's Catholic Church, American Legion, Knights of Columbus, Las Vegas Flying Club and a 30-year resident of Las Vegas. Mr. Walker made an indelible impression on golf in Las Vegas by helping to create one of the first junior golf programs in the Las Vegas area, and he volunteered for many years with the Southern Nevada Golf Association. Mr. Walker was known as one of the best left-handed players the area has ever produced, and earned several high-level victories including the Nevada State Seniors Championship.
Longtime golf course owner and operator Orrin Vincent was very close to Walker.
"I hired Pat at Angel Park back in the day," said Vincent. "He was a good player and an absolutely great guy. Everyone loved him. Pat was hired in public relations and really helped give Angel Park credibility. He was active in the Nevada State Golf Association and was a great sounding board for us on local golf. He loved people and fly fishing. I will never forget him!"