Member Spotlight – John Turk
John Turk has spent most of his adult life in the military helping to ensure America stays safe. He was an Air Force pilot for 22.5 years and despite being a civilian now, he's still working to help out the military at age 68. But he's also trying to spend a little more time these days pursuing his other passion–golf. –by Bill Bowman, Las Vegas Golf Insider staff.
Whether it was as a pilot or, for the past 11 years as a drone instructor, his main focus has always been on making sure he does the best job possible.
"When you're in the Air Force, and especially as a pilot, you're up against the alpha-alpha personalities," Turk said. "You've got the best of the best and they all expect perfection every time. It was definitely a challenge."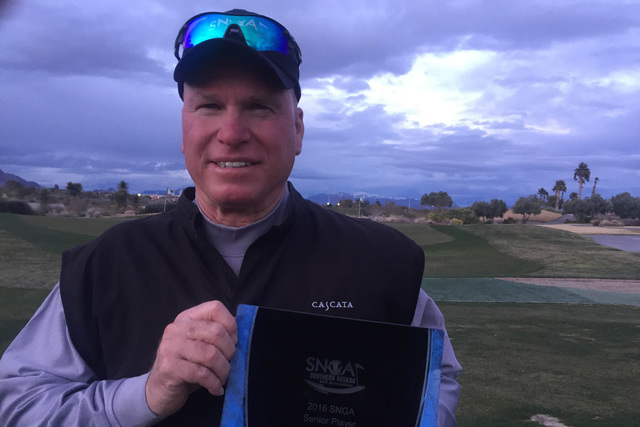 Turk, who retired to private life at age 46 and has been a civilian contractor in the MQ-9 Drone Program since 2009, said he knew when it was time to hang it up.
"It's a young man's, or woman's, game," he said with a laugh. "After all those years it was kicking my ass. I would just be worn out."
Now, along with working as a drone instructor, he's moving his concentration out of the skies and onto lush fairways.
"When I was flying it drove me to be the top gun, so to speak," he said. "When I retired I had to replace that drive with something else and I chose golf."
It was a great choice. As a +0.6-handicap, he expects perfection each and every time he's on the course. When he doesn't get it he does what every other hard-working person does…he works on improving.
But he's also mellowed out.
"I'm starting to play more for fun." he said. "The drive and desire to be No. 1 used to be strong. Now, as I get older, if I play bad and lose it doesn't bother me like it used to."
Turk also looked back on what it's like to be under the intense pressure of the spotlight on the golf course–literally. He was one of the group of players picked to be in Season 2 of Golf Channel's Big Break back in 2004.
The event was filled with good, bad and ugly.
"The problem was they were all young guys and I was 54 years old," he said. "We would be at breakfast at 5 a.m. and go to sleep between 11 p.m. and two in the morning. It just got to be too much. Plus it was in Vegas with record heat."
He wound up losing in the semifinals to eventual champ Kip Henley but admitted there wasn't nearly as much golf in the show's format as he expected.
"You'd spend hours warming up and then maybe get to hit one shot," he said. "You didn't know what type of shot you'd be hitting so you had to be ready for anything."
He said the show achieved its goal, but without his input.
"It was absolutely about getting a rise out of someone and making the audience go 'Wow, where did that come from,' " he said. "It was a reality show."
And Turk added that Don Donatelo, the runnerup and the show's resident bad guy, got a bad rap. "We had a reunion show and talking with Don and his wife…he couldn't have been nicer," he said. "But get him on the golf course and it's a different story, at least for the show. I just didn't want to play their game."
These days it's SNGA tournament play…when he finds the time.
"It's still a challenge because I'm still working every day," the 2016 SNGA Senior Player of the Year said. "I just can't play enough events to qualify." He took a majority of his leave during the 2016 season to play enough events to qualify and eventually win the title.
He added he's impressed with SNGA events and they certainly bring out the best players the area has to offer.
"People in this area are golf-starved for competition," he said. "There are so many people playing for fun but the SNGA has really stepped it up. And having the different divisions really lets people be competitive and that's all people want…to have a chance."