Member Spotlight – Love Now Walks the Golf Beat
People look at pressure situations differently. For some, pressure is standing over a 10-foot putt to win a golf match. For others, like Debbie Love, it's spending 26 years as a member of the Las Vegas Metropolitan Police Department, the last 12 as a sergeant. That 10-foot putt? Piece of cake. –by Bill Bowman, Las Vegas Golf Insider staff.
Love said spending that time as a member of Metro definitely had its pressure moments. But, like on the golf course, she handled it smoothly.
"I did police work for so long that the good training I got let me respond to situations no matter what the call might be," she said. "I've been involved in a shooting and been involved in a shooting as a supervisor. When dealing with those types of situations, you have to assess each situation and deal with them the best you can."
Let's get back to her foray into the golf world.
Love didn't take up the game until 2000 when DragonRidge Country Club, the community where she lives, opened. She hasn't put the clubs down since.
"My family was a golf family, but I was always a softball player," Love said. "Now, too many knee surgeries later (nine), it's all golf."
She started taking it seriously right from the beginning.
"I'm a competitive person," she said. "Once I started learning the game, some of the girls at DragonRidge would play in events and Sherry Jackson got me to playing a lot. Now I'm addicted."
Love took over for Jackson as the president of the DragonRidge Women's Golf Association about five years ago, so she's got her pulse on the state of the game. As the president, she also represents the club at the monthly WSNGA meetings. It's a position and responsibility that she doesn't take lightly.
"There's a lot of responsibility," she said. "But the main thing is trying to get other players to grow the game."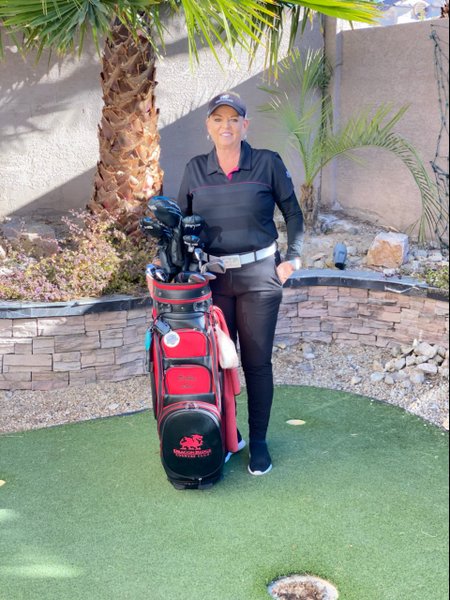 Which brings us to the WSNGA and its impact on the game.
"The WSNGA is just a great group," Love said. "And the SNGA helps us out a lot, too. Tim Brand and Ann Sunstrum do a wonderful job with the tournaments and all they do for the WSNGA. Everyone just tries to help everyone else out and that says a lot about the groups."
Love added that her time playing in WSNGA events, like the Silver Cup between the North and South parts of Nevada, definitely stirs the competitive juices.
"I started playing in the Silver Cup around 2006 and have only missed twice when I wasn't able to compete," she said. "I'm friends with almost everyone on the teams and it's that kind of camaraderie that is really special. It's an individual sport but in the first two rounds you have a partner so you really don't want to let them or the team down."
Like many others, health has slowed Love down … even if just a little.
"Along with the nine knee surgeries I had breast cancer in 2017 and that took me out for about four months," she said. "And I had hip replacement surgery in 2019, so I'm just now starting to get my distance back. I worked hard at rehab just trying to get back. Now I'm still hitting it out there around 225, so that makes me happy."
Actually, just being active makes Love happy.
"I work out about four or five times a week to stay fit," she said. "Being a cop, I've always been working out. And practicing golf a lot is part of that. It's just very relaxing to go out and practice and work to get better."
In the end, Love said her law enforcement career really came down to one thought.
"It's really pretty simple," she said. "It's all about the people and safety."