Member Spotlight: Survivor Huckabay Leads SNGA for Business Women
For Karen Huckabay, Women's Southern Nevada Golf Association member and SNGA for Business Women (SNGABW) president, golf is much more than a game. In a way, it was a lifesaver as the two-time breast cancer survivor relied on her fellow SNGABW members to help her endure–and ultimately win–the battle with the insidious disease. –By Brian Hurlburt, Las Vegas Golf Insider.
"I will never get over the kindness these ladies showed me," Huckabay, an Oklahoma native who moved to Las Vegas in 2012, says about the SNGABW members who played golf with her during her cancer scare. "They were so patient and helped me every step of the way. I could barely hit the ball more than 100 yards and couldn't bend over to line up a putt, but all of these great ladies took their time with me and I couldn't have done it without them.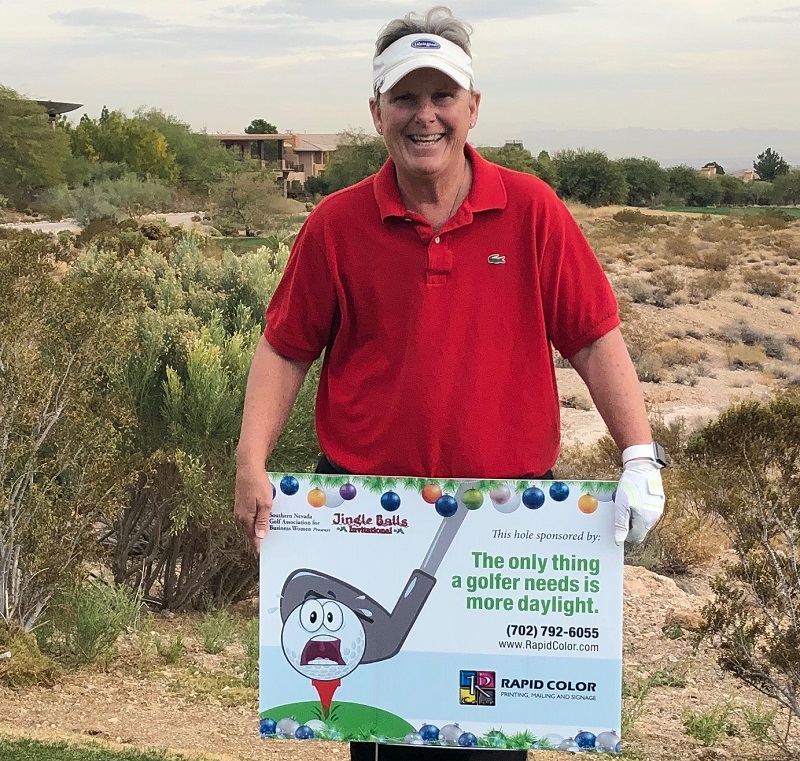 "When I first moved here in 2012, I was paired with Jan Hansen, my best friend, Connie Hill, from Oklahoma, and Connie Patterson, who knew my aunt. From day one, they and everyone else in the group made me feel like Las Vegas and this community was home. They are all amazing people and that is one of the things that makes our organization so special."
The SNGABW currently has 110+ members and renewals and new members are being taken for 2020. Huckabay says the 2020 schedule is almost complete and once again the Jack Nicklaus-designed Bear's Best Las Vegas will serve as the home course (played once a month), but other outings will take them to top courses throughout Southern Nevada. Women of any age, golf level or business discipline (even retired) are welcome to join in the fun that happens on and off the course.
"What a great group of women," says Huckabay, 55, who played softball at Oklahoma State from 1982-86, and caught for future gold medalist and current ESPN commentator Michele Smith before playing travel ball until age 30, when injuries forced her to the sideline and golf came into the picture. "We have women from all walks of life. You will meet a casino host to a hotel CEO and so many others. We pair women together of all levels because we want everyone to meet everyone. We are here for fun, but there is no question that sometimes positive business relationships are also built, which is great."
Huckabay carries about a 14 handicap and helped organize the recent Jingle Balls Invitational at Bear's Best charity outing hosted by the organization. The total funds raised were the most in history and were donated to the Little Miss Hannah Foundation and also Safenest. Huckabay's company, Rapid Color Printing, created the tee signs of the many worthy sponsors.
The official mission of the SNGABW is "to provide business and professional women in Southern Nevada an opportunity to socialize and play golf at various golf courses in the area, to participate in special golf events including Team Play, Match Play, Club Championship, State Tournaments and the activities of the Women's Southern Nevada Golf Association."
All information and membership information is available at https://www.lasvegasgolf4women.com/.