Rivals Earn Wins at Women's So. Nev. Am Plus Silver Cup Team Picked
Annick Haczkiewicz (gross) and Aliyah Williams (net) won titles in the WSNGA's 2021 Southern Nevada Amateur. The event, held June 20-21, 2021, at Reflection Bay Golf Club, was also the qualifier for the 2021 Silver Cup's South team with 18 players earning gross and net spots. The other spots will be filled at a later date.–by Bill Bowman, LasVegasGolfInsider.com staff.

Gross
Turns out 36 holes wasn't enough to crown an overall champion.
Annick Haczkiewicz, a senior at BYU, beat Aliyah Williams, a junior at UNLV, on the third playoff hole to win the title.
Both entered the playoff with four-under-par totals over the two days. Haczkiewicz won with a par on the third hole when Williams put a shot into the water.
Haczkiewicz led after the first day with a four-under-par 68 (including five birdies in an eight-hole stretch) but an even-par round during the finale (with two birdies and a double bogey) left the two players tied at four-under-par.
It was a red-hot second round by Williams that set the stage for the playoff. She put seven birdies on her scorecard during the final round–including four in a row–to rally to force the playoff.
Haczkiewicz said despite the great first round, she knew there was a lot of golf remaining.
"I didn't know where I stood and I thought someone might shoot low," she said. "I just told myself to shoot even-par or better. I just tried to be as steady as I could. I was really happy with the way I played both days."
Her patience paid off, plus she got a little redemption from Reflection Bay.
"We played the West Coast Conference championship here back in April and didn't do so well," she said of the team's third-place finish despite leading after the first day. "To come back and win gives me a little skip in my step knowing I can win on this course. It will certainly help with my confidence next season."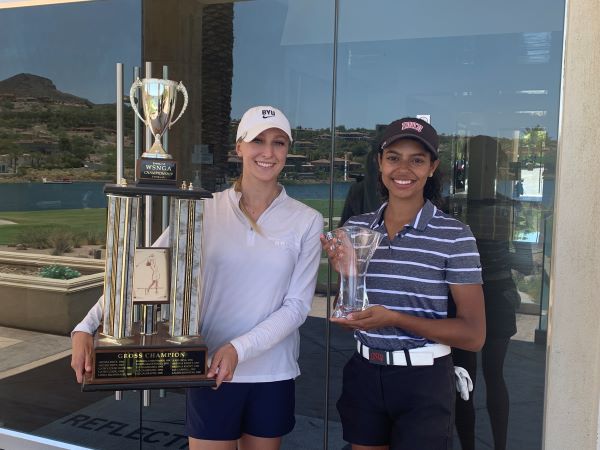 Net
Aliyah Williams had to settle for the net crown, winning that title by four strokes despite losing the gross title in a playoff.
While it was an impressive two-day showing, she had her sights set on the gross crown.
She put up birdies on holes 11 through 14 the second day but it was the 16th hole that stood out for her…and not in a good way.
"The 16th really messed it up," she said. "I was five-under and drove it to the front of the green and had a putt for eagle. Then I had a three-foot putt for birdie and it burned the edged. That could have sealed it."
But the four-shot win in the Net Division was a nice consolation prize.
"I'll just keep practicing and work a little harder…especially with my driver," she said. "This got me great experience going forward."
Williams sees her hard work paying off this fall for the Rebels.
"These two days were a definite boost for my confidence," she said. "I didn't really play my best my sophomore year but an event like this gives me more confidence. I've gained about 30-to-40 yards in distance with my driver so everything's working out right."
2021 Silver Cup Roster
Eighteen ladies, nine in the gross division and nine in the net division, earned spots on the South team for the 2021 Silver Cup tournament. The event will be held Oct. 11-13, 2021, at The Club at Arrowcreek in Reno and will be played on The Challenge Course.
Captains Robbin Sanchez and Laura Smith will now evaluate WSNGA golfers' play over the next weeks and as the tournament gets closer they will add the final two players to the roster.
The South team won the 2020 event but the North holds a 15-12 overall edge.
"We have some fantastic veterans coming back and some new players who have not played before so it's a really good mix," Sanchez said.
She said the captains now face the task of figuring out lineups.
"We want to make sure we have a chance to partner the right players together," she said. "Winning the alternate shot seems to be a key factor in winning which is what we did last year. We want to wash, rinse and repeat."
2021 Gross Qualifiers
Aliyah Williams, Ronda Henderson. Regina Quintero, Brenda Knott, Makenzie McMillen, Karen Herness, Laura Smith, Maria Rances and Carrie Langevin.
2021 Net Qualifiers
Helen Welsh, Debbie Love, Theresa Prospero, E Wright, Fay Geddes, Karen Schroeder, Monica Kaili, Clara Heo and Rusty Beckel.