SNGA Rules Experts Brand, Davis, May Earn On-Course Title at PAC Am
Most of the time they are behind the scenes, but this time the SNGA team of Tim Brand, Sue May and Mike Davis, earned a tourney title. The three won the 2022 ESROM PUC tournament, which was held July 18, 2022, at the Columbia Edgewater Country Club in Portland, Oregon, in conjunction with the prestigious Pacific Coast Amateur. –By Bill Bowman, www.LasVegasGolfInsider.com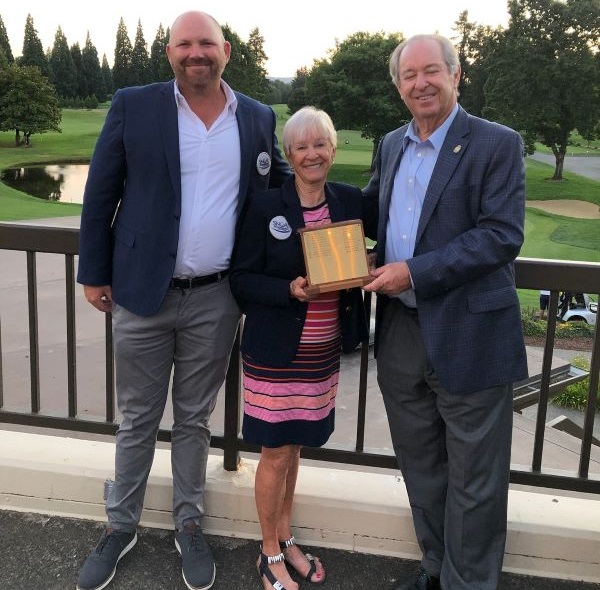 The SNGA team won the title for the second time, also having won in 2019 at the Championship Course at the University of New Mexico.
The ESROM PUC is Morse Cup backwards. The Morse Cup is the team portion of the Pacific Coast Amateur festivities that also features an individual competition.
During the Pacific Coast Amateur, the SNGA was represented by Jackson Parrish (T-55), Josh Goldstein (T-59) and Hazen Newman (T-71). Overall, the team finished 11th.
For Brand, Davis and May, it is always a nice opportunity to break out the clubs.
"It was just a fun event that gave us a chance to play a course that we might not get to play otherwise," said Tim Brand, Assistant Executive Director for the SNGA of the tournament that pits tournament officials in a three-person event. "There's a directors meeting that lasts for a couple of hours that talks about the rules and everything else that might come up and then we get the chance to play."
There's a method to their madness.
"It gives everyone that chance to look for things we might have missed when marking the course," he said. "I can guarantee you that every time this event is played someone brings up something that needs to be looked at just in case it was missed. It's always good to find something and fix it before it's too late."
Brand said the event also gives tournament workers the chance to spend four hours with other officials and administrators before the regular tournament.
"We will see these same people over the next three days or at least interact with them over the radios," Brand said. "It's nice to be able to interact with them and just talk about other groups and associations."
Brand said overall there were 16-18 associations represented in the ESROM PUC event.
"Sue, Mike and I didn't play together as they do a good job of making sure different players from different associations play together and get to know one another," he said. "You just played your own ball and it was just a fun event. It was with handicap and all three of us played pretty well and we wound up winning."
Brand said the chance to get out and play helps put everyone in a positive frame of mind heading into a long four days of work.
"If you're going to work 10-12 hours a day as a rules official for four days it's nice to be able to get out and see the course and have some fun before the actual tournament," Brand said.