SNGA Stay at Home Moments with Top Players Exber, Henderson
Just like no two golf swings are the same, getting through this coronavirus pandemic has a couple of Las Vegas' top amateur golfers focusing on different parts of their games. Brady Exber and Ronda Henderson, like much of the rest of the golf world, are sidelined from playing. But that hasn't stopped them from working on various golf and health aspects and offering tips to help out players. –by Bill Bowman, Las Vegas Golf Insider staff.
Each are more than qualified to share some ideas for on and off the course ways of coping through these challenging days and evenings.
Exber is a nine-time SNGA Player of the Year. He won the 2014 Senior British Open champion, the 2018 Canadian Senior Amateur champion and has more trophies, plaques and awards than one can count.
He's approaching his time off from teeing it up different than some players.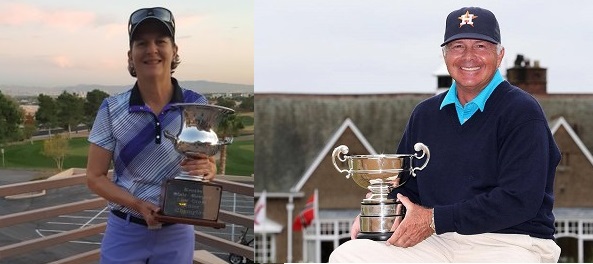 "I'm not touching any clubs," he says. "I've done a lot of walking and I'm mostly working on physical stuff. I'm getting a lot of stretching in. I've had a lot of back issues and I'm using this time to get myself in better physical shape."
He did add there are a number of things any golfer can work on…whether they are swinging clubs or not.
"For me, I always try to make sure my grip is exactly the way I want it," he says.
He then added two tips he's followed for a very long time.
"Many times I've read where Jack Nicklaus said setup is 90 percent of hitting a good shot," he says. "And I don't need to hit balls to work on my setup. And years ago Jim Colbert told me the most important thing in hitting a good shot is posture throughout the shot. Going out and just hitting golf balls doesn't help posture, so I'm using this time to work on those things that are very important for when I do go back out and start playing."
The WSNGA's Henderson has played in six Women's Silver Cup tournaments representing Southern Nevada and qualified and played in the U.S. Senior Women's Open at Pine Needles in North Carolina in 2019.
She said her time off has been pretty repetitious.
"Welcome to Groundhog Day," she says with a laugh.
Henderson says her routine is simple, but she's confident it will pay off back on the course.
"I'm doing a lot of putting," she says. "I've got a putting template that I put on the living room floor and use. I probably spend 30-45 minutes every evening putting."
She's also working on her swing, but without hitting golf balls.
"I have a couple of drills my instructor (Lake Las Vegas Performance Institute pro Craig Barlow) gave me that I focus on while swinging in the backyard," she says. "I use the reflection in the sliding door as my mirror."
And, like Exber, walking comes into play.
"I'm walking a lot," she adds. "I'm trying to stay in decent shape. I'm probably walking about 20 miles a week."
As for what other amateurs might work on, Henderson says that one's easy.
"I would say they need to focus on one or two things they can work on with or without a ball," she says. "Whether it's the putting stroke or the swing, if they focus on that, I think they'll come out a little better of a player once we get back on the golf course."