Spotlight – Hall Heads to U.S. Junior, UNLV
McKenzi Hall has a big summer of golf before her first year at UNLV as a member of the UNLV women's golf team.  A first stop is the prestigious U.S. Junior Amateur and then focus turns to improving and being ready to be a Rebel. –By Brian Hurlburt, LasVegasGolfInsider.com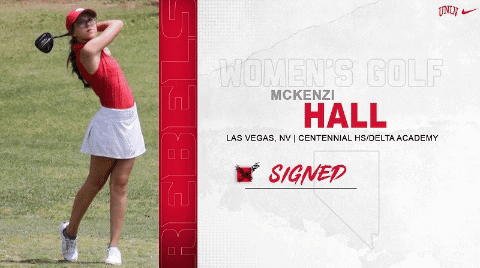 "The first thing that comes to my mind about my golf career as I get ready for UNLV is focusing on improving my game every day and really giving it my all," says Hall, who played at Centennial High and attended Delta Academy. "College golf is a completely different level and mentality, and I need to prepare for that.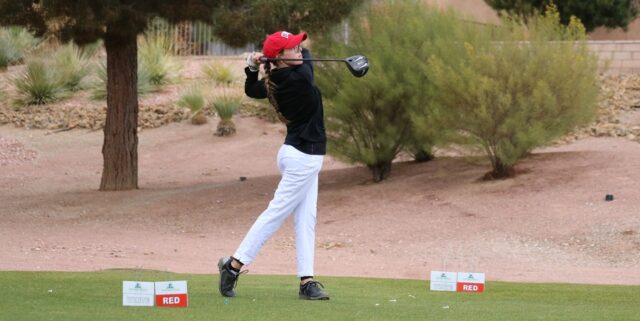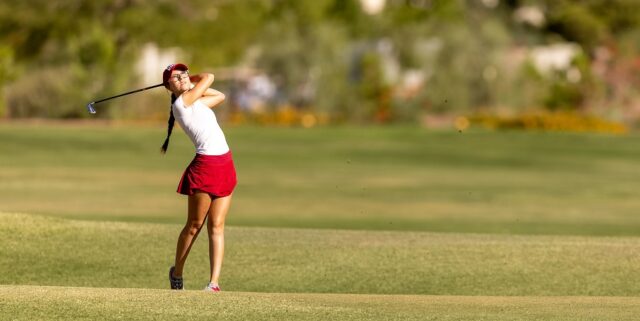 "This summer I will be playing in the U.S. Girls Junior in Maryland. I have tried to qualify in the past but this is the first year I was able to do it. I am most excited for it. It's one of the biggest tournaments in junior golf and I'm beyond excited for this opportunity. I will also be doing the Future Champions Callaway World Championship at Temecula Creek the week after that. Lastly, I am confident that I will qualify for the Girls Junior PGA that will be held at Valhalla at the end of July."
UNLV head coach Amy Bush-Herzer is thrilled with Hall choosing UNLV.
"I am elated McKenzi is staying home," Bush-Herzer says. "She has great character and represents UNLV and Las Vegas well."
Hall has fond memories of her time in the Southern Nevada Junior Golf Association and also enjoys playing in the WSNGA. She recently finished third at the Women's Southern Nevada Amateur, two shots behind her future teammate Aliyah Williams and Univ. of Iowa rising senior Morgan Goldstein.
"Throughout high school and junior golf I made some of the best memories," Hall says. "I was able to go to some of the most beautiful places and meet amazing people that I will have in my life forever. I chose UNLV for so many reasons. I love both Coach Amy and assistant Coach Erica. I know a few of the girls on the team already from junior golf and I love all of them. I also wanted to go somewhere that I can play year round so staying here in Vegas really worked out. We get to play on some amazing courses and I'm really happy with my decision."
Hall's focus besides the summer tournament schedule is to be in top form come the fall collegiate season.
"To prepare for college, I've really just been playing as much golf as I can," Hall says. "I wake up between 5 and 6 everyday to get myself used to having an early schedule. I know that we will be working out quite often so I also have a consistent gym schedule. Being organized and having good time management is going to be super important. I am ready for college golf. I am ready to take my game to the next level and put it up to the test playing against some of the best golfers in the world."
Hall will also keep an eye on some of her favorite Tour players, even though one is sidelined.
"Ever since I was little, Tiger Woods has always been my golf idol," Hall says. "I love the way he plays the game and how he doesn't let anything get in his way. Recently, Brooks Koepka has been another one of my idols. During an interview he was talking about how in high school and throughout his junior golf career he wasn't one of the top players in the world but he never let that stop him. He continued to grind every day and now he is one of the greatest players in the world so it really motivates me to keep working at it everyday."