There's a New TPC Women's President In Town – Tracey Blake
Tracey Blake, the new president of the TPC Summerlin Ladies Golf Association, didn't start playing golf until she was in here 30s while living in Colorado after meeting her soon-to-be husband, Bob Weiss, but a love and passion for the game quickly emerged. So much so that she not only started playing, but created a golf fashion company. After retiring from that idea, she moved to Las Vegas about a year and half ago and recently created a new blog and website, TheWomanGolfer.com . She is now sharing her passion through words and photos, plus her new leadership position. –By Brian Hurlburt, Las Vegas Golf Insider.
Blake, 52, is committed to enhancing the experience for members of the TPC Ladies group and is using her experience in Denver as a guide and inspiration, even if a little pushback can come along with the job.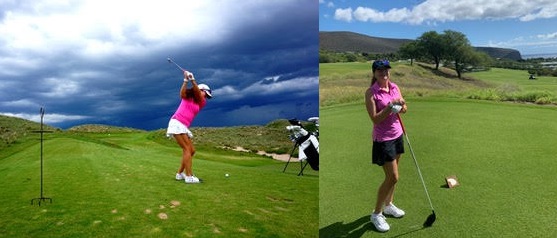 "I want to expand participation among existing women members and also create a welcome feeling and formal  introductory process, so new TPC members become immediately aware of and are encouraged to join the ladies association," Blake says. "Also, I want to improve our member-guest and member-member tournaments so they are equal to or better than any other in the Valley. I was president of our 150+-member ladies group at our club when I lived in Denver and learned that improving your fellow members' experience, which is my focus, will meet resistance because you are proposing change. You will not please everyone no matter how inclusive or sensitive you attempt to be."
Blake says the Vegas weather and other factors convinced she and her husband to move to Southern Nevada. She has loved it from day one and is active at TPC Summerlin and has also enjoyed being a member of the Women's Southern Nevada Golf Association.
"A friend of ours is a retired pilot and he told me recently Las Vegas is the ideal location for aviators because it has 300 days of sunshine annually, as many days as any other mainland city in the country, and that's pretty good for golf, too," Blake says. "Southern Nevada has a climate advantage— those 300 sunny days annually and impressive mountain views from most every golf course.
"The SNGA events are well-organized and easy to enter online. When you play in them, they make you feel like you are playing on a tour. You play a variety of courses around the Valley—from Reflection Bay to Paiute. I like the competition but for me it's all about making friends. What more could you ask for?"
Blake's former company, Tracey Lynn Golf, which she founded in 2006, was a boutique women's golf apparel company based in Denver and manufactured in the USA. It was a good experience for her, and she met many wonderful people and established great relationships. Blake continues to enjoy watching and learning from different players and friends, and has a few that inspire her.
"Elena King is rated as a Top 50 LPGA Teacher and is kind and patient," Blake says. "She has a golf school in Denver, Experience Golf, and she taught me how to play. Not only is she good at teaching the mechanics, but she is also certified as a mental coach by VISION54. And Kerri Clark, a former LPGA Tour player and a teaching pro here in Las Vegas, taught me a lot about playing competitively. And believe it or not, Veronica Joels, who is a sophomore at UNLV inspires me.  She's our state amateur champion and our local phenom here in Las Vegas. I had the opportunity to play with her this past year and it was a great experience. She's a wonderful role model for golfers of any age. Anyone who helps grow the women's game rates as a hero for me."
With the new blog, Blake's focus is both on and off the course and looks forward to golfers following along as she explores the grand ole game.
"I hope everyone who reads this checks it out and subscribes," Blake says. "I write about apparel, instruction, equipment and travel. Since I was in the golf business for so long, I am still frequently asked about new and existing golf apparel companies, courses to play, equipment advice, lessons and golf schools … the list goes on and it will be great to share my ideas."
As a member of TPC Summerlin, Blake takes pride in being a part of the annual Shriners Hospitals for Children Open PGA Tour event and she and the members understand the impact made by closing the course to the membership each fall for the event.
"The cause, the Shriners Hospitals–an organization that has helped more than 1.4 million children reach their potential and lead more fulfilling lives regardless of the families' ability to pay–, makes it all worthwhile," Blake says. "Every TPC member, I think, feels they contribute to the Shriners. Most members also admit that it is cool to play our course while the grandstands are up in the weeks before the Tour arrives."
So, follow along with Blake as she continues her golf journey at www.thewomangolfer.com.
Fore!