UNLV Commit Veronica Joels Dominates in State Win
Veronica Joels put together rounds of 69-73–142 and breezed to an 11-stroke victory in the 2018 NSWGA Amateur Championship held July 17-18, 2018, at DragonRidge Country Club. My Paulsen (gross) and Nancy Dunn (net) won the Silver State Division titles. The future of UNLV women's golf appears bright. — By Bill Bowman, Las Vegas Golf Insider staff.
Joels' first round set the stage as she came in with a three-under-par 69.
"My putter the first day really worked well," said the 18-year-old Joels who will be attending UNLV this fall on a golf scholarship. "The second day went pretty well but I just didn't score. But, that's golf for you. You just go out and do the best you can every time."
She said her ball-striking was spot-on both days. "It was super-solid," she said. "I think I hit 14 of 18 greens each day so I was real happy with that."
She played in this event in 2017 but had to settle for second. This year she moved up a spot.
"This is a great event and all of these ladies are very nice," she said. "And the course was in great shape. It was just a lot of fun."
Championship
Veronica Joels, 69-73—142
Connie Isler, 78-75—153
Silver State Gross
My Paulsen didn't let a little lack of sleep get in the way of winning the gross title.
Paulsen, who works the swing shift at Bellagio, edged Debbie Love for the title.
"I really didn't have high expectations so I'm very happy," Paulsen said. "I'd get off work, get a couple of hours of sleep, drive across town and play in the event and then do it again."
Her key to the win was surprising to her. "My ball-striking is not usually a strong part of my game but it was pretty good over the two days," she said. "That worked out well."
She's been missing from the winner's circle for awhile. "I won the same gross event about 10 years ago so it's been awhile," she said. "Luckily I have a few friends who are members out here and that really helped as well. Plus I have a very understanding family."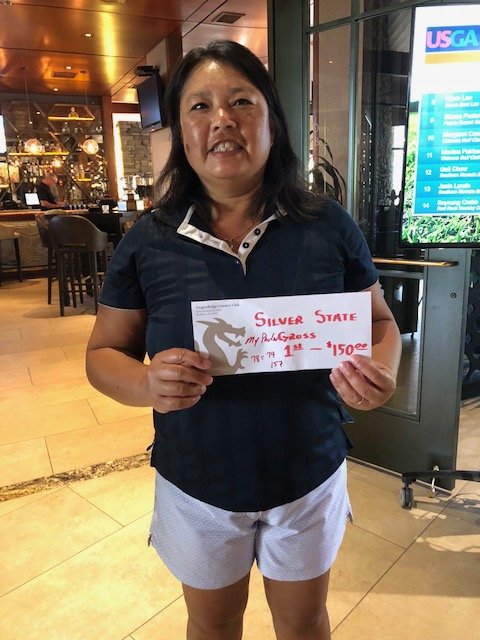 Silver State Gross
My Paulsen, 78-79—157
Debbie Love, 76-82—158
Monica Kaili, 85-81—166
Silver State Net
Nancy Dunn used her home-course advantage to the fullest in winning the net title.
"It really helped to be a member here," she said. "Knowledge of the greens really helped and I just played my game. It was a pretty solid two days."
She said her goal was simple: "I just wanted to keep it in play and play to my strengths," she said. "I also had a lot of really good lag putts."
She said it's her first WSNGA title. "I've won at DragonRidge but it's my first one at this level," said the 2018 member of the South's Silver Cup team. "It's kind of a big deal for me."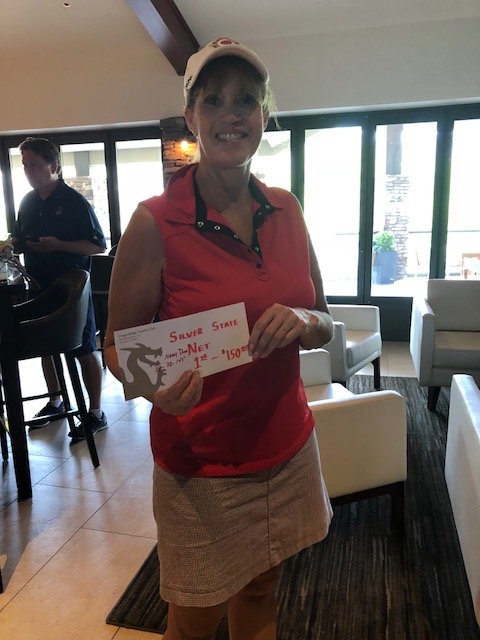 Silver State Net
Nancy Dunn, 72-73—145
Sherry Jackson, 74-74—148
Margie Cashwell, 72-78—150