Women Win, Earn Silver Cup at Historical So. Nevada Am
For the first time, major titles were on the line for the WSNGA and SNGA at the same course on the same weekend. The pressure was doubled for the Women's Southern Nevada Golf Association members as they took on Legacy Golf Club in the 2018 Southern Nevada Amateur that was also the qualifier for the 2018 Silver Cup qualifier. In the end, Kimberlee Tottori won the gross division with a 69-72—141 total and Margie Cashwell was the net winner with a 71-62—133 total. For the men winners, click to this Southern Nevada Amateur Article. –By Bill Bowman, Las Vegas Golf Insider staff
GROSS
Tottori, a sophomore-to-be at Seattle University, won the Gross Division by 6 strokes.
"I had a very good first day," she said. "My short game was pretty good and overall I was happy with the way I played. There's still a lot in my game that I can work on, but it was a pretty good tournament."
Her next goal? "I'm hoping to win my first college tournament this year," she said.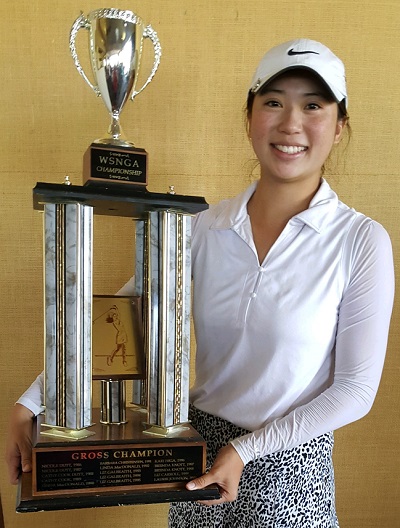 GROSS
Kimberlee Tottori, 69-72—141
Amy Ruelas, 74-73—147
Connie Isler, 76-72—148
NET
In the Net Division, Margie Cashwell posted a sizzling second-round 62 to come away with a two-stroke victory.
"I just told myself to get out there and relax," she said of her second-day play. "I played more disciplined and focused golf. When I did make a mistake, I recovered pretty well."
Cashwell added she's looking for more improvement after winning her first title. "Now we will just move on to the next one," she said. "This one worked out well but I want to work on getting my handicap down and competing more."
NET
Margie Cashwell, 71-62—133
Karen Schroeder, 69-66—135
Monica Kaili, 68-70—138
SILVER CUP QUALIFYING
Players also used the event at Legacy as the qualifier for the South's 2018 Silver Cup team. The 20-woman team (two captain's picks will be announced at a later date) will face the North squad in the annual event.
The tournament will be held Nov. 12-14 at Chimera Golf Club with a Solheim Cup/Ryder Cup format. There will be a two-person alternate shot round, a two-person best-ball round and a closing round of singles matches.
South co-captain Karen Herness is excited about this year's event.
"We have a lot of new faces," Herness said. "This team will work together well and fit together well."
The North has won the previous three meetings.
The South team qualifiers include: Connie Isler, Britany Whatley, Diane Booth, Monica Kaili, Ronda Henderson, Christina Brandt, Debbie Love, Rusty Beckel (also a co-captain), Margie Cashwell, Karen Schroeder, Christine Soscia, Ruby Biehl, Julia Choi, Nancy Dunn, Masako Brown, Shana Pederson, Gabriel Buonacorsi and Laura Smith. Alternates are Sherry Jackson, Brittney Brooks, Nicole Nolan and Monica Fairbanks.
Two more players will be added to the squad as captain's picks later in the year.