A week in late October is now arguably the highlight of the amateur golf year in Southern Nevada. One of the events included during the 2nd Annual Las Vegas City Am Week is the 2nd Annual Women's Las Vegas City Amateur. All eyes will be on it. –By Brian Hurlburt, LasVegasGolfInsider.com
Click to register now for the 2nd Annual Women's Las Vegas City Amateur
The event is scheduled for Oct. 23-24 at historic Las Vegas Golf Club. The champions in 2022–the first to ever hoist the trophy–definitely felt the magnitude of the event and their victories. Those fortunate to win the in the second year should feel just as overwhelmed.
"Winning and playing in the first of anything is always so memorable and I will definitely tell my sisters all about it when I get home," said Coronado High star Ali Mulhall about winning the scratch division.
"Yeah, it is special and I really worked hard," said net champion Clara Heo.
"I originally just came out to support because this is the inaugural tournament and I just came out and tried to do my best … I thought it was my duty to come and support this event," said Maxine Goodbridge, the senior champ.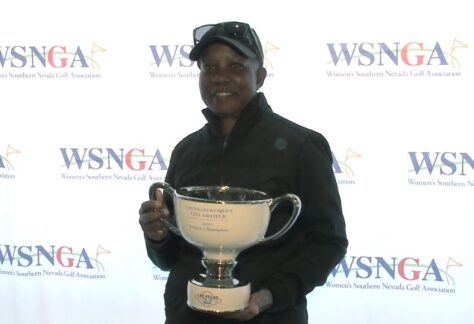 The week was created by SNGA president Kenny Ebalo and the team at the Southern Nevada Golf Association. Las Vegas Golf Club is a more than willing host.
"It's such a historic place for everyone," Ebalo said about the course. "If you grew up here, you've probably played the course. It's just iconic. Everyone can play the course. The Las Vegas City Amateur has a history of junior golfers winning the title and even seniors winning it. It's just very playable."