Women's History Southern Nevada – Helen C. Cannon
It was an honor to serve as president of the Las Vegas Golf Hall of Famer for many years and also serve on the committee, and during this time, a very deserving inductee was Helen C. Cannon, a huge supporter of golf and women's golf in Southern Nevada. She was also a dedicated supporter of the entire community. To celebrate Women's History Month, here's a little more about Cannon. –By Brian Hurlburt, Las Vegas Golf Insider.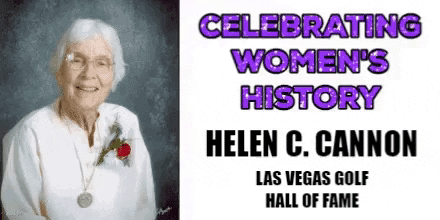 She was a benefactor and amateur golf champion who was respected by all who knew her.
From LasVegasGolfHOF.com:
"Cannon was a true pioneer for women's golf and the overall golf community in the Las Vegas area. She was a distinguished champion, winning the Women's Nevada State Amateur, the Women's Southern Nevada Amateur and several other titles, and she also took time to give back to the game and help grow the sport of golf. She attended the University of Wisconsin and majored in physical education, but her first reaction to the game of golf was that it was dumb. That soon changed. Cannon helped create girls high school golf, and also helped in the original development of Las Vegas Golf Club, when individual families purchased and helped build each hole. She is a past president of the Women's Southern Nevada Golf Association, and also served in several different leadership roles on the local, state and regional levels."
In addition, Cannon was also a dedicated pilot who served in the Women's Auxiliary Service Program during World War II. She continued to fly while living in Las Vegas following the war. In 1976, the Clark County School District named opened Helen C. Cannon Middle School in her honor. She told students at the opening, "Ask questions, have an abundance of self worth, take advantage of school courses, be there, be on time, get involved, and participate."
"Helen Cannon has been a significant contributor to women's golf in Southern Nevada," said Sherry Corsello, President, Women's Southern Nevada Golf Association, upon her induction in 2002. "She has served in many capacities in state and regional associations as well as being an accomplished golfer. The Nevada State Women's Golf Association is proud to have the state amateur championship flight named in her honor. Without her efforts, women's golf in Nevada would not be at the level it is today."
Cannon By the Numbers
1938, Graduates from the University of Wisconsin
1941, First solo pilot flight
1942-45, Women's Auxiliary Service Program
1970, First President, Nevada State Women's Golf Association
1972, Champion, Women's Nevada State Amateur
1976, Women's Southern Nevada Amateur Champion
1976, Helen C. Cannon Middle School opens
1981, Women's Southern Nevada Amateur Champion
2003, Women's Southern Nevada Golf Association creates Helen Cannon Championship Flight