WSNGA Amateur Determines Major Champs, South Silver Cup Team
Cassidy Phelan, a sophomore-to-be at Colorado Mesa, birdied five of her final seven holes in the opening round of the 2022 WSNGA Southern Nevada Amateur and Silver Cup qualifier and cruised to a four-stroke victory. The tournament was held June 20-21, 2022, at Reflection Bay Golf Club. –By Bill Bowman, www.LasVegasGolfInsider.com
Theresa Summers earned the Net championship in the tournament that also saw 16 women qualify for the 2022 Silver Cup tournament which will be held Oct. 4-6, 2022, at Reflection Bay.
Championship
Cassidy Phelan, who graduated from Southeast Tech in Las Vegas in 2021 before moving on to the college ranks, actually had six straight birdies in the event–the final four holes the first day and the opening two holes the second day.
She said it's nice to be in the winner's circle.
"This feels so awesome," she said. "I haven't won in over three years so this was amazing."
She said the six-birdie streak was definitely the turning point of her victory.
"It was insane," she said of the streak. "The last four birdies (in the first round) really made the day. And on 17, I had a birdie putt from 20 feet and told myself to get it close and not do anything crazy. One of the girls I was playing with said 'that's going in' and it dropped. It was a double-breaker. It was great."
She kept it up at the start of the second round.
"To birdie the first two holes after the way I finished was awesome," she said. "It was certainly a great way to start. I definitely thought this was going to be my day."
She said the win will help her confidence heading into her sophomore season…not that she needed much more confidence.
"It was a great first season," she said. "I got to play in every tournament and placed in the top 20 in almost all of my tournaments. And then I won freshman of the year in my conference which was the icing on the cake."
She added one more reason for her success is her mindset.
"I knew I was up against great competition," she said. "I just told myself to go out and play golf. My mind was the key. I kept my composure and it worked out for me."
She said 2022 couldn't be going any better.
"A stellar freshman season and now this," she said. "I told my coach this is only the beginning (after the team's season) and a lot of cool things are going to happen. And it's all coming together. All the hard work is paying off."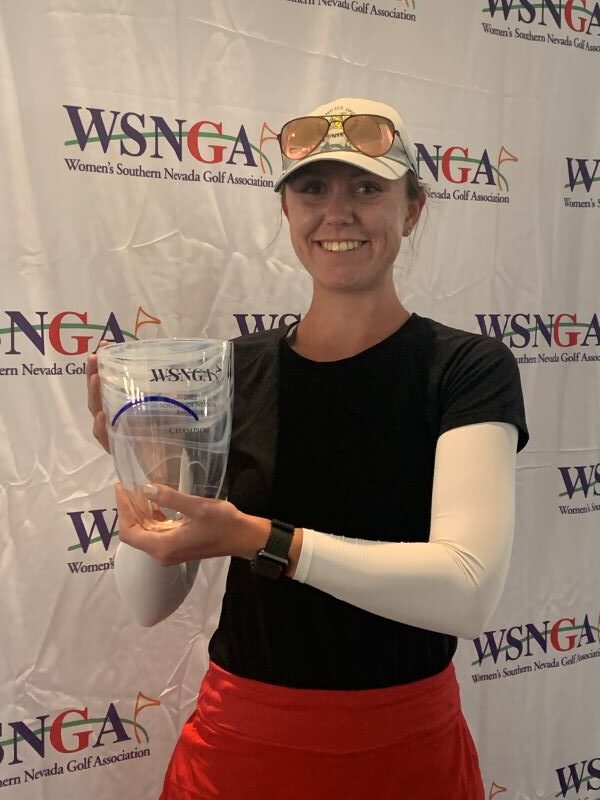 Championship
Cassidy Phelan, 66-68—134
Veronica Joels, 69-69—138
McKenzi Hall, 69-69—138
Net
Theresa Summers put on a clinic in the second round, putting up nine net birdies–including four in a row in one stretch–in winning the Net title.
Summers opened the tournament with a one-under-par 71 in the opening round before catching fire in the final round with a 7-under-par 65.
"It was just a good day for me," she said. "I was relaxed and playing with a great group of ladies. I was pleased with my play. It was warm and not windy. It was just a great day."
She said her iron play was the key.
"I'm usually a good driver and a good putter," she said. "But my irons aren't always accurate. Today I was on the green in regulation more than usual."
She added she was happy with her overall play.
"It's so much better to not be in the rough or bunkers," she said with a laugh. "And the two times I was in the bunkers I had sand saves…it was a miracle."
She admitted it doesn't always work out as well as it did during the second round.
"In my imagination and my sleep I'm a scratch golfer," she said. "In reality it doesn't always work out that way but I stayed positive and played a good, solid round."
She said victories like this one do a world of good for her confidence going forward.
"It shows me I can hit it straight and play well if I focus," she said. "I missed a lot of gross birdie putts because I left them short. They were on-line but short. But they left me with easier par putts and I will take those every time."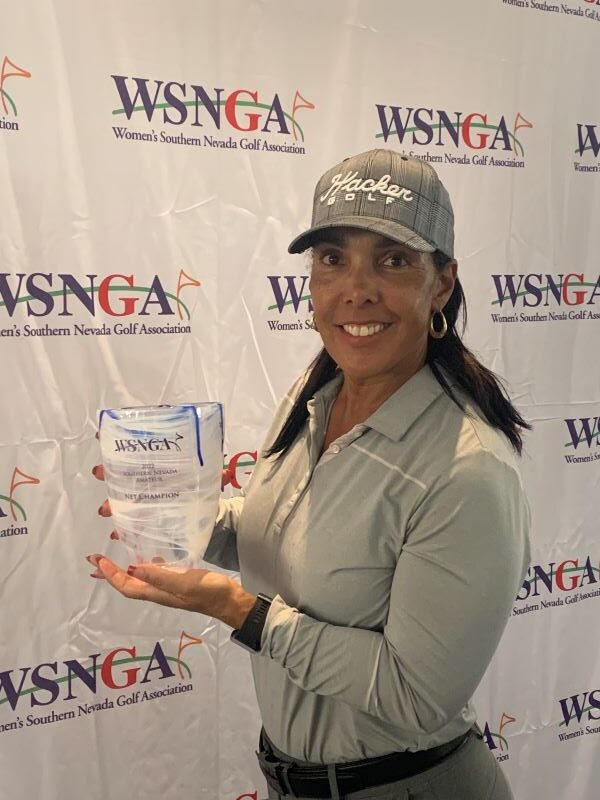 Net
Theresa Summers, 71-65—136
Karen Bernard, 74-67—141
Yoshie Masuda, 74-68—142
Silver Cup Qualification
The South team will be looking for payback at the 2022 Silver Cup when 20 players representing the South take on 20 players from the North in the annual showdown of the state's top women golfers.
The event will be held Oct. 4-6, 2022, at Reflection Bay.
The North team won the 2021 matchup, 24-16, and now holds a 16-12 edge in the yearly event. The last time the event was held in the south, the South team won 21½-12½ in 2020 when the event took place at the Sun Mountain Course at the Las Vegas Paiute Golf Resort.
Now the South team is back on home turf.
"People like playing this event here," said Christine Soscia, co-captain of the South team along with Regina Quintero. "The weather is more predictable and we have a couple of players on the team who play Reflection Bay a lot and course knowledge is always a great thing."
Soscia said the makeup of the team should be ideal.
"We have 12 veterans and six new players who have never played in the Silver Cup," she said. "It's a good mix of experience and rookies. A third of the team is brand new and they are totally excited."
Eighteen of the 20 players for the South team earned spots on the squad during the tournament. The final two spots will be selected at a later date by the co-captains.
Soscia added she likes her team's chances in 2022.
"The North team is pretty tough," she said. "They always put together a good team. But I know we have a real strong team and they are hungry to win."
2022 South Silver Cup Team
Captains: Christine Soscia and Regina Quintero
Qualifiers: Maria Rances, Karen Bernard, Anne Goodson, Yoshi Masuda, Kathy Yee, Renee Rocco, Sherry Jackson. Karen Schroeder, Rusty Beckel, Gabriele Buonacorsi, Brenda Knott, Donna Roush, Debbie Love, Brittany Bronson, Regina Quintero, Karen Herness, Christina Brandt and Lyndi Snyder.
2 Captains picks: TBD at a later date.