WSNGA Club Spotlight – Sun City Summerlin Ladies Executive Golf Club
For the Sun City Summerlin Ladies Executive Golf Club, it's simple: They are a group of women who love golf and meeting new people. So if you're a golfer looking for an organization to join but aren't sure of what to expect, this just might be the group for you. One caveat: You must live in Sun City Summerlin to become a member. –Bill Bowman, Las Vegas Golf Insider staff
Patricia Horsfall, the group's president, said one of the main reasons for their success is where they play. While many women's groups play regulation par-72 layouts, the Sun City Summerlin Ladies Executive Golf Club women tee it up at Eagle Crest, Sun City Summerlin's executive-length par-60 course that fits the group to a 'T'.
"The course is just perfect for us," Horsfall said of the group of around 85 members which range in age from 55 to 90-plus. "We have excellent golfers in their 70s and 80s and women who are in their 90s still playing. It's just a great group. And with a shorter course like Eagle Crest…well, a lot of the ladies find the longer courses just a bit much to play so this is ideal."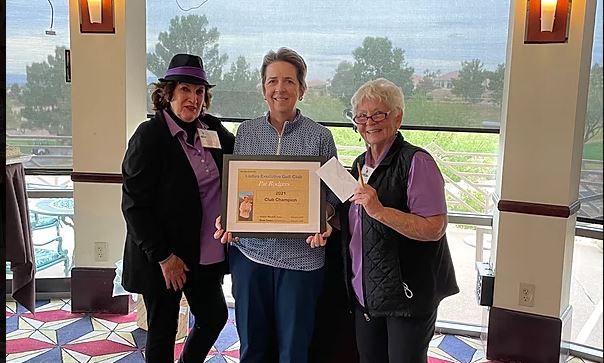 Horsfall said the group plays every Tuesday with different games on the docket to add to the festivities.
"We have a lot of fun formats," Horsfall said. "And we also have a championship tournament every October where we crown an overall champion as well as net division champions."
And Horsfall wanted to emphasize players of all skill levels are members.
"We like to tell people we have a full range of golfers," Horsfall said. "We welcome everybody. We set you up with a buddy to help you learn the ropes and that's especially nice if you're new to golf. It helps players feel more comfortable."
The Sun City Summerlin Ladies Executive Golf group offers potential new members the chance to tee it up twice before joining.
In the end, Horsfall said if you're a resident of Sun City and looking to play golf, this is the group for you.
"The ladies are all very friendly and you'll have new friends right away," she said. "Everyone's very sociable and looking to have fun playing golf."
Recently, the club held a luncheon to honor 2021 Club Champion Pat Rodgers.
Click for more Sun City Summerlin Ladies Executive Golf Club info
If you are not a resident of Sun City Summerlin, there are many other WSNGA or SNGA member clubs to choose from, so make a plan and get more involved.