The Silver Cup, the Nevada women's version of the Solheim Cup, may not have the world-wide appeal of the tournament the LPGA and LET (Ladies European Tour) put on, but to the WSNGA and the NNWGA, it's impact on players is still pressure-packed and a week filled with camaraderie. The 2021 Silver Cup is scheduled for Oct. 11-13 at The Club at Arrowcreek in Reno. –by Bill Bowman, Las Vegas Golf Insider staff.
Twenty women representing the South and 20 women representing the North will face off in the three-day event with the South looking to make it two straight titles. Overall, the North holds a 15-12 advantage.
"It's going to be a tough one this year," said South co-captain Laura Smith. "A lot of our players are lower handicaps which is usually good but that's going to make it a tougher fight because we will be giving up strokes up and down the board."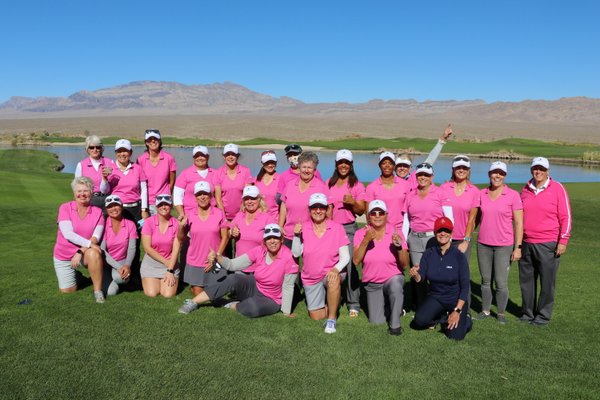 But Smith said the girls are ready for the challenge.
"We've got our teams together and they have been practicing with their partners and we've really been working on the alternate shot format which usually seems to be the tougher one for us."
The event will feature alternate shot the first day followed by best-ball the second day and singles on the third day.
Smith said the team features a good mix of veterans and first-year players.
"We have six rookies which is good and the rest of us have played in at least one Silver Cup," she said. "It's a team that is working well together and we're ready to go."
Overall, Smith said the event could come down to one key factor.
"Arrowhead is a good track," she said. "There are some tough greens up there and they can be a little tougher to putt. We've had everyone working on their putting because we think it could come down to who makes the most putts in the end."
2021 WSNGA Upper Bracket Players
Ronda Henderson, Regina Quintero, Brenda Knott, Karen Herness, Laura Smith, Carrie Langevin, Christina Brandt, Renee Rocco, Debbie Love and Sherry Jackson.
2021 WSNGA Lower Bracket Players
Helen Welsh, Theresa Prospero, E Wright, Karen Schroeder, Monica Kaili, Clara Heo, Rusty Beckel, Shana Pederson, Robin Sanchez and Margie Cashwell.