Barzekoff, Suci Win Prestigious Las Vegas City Amateur Titles
Cameron Barzekoff (Championship) and Aron Suci (Net) won titles in the 2022 Las Vegas City Amateur Championship. The tournament, the SNGA's third major of the year, was held Oct. 29-30, 2022, at Las Vegas Golf Club. –By Bill Bowman, www.LasVegasGolfInsider.com
Championship
Cameron Barzekoff birdied five of his first seven holes of the tournament and posted a seven-shot victory in the Championship Division.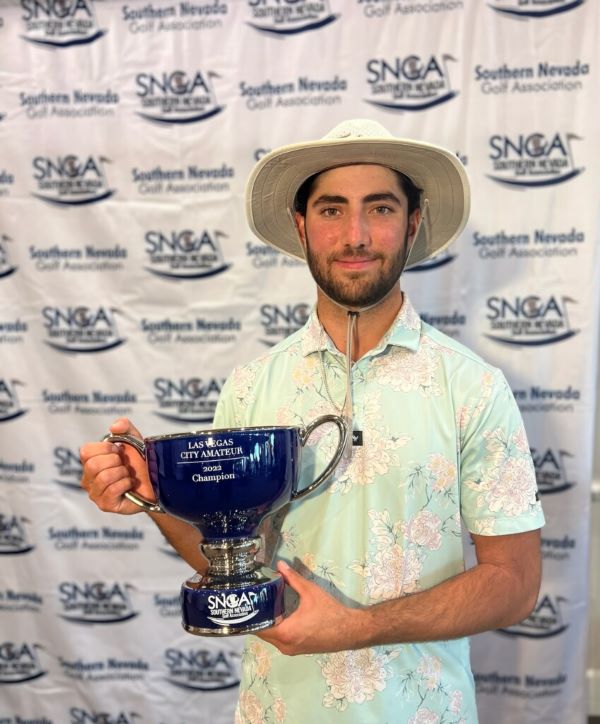 Barzekoff fired a nine-under-par 63 (nine birdies and no bogeys) to open a five-shot lead after the opening round. In the second round he kept the pressure up, adding five birdies to the attack and throwing in a couple of eagles for good measure.
But as good as his scorecard and lead looked, there was potential trouble on the horizon.
"I got off to just as good a start (Sunday) as I did yesterday but Jared (Smith) really had it going," Barzekoff said. "I was four-under through seven holes but he was eight under through those same holes (two eagles, five birdies and a par). All of a sudden, my lead was down to one."
But there was no panic.
"I knew I was playing well and just had to stay focused," he said. "I told myself I just needed to birdie one of the last two holes on the front and I would be OK."
Barzekoff did that on the eighth hole and then turned up the pressure.
"I eagled the 10th and he parred it and I birdied the 11th and he parred so my five-shot lead was back," he said.
He added his confidence is growing each time out.
"I definitely played really good back-to-back rounds," he said. "My putting was average but my ball-striking got me to 19-under."
It was his second SNGA title of 2022 and he also won the 2022 Nevada State Amateur, aslo played at Las Vegas Golf Club.
"I'm two-for-two in SNGA events this year, so I'll take it," he said.
Barzekoff played two years of high school golf at Palo Verde in Vegas before finishing high school in Arizona. He's been honing his game for a shot at a pro career.
Does he feel his game is where he would like it to be as he eyes his next step?
"I'm getting closer," he said. "It will probably be next summer. Then when Q-School comes around next September I think I'll be ready. I'm going to play a few more big amateur events and maybe play a few pro events as an amateur to get my feet wet and go from there."
Championship
Cameron Barzekoff, 63-62—125
Jared Smith, 68-64—132
Rashon Williams, 73-62—135
Net
Aron Suci also used a blistering start–his came in the final round–and ran away with the Net title.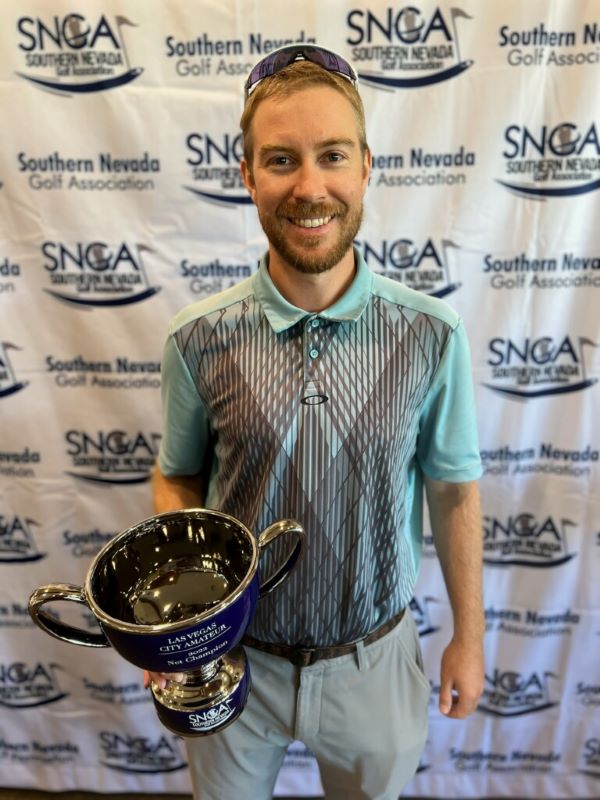 Suci was four-under-par through his first six holes–including a net eagle–as he won for the second time in 2022. He also teamed up with Kenneth Humphries to win the SNGA Team Championship earlier this month.
"This was just an awesome day," Suci said. "Those two birdies (one of them a net eagle) were about 15-footers. I did hit it pretty close but they were still tough putts and they both went in."
While he was happy with the back-to-back birdies, it was the next hole he credits with being the key to the day.
"Right after that I checked the leaderboard on my phone and saw I was in first place," he said. "Then I hit the worst shot I hit all day on the next tee. I decelerated and hit it left. I was lucky it didn't go out of bounds. I chipped it out through a few trees and had 180 yards in. I hit it on the green and two putted for a net par so that was huge. I could have certainly made a bogey…or worse."
He said his mindset in recent play has improved his game.
"My game is on fire," he said. "My mental game is strong and once I got the lead I started swinging more and more freely. I've worked on that a lot. I can't change my swing but I can change my mindset and that's really helped me out."
Overall he said he's just going to ride this hot streak.
"I know it won't last forever," he said. "But I'm glad I got the win when I'm playing well. I had the chance to finish strong and I took advantage of that. I hope I can do it again."
Net
Aron Suci, 71-66—137
Jason Berton, 74-68—142
David Inman, 72-71—143