Harvey Comes Full Circle with Junior Golf
Bill Harvey knows golf has been very good to him. He played in the spotlight for years as he teed it up through high school and college. He even took his shot at earning a chance to go pro. But all that's in the past. Harvey, a Southern Nevada Junior Golf Association (SNJGA) and Southern Nevada Golf Association alumnus, is now giving back to the sport that's given him so much as he works on helping grow the SNJGA. –by Bill Bowman, Las Vegas Golf Insider.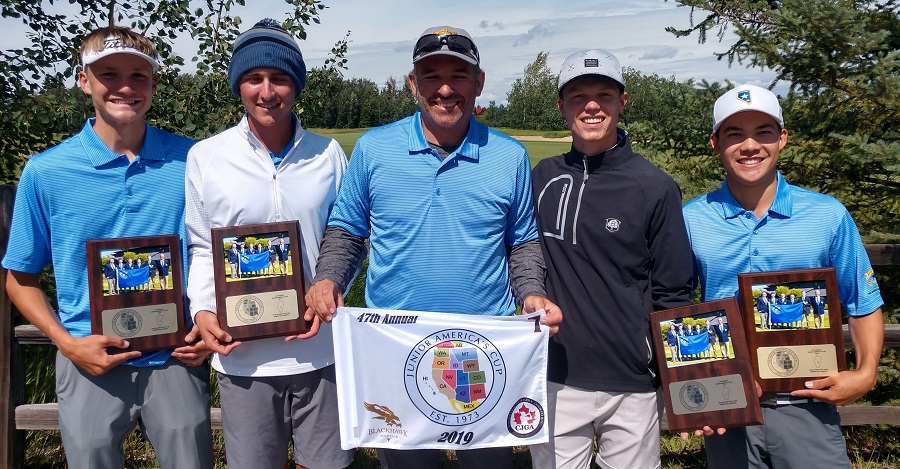 Harvey played at Bonanza High in Las Vegas, graduating in 1997 when he was named the Southern Nevada Golfer of the Year. He also helped the school to the team title in 1996.
After high school it was on to college golf at BYU.
"I had a pretty good college career," he said. "We were ranked as high as third in the nation my sophomore year. We were always in the top 10 or top 15."
Some of his most vivid memories of playing in college revolve around PGA Tour legend Johnny Miller.
"I played with three of his sons while I was there and he was at about 75 percent of the matches," Harvey said. "I heard all the stories about (his matches with) Nicklaus. I knew how good Miller was, but I didn't realize how great he was until I looked up his career and saw how many majors he won and how long he was ranked No. 1. That was pretty impressive stuff."
With those facts providing some inspiration, he figured it was only natural to take a shot at a pro career.
"It's definitely a different mindset than the team atmosphere of high school and college golf," Harvey said. "Everyone is out to make a living and that makes it a whole different mentality. I didn't enjoy that aspect as much."
But he did have his chance and gave it a shot.
"I just figured I was going to make it onto a tour," he said. "I was paired with (Las Vegas and SNGA native) Robert Gamez at Q-School one year. It was a great pairing. We were both in the top 10 and just had to finish in the top 18 to make it. With six holes left I was in good shape, but didn't finish strong and missed qualifying by a couple of shots. Had I made it, I might still be playing. But sometimes things just don't work out."
He settled in to another career in real estate (since 2006) and has been remodeling and flipping residential real estate since 2010.
But golf is still front and center in his sights. His work environment has given him the chance to keep close tabs on his three sons' rise in the golf world. Grant, 15, Drake, 12, and Heath, 9, are all avid players and are on paths to make impacts of their own.
But Harvey is quick to point out their choice of playing golf came on their terms.
"My wife (Carrie) and I didn't want to put pressure them," Harvey said. "I did put a great putting green in the back yard and did have a set of clubs around. We thought if they take a liking to it, great, but we wanted it to be their choice. Now, sometimes they have to force me to go out.
"They are all amazing putters. They really put in a lot of time."
He's also been working with the SNJGA as a board member and a captain of some SNJGA team events.
He's leading the junior squad that will represent Southern Nevada at the Border War against a Utah contingent, a Ryder Cup format event that is scheduled for Nov. 8-9, 2019, at Palm Valley and Highland Falls. Each team has 12 players (four age 12-14 and eight age 15-18).
"This golf journey has now led me to help the Southern Nevada Junior Golf Association to be the best it can be," he said. "I can't believe how much I enjoyed the team aspect of it.
"Traveling and coaching the boys has just been great. They are great players to hang out with and they are anxious to learn. It's just been a tremendous time for me."