Henderson-Jackson, Cartwright-Jenkins Teams Claim Titles in State event
LAS VEGAS, Nev. (March 6, 2018)–The team of Ronda Henderson and Sherry Jackson rallied for a four-stroke victory in the gross division at the Nevada State Women's Golf Association's 2018 Partners Tournament while the Net Division featured two days of consistency from champions Linda Cartwright and Sandra Jenkins. — By Bill Bowman, Las Vegas Golf Insider staff.
The tournament was held at the Revere Golf Club's Lexington Course.
Gross Division
The team of Henderson-Jackson trailed by two strokes after an opening round 75, but a final-round two-under-par 70 gave them the come-from-behind victory.
"We definitely knew we could play better (Tuesday) than we did yesterday," Henderson said. "The biggest difference is that we had just two bogeys on the card today. Yesterday….well, we had a few more."
Henderson added the final nine holes of the second day, especially a four-hole stretch, proved to be the difference when they put three birdies on the scorecard.
"I birdied 12 and 13 and Sherry birdied 15 and then we knew we had a chance," she said. "We played even on the front side (the second day) and we wanted to shoot under par on the back and got that done."
Jackson said the event was one of those that brings out the camaraderie in everyone in the women's golf association.
"It's just a fun event for everyone," she said. "There's no pressure at all."
But, she added with a laugh, "Making a few birdies does help."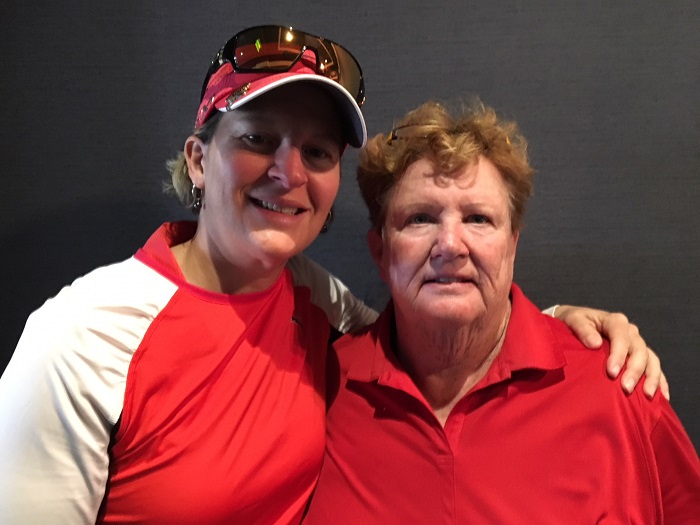 Gross
Henderson-Jackson 75-70-145
Kaili-Quietero 73-76-149
Jillette-Schnider 74-76-150
Net Division
Consistency was the name of the game for Cartwright and Jenkins. They carded net scores of 65 and 66 to hold on for a one-stroke victory.
"We definitely ham and egged it very well both days," Cartwright said. "And we made a few putts we had no business making. It was a very good team effort."
One of those was a birdie on the 13th hole in the final round. It was a 40-foot putt for the duo's only birdie over the two days.
Jenkins said that while they have played together in past events, this was their first team event.
"We just had two very consistent days," Jenkins said. "We were just trying to have fun and the golf gods were with us. We just kept taking turns making the putts when we needed them."
Net
Cartwright-Jenkins 65-66-131
Crichter-Lee 68-64-132
Kwon-Lee 70-66-136