It Was Business and Fun During 2021 WSNGA Team Play Schedule
After four months of matches while fighting with COVID-19 restrictions, it was the team from the Southern Nevada Golf Association for Business Women that walked away with the overall title in the WSNGA Team Play for 2021. The final, held June 8, 2021, at Las Vegas National, saw the Business Women beat Boulder City Purple to claim the crown. The gross champs were Canyon Gate and the net champs were Siena. –by Bill Bowman, Las Vegas Golf Insider staff.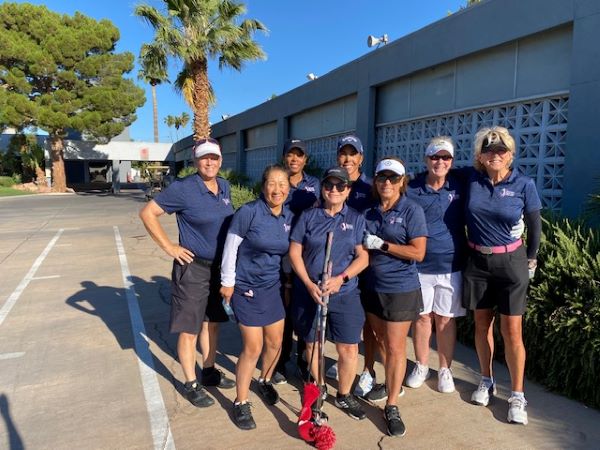 Members of the Southern Nevada Golf Association for Business Women championship team, which won the championship match 16.5 points to 7.5 points, included: Yoshie Masuda, Linda Berardo, Christine Soscia, Theresa Prospero, Kim Bazelle, Theresa Summers, Karen Huckabay and Margie Cashwell.
UPDATE June 28 from Linda Berardo: "I just wanted to mention that the ladies listed in this article for SNGABW were only the ones who played that particular day.  There were other awesome ladies who contributed greatly to the results for this year. They are: Lynn King; Nicole Nolan; Lorna Daniels; Maggie Bowgren; Gabriele Buonacorsi; Audrey Jordan; Danielle Kaylor; Laura Kennedy; Lisa Wiley and Sai King.  Thank you!"
The Team Play season, which opened at TPC Summerlin with matches Feb. 8-9, saw 17 squads from around the Las Vegas Valley (along with a team from Mesquite) battle through eight weeks of play (matches were every other week) setting up the finale. Each team consisted of eight players from each club who played Match Play competition.
In all, 407 women signed up at the various clubs and the 17 captains had the tough choice of picking each match. Players could only play for their home club.
The teams were separated into two divisions (red and blue) and the top finishing team in each division advanced to the championship match.
"When we started out with COVID restrictions we had to get creative," said Nancy Lauback, WSNGA Team Play coordinator. "With 128 ladies and having to go with just one player per cart we had to go split days for the first two weeks. That made it quite a challenge. Then the restrictions started to lift a little and we started to get back to normal."
Lauback said the 2021 season was a success and is looking for an even better 2022.
"Clubs from all around the valley really found the format to be great," she said. "They all love to compete and we've got another club joining next year from Mesquite. We will welcome them with open arms."
But with success also comes some challenges.
"We're about at our max with 18 teams," she said. "We're going to have to find solutions if we're going to keep growing."
Lauback also credited Sandy Barletta and Elizabeth Bridge for making 2021 a success.
"Sandy really created the Golf Genius format that helped us get truly organized when it came to scoring," she said. "Before, the captains were responsible for the scoring and it was a challenge. There were a lot of moving parts. Now, it's all electronic and much easier. But it was a huge undertaking and they made it work perfectly."
Members of the gross champions team from Canyon Gate included: Sarah Kim, Denise Shubeck, Jane Mercurio, Juliet Herbert, Jill Morrison, Rachel Chen, Jong Kadagian and Sharon Yu. Canyon Gate won the gross title, 6.5-5.5 points, over second-place Chimera Black.
Members of the net champions team from Siena included: Lisa Houser, Jin Gweon, Nancy Guastaferro, Lek Eaton, Lori Koentopp, Marcia Freehof, Sharon Mahar and Melissa Miller. Siena won the net crown, 9.5-2.5 points, over runner up Red Rock Country Club.