PGA TOUR Superstore Master Fitter Chokes Up Thinking About Helping You Improve
Bobby Weaver has been helping golfers improve their games for a quarter century, the last several years at the PGA TOUR Superstore in Downtown Summerlin. When he pondered the last 25 years, he got emotional thinking about all of the golfers he has helped while looking forward to helping more via custom club and putter fittings. –-By Brian Hurlburt, www.lasvegasgolfinsider.com
"Wow, I can't believe it has been 25 years," Weaver said, wiping away the tears that symbolize how much he cares about his given profession. "I love helping golfers improve and I get to do that on a daily basis."
Here is the Summerlin location information and how to reserve a fitting appointment with Weaver or the other qualified fitters.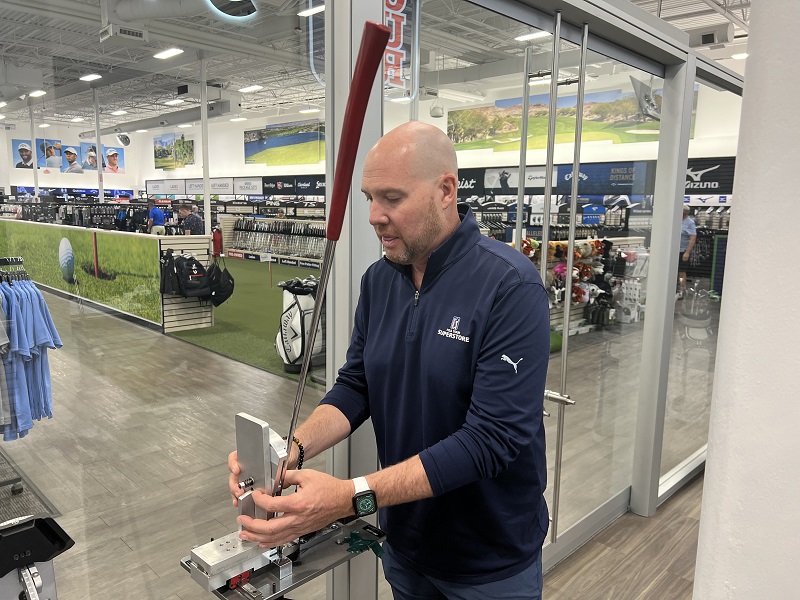 After the reminiscing, Weaver got down to business and provided a tour of the state-of-the-art fitting studios at PGA TOUR Superstore, highlighted by one piece of innovative technology.
Weaver got started in his native Pennsylvania but headed to Vegas about 20 years ago for a position at the old Callaway Golf Center. He then worked at Las Vegas Golf and Tennis before landing at the PGA TOUR Superstore where he artfully fits golfers in the state-of-the-art studios.
"Our facility offers everything that a golfer needs from our loft-lie machine for putters, our digital loft-lie machine for irons and wedges, all of our swing weight scales for balances to make sure the golf club's not too heavy or too light for the individual," said Weaver. "We are using Trackman with special RCT golf balls provided by Titleist that are radar capture technology golf balls and specifically made for Trackman, so we get the best swing and spin readings and clubface impact readings. We also offer hundreds of shaft variations and other top-line club tech.
"One of my favorite toys this year that I get to utilize is the Sam Putting Lab. It's science and motion, and basically a putting x-ray machine as I like to describe it. A golfer takes seven putts with current putter and we can then recommend loft and lie angle, head flow, head shape, grip, size, length, everything you need for the best putting results."
View this post on Instagram

Ah, the SAM Putting Lab. Weaver loves The SAM so much, he put me through a putter fitting, ultimately suggesting a bend of my Scotty Cameron Putter. He also detected an out-to-in stroke that will be helped after going through the fitting session. Sometimes the putter fitting results in a new putter, but sometimes it is just a tweak of the golfer's current equipment.
"It seems like most of the time, when golfers think about club fittings, they think driver or irons, but a putter fitting can end up being the most important fitting a golfer can get," Weaver says. "I can help a golfer save a few strokes a round on the greens and that is huge."
According to statistics, 43 percent of the golf shots are putts, however, putting is rarely trained systematically. Neuroscience tell us that efficient learning is all about accurate feedback. SAM PuttLab offers the most efficient technology to train for ascertainable success. Testimonials of many Instructors and PGA Tour Pros attest the unique abilities of SAM PuttLab.
Weaver shared that during an episode of Full Swing on Netflix, Brooks Koepka rolled 3-foot putts in his SAM Putting Lab for 30 minutes in preparation for an upcoming major. Dozens of PGA Tour pros have adapted the technology.
The SAM Putting Lab is the Ultimate Putting Analysis
DISCOVER INDIVIDUAL STRENGTHS & WEAKNESSES
Measurement of 70+ putting parameters
Direct comparison to PGA Tour performance data
Customizable result reports for different performance levels
KR feedback during training for all relevant aspects