WSNGA Outlook – Building Upon Momentum Heading into 2023
Rusty Beckel, Women's Southern Nevada Golf Association president, sees good things in the past, but even more in the future. At the December 2022 SNGA annual board of directors meeting, Beckel shared information and also spoke about the state of the WSNGA. –By Brian Hurlburt, founder, www.lasvegasgolfinsider.com
"Our focus is to create community, growth and sustainability of the game by connecting women through events, communication and networking," says Beckel, while adding that the WSNGA enjoys around 3,000 members who each carry a USGA handicap.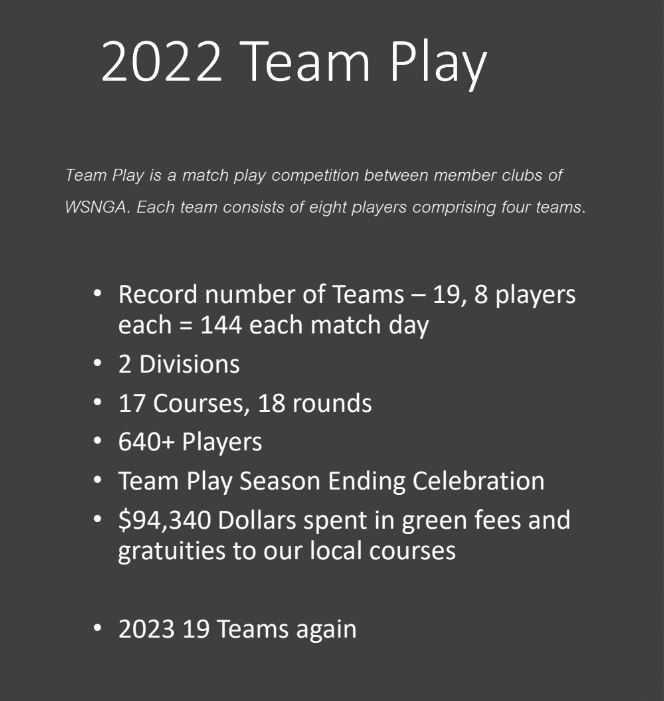 WSNGA events include competitive tournaments, team play and fun days.
In 2022, the Team Play Program set records for participation with 647 unique golfers playing in the expansive schedule. The tournaments bring women together, but also make a positive impact on the local golf economy. Overall, when statistics include repeat players, the team play events include hundreds of rounds.
"It was a good year with 19 teams of eight players in two divisions," Beckel says. "I also think it is important to make sure people understand that the team play program alone generates $94,340 for the community in green fees and gratuities. So, we offer a positive value proposition here in addition to creating a community for our women."
Beckel and her board are now focused on 2023 and looking to create even more benefits and increased participation at all levels. The WSNGA organize, oversee or promote the most prestigious women's tournaments in Southern Nevada and also key state tournaments. An in depth 2023 schedule is nearly complete.
The "fun days" are designed to get more women golfers participating in WSNGA events and hopefully joining and/or becoming more active within the association.
"Our fun days create just that, a lot of fun for the ladies," Beckel says. "The events are geared more towards the non-competitive golfer and the golfer who doesn't yet have a handicap. When we have our fun days, we add things that really appeal to women like the format, the time of day, including brunches and other fun ideas. We also offer a small buy-in component for those ladies who want to try their luck at the gross or net competition. We are also continuing to focus on diversity and also reaching out to Mesquite, Pahrump and other surrounding locales within our Association borders."
In all, the WSNGA serves as the women's golf hub in Southern Nevada. A goal for 2023 is to add even more communication via the official WSNGA website and also ensure a global Southern Nevada women's golf calendar is always updated so women's events aren't scheduled as to conflict with other events. The calendar features not only WSNGA events, but also key club events, etc.
"The WSNGA is a unique organization that connects women golfers of all ages and skill levels together in our golf community," Beckel says. "While we all enjoy raising a trophy at an event, the real WIN for our women are the lifelong friendships they develop and the connection they share across women golfers in southern Nevada and elsewhere. Also, I want women to understand that all women golfers who carry a SNGA/USGA handicap can participate in many of our events.
"Golf is a wonderful sport that creates a healthy outlet for women of all ages, skill levels and physical ability. The beauty is that it is an individual game so you control your own progress. And it's never too late to start."