Community Generosity Inspires Golf Fore Kids Toy Event In Mesquite
It is now an annual tradition in the golf mecca of Mesquite, Nev., located about 77 miles North of Las Vegas. Each year, several golf courses are donated and golfers tee it up on Golf Fore Kids day via a green fee of one toy or toys of at least a $75 value. The toys are then distributed to underserved children in the community. –By Brian Hurlburt, Founder, LasVegasGolfInsider.com
More than $850,000 in cash and toys has been raised over the years and the event sells out four courses with ease. In fact, the first three courses sold out in mere minutes in October 2022 when registration opened.
"We are so excited about the 18th Annual Golf Fore Kids and the community support for this event has been astounding," says Brian Wursten, Mesquite Gaming's director of golf. "What is very important to understand is that this is a complete community event and everyone supports it and gets involved. It's difficult to mention everyone, but the volunteers that sign people in, the police department, the course owners and management that donate the courses, the CasaBlanca gives us the room, the Salvation Army, the fire department and others do so much. This is part of the fabric of Mesquite and that is very, very special. We are so appreciative of that support."
The Golf Fore Kids is a 4-person scramble golf tournament created to aid underprivileged children in the Virgin Valley, Moapa Valley, and Scenic/Beaver Dam/ Littlefield areas during the Holiday Season. The 2022 event was Dec. 8 and played at Falcon Ridge, The Palms, Canyons and Conestoga golf courses. 
All toys gathered are distributed by the Salvation Army, Mesquite Fire Department, Mesquite Police Department and local schools. It is truly a community-wide event that golfers in the area take pride in and look forward to each December.
Official totals for 2022 are still being determined, but Wursten says it will be more than the very successful previous years. Besides the hundreds of toys, in 2021, the event also generated funds of $6,621 that was presented to the Salvation Army. Golf Fore Kids committee member Karen Fielding presented the check to Salvation Army Director Bill Ennis along with Larry Wait.
"Each year you want to be more successful than the previous year, but when you are full you are full," Wursten says. "But this year we raised the entry fee from $50 to $75, so by that we will be more successful. At this point, it looks like we have at least 100 bikes and many, many more toys. It's a sight to see."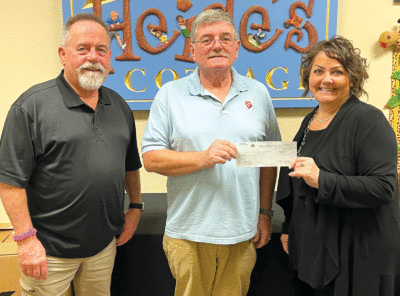 Ennis said that 100 percent of the donation money stays in Mesquite and helps provide food, clothing, housing, and incidentals to local residents in need.
But even more than the money and toys raised, the community spirit is always on high during this time of the year.
"So many people tell me that this is their official kick off to the holiday season and puts them in the Christmas spirit," Wursten says. "The spirit of giving is felt throughout Mesquite and I also feel that this is my start to the holidays. It is now an annual tradition and seeing everyone come back year after year is wonderful."
To get involved in 2023 or stay up to date information is available at www.golfforekidsnv.org