Custom Scotty Cameron Putter Is a Women's Golf Day Highlight
Justin Abea loves golf and, more importantly, appreciates how much women golfers embrace the sport. He has customized a 2018 Scotty Cameron Newport putter with various colors to be raffled off June 7 during the Women's Golf Day event at Las Vegas National Golf Club. –By Brian Hurlburt, founder, www.lasvegasgolfinsider.com
"I just love to see women enjoying the game and being involved, and I know they have a passion for golf," says Abea, the owner of GC Studios in Las Vegas. "Most of my orders and what I have seen has been geared towards men, so I wanted to put some emphasis, especially in the golf customization business, towards women to harness that love and appreciation."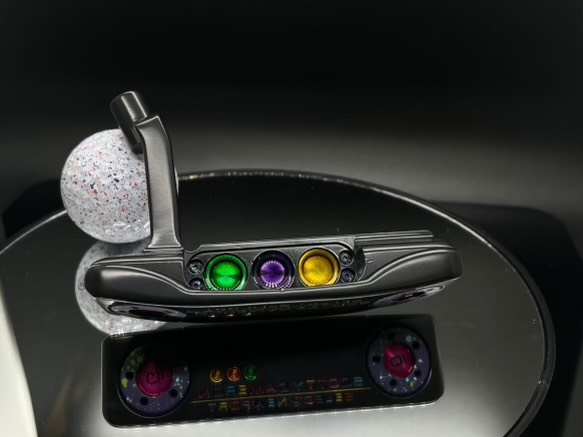 The Cameron putter and the custom cover from Crown Golf is part of the raffle that will raise funds for the Southern Nevada Junior Golf Association and is part of the overall festivities at the historic Las Vegas National Golf Club. Other parts of the day include a continental breakfast, a golf clinic from 9 a – 1 p with PGA and LPGA professionals, lunch and fun. And the raffle. Also, each participant will receive a swag bag full of goodies. All for only $30.
Women's Golf Day is a national initiative to grow the game and show appreciation to women players. It is a collaborative effort by a dedicated team, golf management companies, retailers and organizations all working together to engage, empower and support girls and women through golf. The four hour experience allows a simple and accessible platform to build a foundation and creates a network to support the continuation of golf no matter what skill level or interest while engaging them in a charitable cause with global impact from a local level.
Las Vegas National has a long history of supporting women's golf, dating back to the playing of the LPGA Championship from 1961-66 at was then called the Stardust Country Club. The course is also a previous host of the PGA Tour, including in 1996 when Tiger Woods won his first PGA Tour event.
Besides the customization, Abea also offers work to help improve your game including adding mill ports, fixing scratches or dents and other services that he will continue to expand as he goes. Customizations focus on drivers and putters, for the most part. Abea can be reached on Instagram @gcstudio_official or gcstudiolv@gmail.com.