Ebalo, Sigsbee Duo to Play USGA Four-Ball in Alabama
SNGA members Kenny Ebalo and Shane Sigsbee aren't strangers to USGA national events and are adding another one to their list of golf accomplishments. The two qualified as a team for the Men's Four-Ball May 14-18 at the Country Club of Birmingham (West Course), Birmingham, Ala. The good friends and teammates are ready and will appreciate each moment. –By Brian Hurlburt, Las Vegas Golf Insider.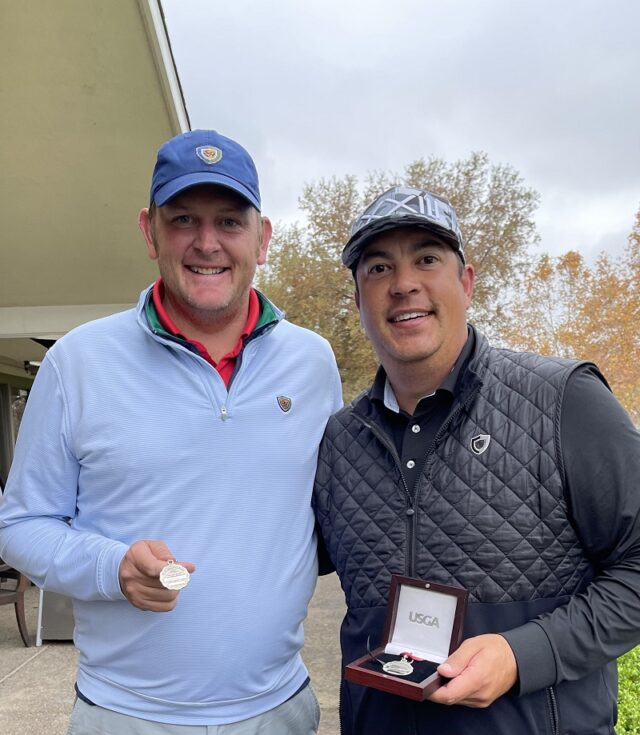 Ebalo and Sigsbee qualified as the low medalist team with a 63 at Del Paso Country Club in Sacramento in December 2021. The two play out of Southern Highlands Golf Club.
"The first thing that comes to mind is I get to play another USGA event and that is always special, and the fact that I get to do it with Shane, one of my best friends, is really an honor," says Ebalo, also the SNGA president. "We've both played in this event with other guys.  I qualified with Todd Roberts one year.  But a few years ago we partnered in the Anderson Memorial at Winged Foot and won and decided then, that we should play this event going forward."
For Ebalo, this will mark his eighth USGA event while Sigsbee's appearance is his ninth in a USGA tournament. Ebalo made it to the round of 32 as the five seed at the 2014 U.S. Mid-Amateur while Sigsbee made it to the round of 16 in a U.S. Mid-Amateur appearance.
Kenny Ebalo USGA Events
U.S. Amateur – 2
U.S. Mid Amateur – 3
Four-Ball – 2
State Team – 1
Shane Sigsbee USGA Events
U.S. Junior – 3
U.S. Mid Amateur – 3
U.S. Amateur – 1
Four-Ball – 2
"This is a great opportunity to play in another USGA event, and they run the best amateur tournaments and each experience in them is so memorable," Sigbee says.  "As I get older and golf becomes less of a priority compared to work and family time, you sometimes wonder if you'll ever get in another one.  So, I'm just so excited for the experience and plan to enjoy every minute of it."
The two are scheduled to tee off at 10:48 am in round 1. Find complete Four-Ball information here.