General Manager Spotlight – Kevin Swain at Durango Hills
For PGA of America professional Kevin Swain, things are a little bit different these days. In November 2022, he was named general manager at Durango Hills Golf Club, a facility with a different pace and feel than the par 72 resort, daily fee courses that he was used to leading. –By Brian Hurlburt, www.lasvegasgolfinsider.com
"It's just different, but it is a good different," Swain says. "Durango Hills is a good, fun golf course that is a terrific value. It really is a nice offering for the guests. They can play a round in less than three hours for a good rate and have a lot of fun. And that is what golf is all about."
Durango Hills is a par 58, executive course owned by the City of Las Vegas and managed by the award-winning Troon Golf. There are 14 par 3 holes and four par 4 holes designed by Lee Schmidt and Brian Curley. There are Platinum unlimited memberships available plus Durango Hills is included in the Troon Golf Vegas Card that offers reduced rates. Plus there are tournaments and leagues available.
Durango Hills is very walkable, and rates for Southern Nevada residents vary from about $17 – $38, depending on time of day and time of year and walking or riding.
You can visit the official Durango Hills Golf Club website here.
Swain first came to Las Vegas in March 2006 fresh from earning his Professional Golf Management degree from New Mexico State University. He was hired as tournament coordinator and assistant golf professional by Randy Weigman at the Legacy Golf Club. He was there for 11 years and worked up the ranks to interim general manager. He then became the director of golf at Arroyo Golf Club for five years before seeking out the unique opportunity at Durango Hills.
Short courses like Durango Hills are becoming more and more popular as golf continues to boom post Covid-19. The layout is both player and wallet friendly, and allows more inexperienced players a chance to learn the game and hone their skills, while offering a challenge to more seasoned golfers.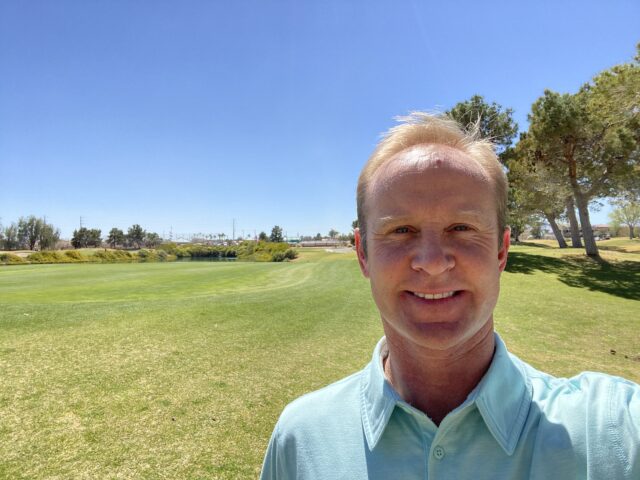 "Durango Hills is easier to get around and also to find your way around the golf course, so that is nice for a lot of players," Swain says. "We definitely have a lot of new people to the game that play here. Even though they may not know a lot about the game of golf or the etiquette and other ins and outs, they still get around pretty well and enjoy themselves. What is nice is that if they decide to not play every hole or pick up during a hole, they don't feel like they are totally getting a bad deal because they didn't pay 50, 60, 70, 80, or 100 dollars like they would have at a championship course. We are very welcoming to all of the golfers and try to help them enjoy the game. We want them to have a great experience and come back again and again."
But Swain says Durango Hills isn't just for beginners. It is a fun and challenging layout for all levels of golfers and is a great place to improve the scoring-zone shots.
"Right out of the chute, golfers have to be ready because from the back tees the first hole plays 160 yards and then number two plays 205 yards," says Swain, who hails from Jal, New Mexico, home of LPGA Hall of Famer Kathy Whitworth. "Our par 3 holes range from 130 to 225 yards and then we have the four shorter par 4 holes. There are also a lot of bunkers, so that adds challenge for everyone. You definitely will hit a variety of clubs, and you better stay focused if you want to post a good score."
Swain's ongoing goals at Durango Hills are to continue to enhance the facility in a variety of ways and to also create a series of educational golf videos to assist the inexperienced players. Look for those on the Durango Hills social media channels soon.
Personally, Swain is getting married to Stacie in September and also has two daughters, Aislynn and Charlotte.