GOLF & GLAM By Seema Sadekar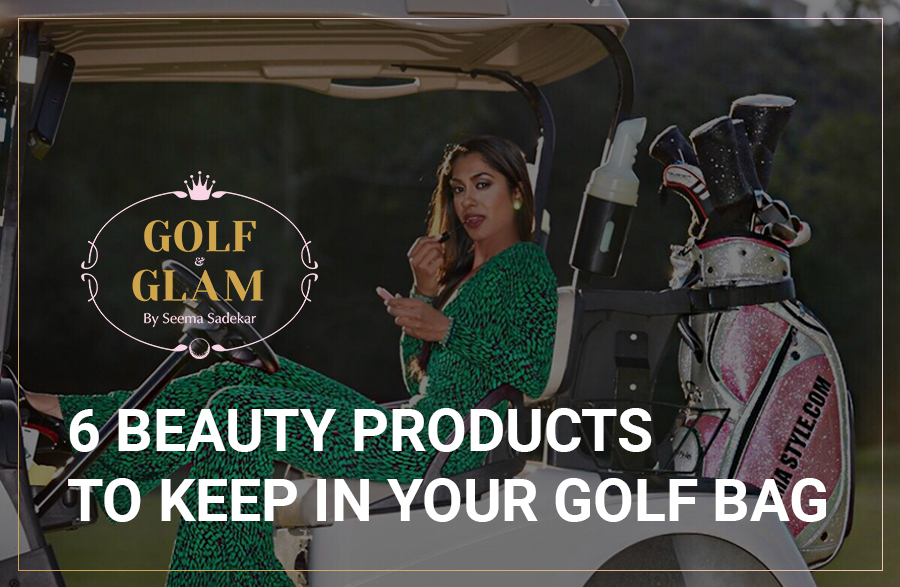 Seema selects the Top 6 items to carry in your golf bag for summertime fun and freshness!  Think ahead for the summer and make sure to pack your golf beauty bag to put inside your golf bag so that you can make it from the 18th hole to the 19th hole with ease (links to the items in each headline):
1. SUNSCREEN | Love Sun Body
Love Sun Body is my choice of sunscreen to make sure that your skin is protected from the sun so you can shine bright on the course.  Love Sun Body is a 100% Natural Origin Mineral sunscreen, and every product is biodegradable, and the packaging is recyclable. Sunscreen is so important to wear, especially in Las Vegas during the extreme heat.  As it gets hotter in Las Vegas, try Love Sun Body as your summer sunscreen choice.  Be natural, be safe and take care of your skin.
2. HAND SANITIZER | AMP'd UP  
AMP Medical and its manufacturing partner have produced an FDA approved Medical Grade Gel Hand Sanitizer that properly protects and moisturizes the skin while providing residual germ killing after the ethanol has evaporated. The smell is comprised of Aloe Leaf Juice, Vitamin E, and Eucalyptus Leaf Oil for a pleasant aroma, your skin is soft after use, the safety results are second to none and the effects last longer than other sanitizer. AMP'd UP is formulated to preserve the skins health with an enriched moisturizing agent to condition and soothe, while preventing the spread of illness and infection causing germs.
3. BODY AND FACE CREAM | The Better Skin Co 
The look of your skin and hands can give a glimpse into your age, especially when we are exposed to the sun daily. It is essential to make a habit of applying hand and face cream throughout the day.  Sunscreen is always important, but skincare in the morning and evening, before and after you play golf is important too.  I make it a point to wash my face twice a day, and my hands, many times a day.  Applying the right moisturizer to keep your skin hydrated consistently is important. Better Skin Mirakle by The Better Skin Co. is an all purpose cream that reduces the appearance of fine lines and wrinkles on your face and hands while assisting with hydrating your skin.  If you carry Better Skin Mirakle in your bag, it is one lotion, for all over.  Stay hydrated with Better Skin Mirakle.
4. FACIAL MIST | Indie Lee 
A must have product to have in your golf bag is a facial mist. There is no better feeling on a hot day than to cool your face with a hydrating and silky spray mist. My recommendation is the Meditation Facial Mist by Indie Lee.  It has a special spa scent, it is relaxing, and if your round needs a lift, Indie Lee Meditation Facial Mist can provide a sense of calm and overall well-being in the moment.  The restorative aromatic essence will allow you to take a deep breath and allow you to cool down while you continue to glow throughout your round.
5. LIP CONDITIONER  | Vapour Beauty
Lip care in Las Vegas is an absolute must year round, but the summertime can be a bigger challenge.  It's important to keep a hydrating lip balm in your golf bag at all times.  Lips are sensitive, they can crack and burn due to dryness if ignored and exposed outdoors.  My lip balm of choice is the Lux Organic Lip Conditioner by Vapour Beauty.  It is a synergistic organic blend of botanicals that soothe, condition and protect delicate skin with one creamy, luxurious swipe.  Lux Organic Lip Conditioner is formulated without heavy chemicals and leave your lips feeling soft and smooth throughout your day.  Try using Lux before and after your round, and in between if needed.
6. SMALL PERFUME | NEST 
Smelling nice after 18 holes is a 19th Hole necessity. After finishing your final hole, before heading into the lounge for a cocktail with your group, take out a small perfume to spray on your wrist, under arms and neck. The NEST Sunkissed Hibiscus fragrance is the perfect beauty product to carry in your bag, and it smells so fresh and clean! NEST Sunkissed Hibiscus comes in a travel size and is a refreshing scent made of golden amber, layers of classic white and tropical florals with hints of creamy coconut.  It will wrap you in a bliss making you feel like a golf goddess as you sip on your clubhouse cocktail and make adding up your scorecard a special treat.