It's All About Family at the Three Golf Summerlin Courses
Family is important. Whether you're getting together in good times or bad, you can always rely on your family for unconditional support. Just ask Donny Long, Jim Neighbors and Brittney Senko who, between the three of them, have 70 years of experience with the Golf Summerlin family of courses. –By Bill Bowman, www.LasVegasGolfInsider.com
Neighbors, the Highland Falls head golf professional and Golf Summerlin merchandiser, has been with the Golf Summerlin family for 30 years while it's a 20-year run each for Long, the director of golf, and Senko, the office manager/marketing coordinator.
This trio has been the cornerstone of the Golf Summerlin three courses–Highland Falls, Palm Valley and Eagle Crest.
"It's really the fact that everyone takes pride in their job and wants to make sure we succeed," Long said. "We're all a team and working for the same goals."
Long said the staff knows it takes effort by everyone to be a successful operation.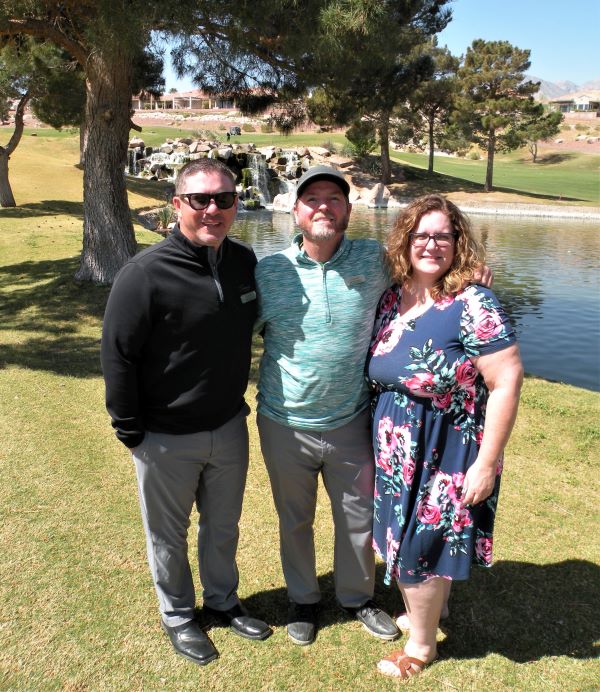 "We may not hang out together every day after work but we do get together," he said. "And that really brings out the camaraderie. And it's a one-for-all attitude. If one of the courses needs anything, we'll work with the other courses to make sure everything's covered. And everyone is more than happy to lend a helping hand if they can."
And that all leads to the main goal at Golf Summerlin: Make sure everyone enjoys each and every round.
That starts at the top with management.
"We have an executive director and board of directors," Long said. "They hold us responsible but they let us do our jobs and that's what it's all about. We aren't micro-managed. That's one of the main reasons we've been able to keep so many long-time employees."
Long added the courses have come a long way since the early days when there were struggles to keep up course-conditioning on three layouts.
"The board listens," he said. "If we need to redo greens or bunkers, we'll bring it to the board and get it figured out. And the conditions we've got now are great. We've had golf pros who have played and tell us they have never seen the courses in this good of conditions. That's just a great tribute to the superintendents and the staff as a whole."
And that brings it back to everyone talking about the group being unified.
"It's just like a family," Neighbors said. "The flexibility they gave me when raising my children was important. I've never forgotten that. I didn't have to miss any of their activities. I was fortunate enough to be able to be there for my family."
And now he's still hard at work at Golf Summerlin with his second family.
"They were loyal to me and I feel the same way," he said. "All of these people are working hard every day to make sure we offer great golf."
It wasn't always easy.
"It was back in '04 or '05 when we redid all the greens," Neighbors said. "It was a challenge because we were shut down for four or five months. But we needed to be. It was tough at times to take money from players with the conditions we had. We needed to get better."
But, like a family, they all hung in there together and turned the corner.
"It was truly a team effort to get the good conditions like we have now," he said. "Ever since we redid the greens, we've had as good of conditions as anyone in town for the amount of rounds we do. It just shows how important these golf courses are to the community."
And there's more to the family ties.
"When COVID hit, our board of directors said this isn't (the staff's) fault and they shouldn't be punished," Neighbors said. "They allowed us to stay employed. I just thought … what a great company to work for."
The feeling down the line of this trio is mutual.
"Family is a good way to look at us," Senko said. "We're friends as well as co-workers. It just works well and we really look out for each other. I'm very fortunate to love coming to this job every day."
Take into consideration one more factor and you'll know she really means it's a job she enjoys: Senko doesn't play golf.
"I have so many friends who can't believe I'm still here," she said. "I don't play golf but I do know the golf industry. We've all been here through the good and bad times … just like a family."
While the Golf Summerlin courses have always been favorites, especially of the locals, Senko knows there's no time to rest.
"When we started, we were all pretty young," she said. "And we've learned a lot. We're always looking at what's coming out. Are we doing this, are we doing that? We're constantly looking ahead as to how we are going to approach making sure we always offer the best product we can."