Khamis Looks Back, Forward As Secretary Stint Ends
LAS VEGAS, NV (Jan. 10, 2020)–Tom Khamis knows helping an organization to not only survive, but thrive is a tough task. But it was a task he took to heart as the secretary for the SNGA. Now, after 14 years in that spot, he's passing the torch. It's a job he's loved and one he never took lightly. –by Bill Bowman, Las Vegas Golf Insider staff.
"The SNGA staff is really something," the 80-year-old says. "Of all the people I've been associated with, these are the highest quality. They brought the association from a pretty low point to beyond expectations. It's been great to work with all of them."
And he added it wasn't just the SNGA that helped out in the time of need.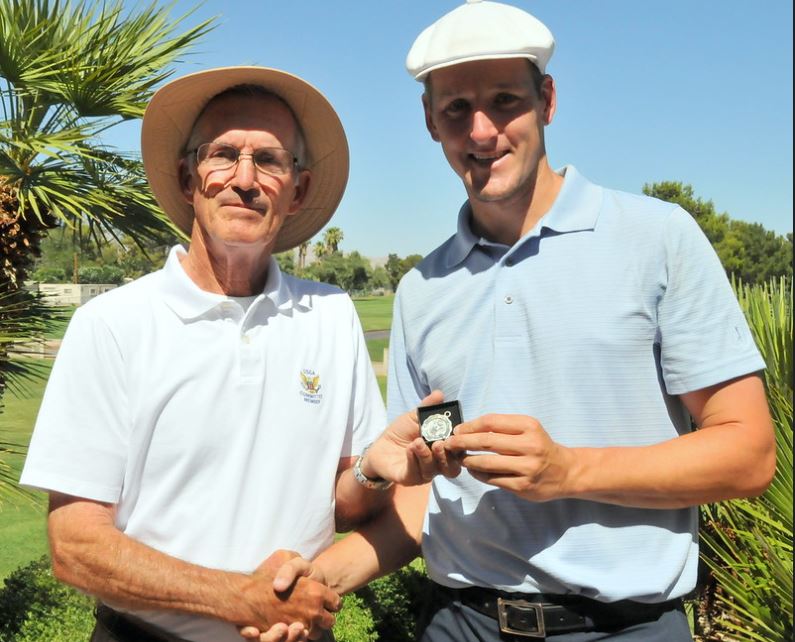 "The golf pros, the course workers, the general managers have all stepped up to embrace golf," he says. "You ask a course, 'can you do the Open qualifier for us?' and then the next guy volunteers for an event. The more we interact, the more they understand. The word has really gotten out. Let's all work together."
Khamis said his main job as secretary was simple: "I just kept the minutes," he says. "I just reminded the group what we had talked about. That way we could discuss if things were working and if we wanted to keep going in that direction going forward. They were great meetings. They were always all-inclusive and that's what I liked. Everyone was just trying to accomplish the same goals for the SNGA."
And those goals have seen the membership skyrocket from about 8,000 around 2008 to the current number of 11,400.
"It's really come alive," Khamis says. "Ann (Sunstrum, SNGA Executive Director) and the rest of the group have done outstanding work. And it's only going to get better."
Khamis also reflected on his time as a rules official.
"Sue May actually got me interested in it," he says. "She guided me on the right path. I'd go on the website to get the practice questions and went to USGA seminars and after seven or eight times, I finally passed."
He admits it wasn't easy.
"It is a toughy," he says of the testing. "You really have to be sharp on your book. I've worked at a golf course, knew golfers and thought I knew the rules pretty well. I thought I'd give it a shot. Well, that got me to about 50 percent. I went to the rule book and finally got it. Believe me, these guys who are the rules officials really know their stuff."
Now, he plans to spend even more time on the course…if that's possible.
"I work at a golf course (Wildhorse after stints at Black Mountain and Las Vegas Golf Club), I still do course ratings and I'll still play in SNGA events," he says. "I've just enjoyed staying busy with golf since I retired from teaching at Western High School (concluding a 29-year-stint in the Clark County School District). I also helped out with the golf team back then. The star player then was Robert Gamez at Clark … so it has been awhile."