Lytle-Mitchell, Kanda-Haney Duos Qualify For 2024 U.S. Amateur Four-Ball Championship
The duo of Scott Lytle and Matthew Mitchell earned medalist honors at the 2023 U.S. Amateur Four-Ball Sectional Qualifier. That win earns them a spot in the 2024 U.S. Amateur Four-Ball Championship. The team of Brett Kanda and Grant Haney also qualified for the finale which will be held May 25-29, 2024, at the Cricket Club in Philadelphia, PA.–by Bill Bowman, Las Vegas Golf Insider
The one-day qualifier was held Aug. 28, 2023, at Mountain Falls Golf Club in Pahrump. The format for the event was best-ball as players on each team both played through the hole with the low score recorded.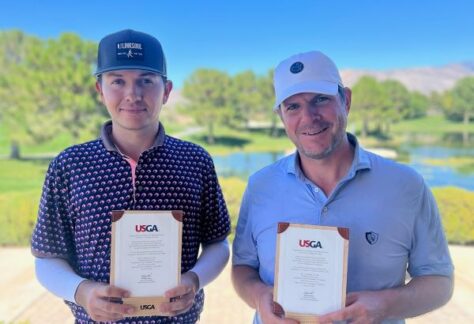 The Lyle-Mitchell team put an eagle and eight birdies on the scorecard and wound up with a 10-under-par total and earning medalist honors by one stroke.
The duo came out with pars on the first two holes but then turned up the heat, playing their next eight holes in eight-under-par, recording their eagle and six birdies.
Lytle said that stretch certainly gave them confidence.
"We both had pretty disappointing Mid-Am qualifiers last month so this was a good consolation prize," said Lytle, who works for an investment bank out of San Francisco. "Matt shot 3-under in Reno and missed it by a shot and I double bogeyed the last hole and missed."
As a team, Lytle and Mitchell teamed up well.
"We were both in every hole and that's good," Lytle said. "We had looks about every hole and from (hole) five through 10 Matt's putter was unconscious. He made putts on four of five holes and they were all in the eight-to-20-foot range so they weren't gimmes."
Lytle added Mitchell, a recent UNLV grad who played baseball for the Rebels in 2021 and attended Bishop Gorman his freshman through junior years of high school, poured in the eagle putt that came at the start of their hot stretch.
"Matt made about a 20-footer and we needed it," Lytle said. "We went out pretty late and were figuring nine-or-10 under was where you wanted to be and we got there."
Now it's on to the national spotlight.
"It's my first USGA national event and also Matt's so it's going to be great," Lytle said. "I wish it was tomorrow…but it's not until May. We play a lot of golf together so there won't be a lot to work on. We'll just give it our best shot."
Kanda, who played his college golf at UNLV, and Haney also had a hot streak as they started on the back nine and then made the turn. A hole-out for eagle at the first hole sparked their five-under-par run over the next five holes.
"This was a lot of fun," said Kanda who graduated from UNLV in 2010 and is working in the technology industry with drones and is based in Vegas. "This was our fifth year trying. We came close last year but made it this year."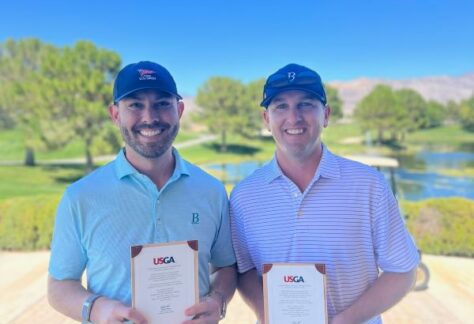 Kanda said this year was different.
"We both felt this was the most prepared we have been," he said. "We just came out and had a lot of fun. We tried to stay sharp mentally and just make as many birdies as we could."
Along with that eagle.
"That was very nice," Kanda said. "I was 63 yards out and chipped a 60-degree wedge. That was definitely a big boost for us."
He added teaming up with Haney is nothing new.
"We grew up in the same city and at the same golf course (Glendale, CA, and Oakmont Country Club) so we've been best friends for a long, long time," said Kanda about his friendship with Haney, who lives in New Orleans, LA, and works in the oil industry.
Now it's on to next year's finale.
"We're old and we need that much time to recover and prep," Kanda said with a laugh. "But we are going to try to win the thing. We'll have to play great, there's no doubt, but we are definitely going out there to win."
2023 U.S. Amateur Four-Ball Sectional Qualifier
Scott Lytle-Matthew Mitchell, 62, medalists
Brett Kanda-Grant Haney, 63, qualifiers
Rob Stratton-Daniel Starzinski, 64, first alternate
Jalen Griffin-Toby Briggs, 64, second alternate
Joshua Goldstein-Sean O'Donnell, 64
Dalen Demary-Abe Candelaria, 64