Parker, Morrison win 2023 Women's Southern Nevada Am Plus Silver Cup Team Determined
Zoe Parker (gross) and Jill Morrison (net) won individual titles in the 2023 Women's Southern Nevada State Amateur. The two-day event was held May 15-16, 2023, at Las Vegas National. The event was also the qualifier for the Southern Nevada Silver Cup team.–by Bill Bowman, Las Vegas Golf Insider staff
Gross
Zoe Parker birdied two of her final three holes to win the gross division by four strokes.
It was Parker's first state title and she credited her play on the par 3s with being the key.
"My irons were really solid on the par 3s," said Parker who will be a junior at Bishop Gorman.
She came into the tournament focused and said her mindset paid off.
"My goal is always to win and I'm glad I was able to see it through," she said. "I just played pretty solid both days."
She admits there's still work to be done on her game.
"My putting and short game have come a mile but they both still have a long way to go," she said.
And while she came in with the goal of winning, her recent play left her a little concerned.
"I played in the Border Wars (a junior event pitting Southern Nevada players against Utah players) and I didn't play well at all," she said. "But it's golf and it all worked out for the best this week."
Now it's on to the summer season.
"I have a lot of tournaments lined up for the summer and this will boost my confidence going forward," she said. "It's good to get back into tournament mode rather than just spending an hour or so practicing. It makes you focus more."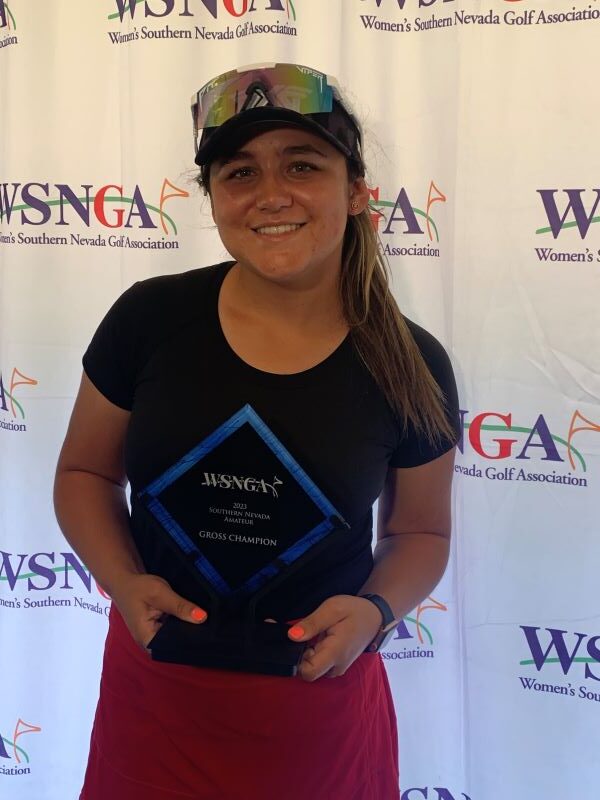 Gross
Zoe Parker, 75-70—145
Natalie Cheong, 76-73—149
Brenda Knott, 80-78—158
Net
Jill Morrison had nine net birdies over the two days, including three in her opening six holes of the final round, in winning the net title in a scorecard playoff.
It was also Morrison's first state title.
"One hundred percent it's my first state title and I'm very excited," Morrison said.
Morrison said the key was thinking her way around the course.
"Sometimes getting better at golf isn't the key," she said. "It's playing smarter and that's what I did the last two days. If I knew I couldn't get to the green in regulation, I stayed within my game and just tried to get up and down. And I made a lot of key putts that really helped."
She said two holes stood out for her.
"One was where I came up short of the green," she said. "I had to hit a super Phil Mickelson-type flop shot over the bunker. I committed to it and hit a great shot and made the putt for par. The other one was I got in the trees and just had to chip out. I then got onto the green and made about a 20-footer for par. I was super-proud of both of those holes."
In the end, the title is great but Morrison said the memories are just as important.
"Playing with these great ladies makes me a better player," she said. "I just tried to play smart golf, did the best I could and had a little fun. After all, at the end of the day, it's just a game."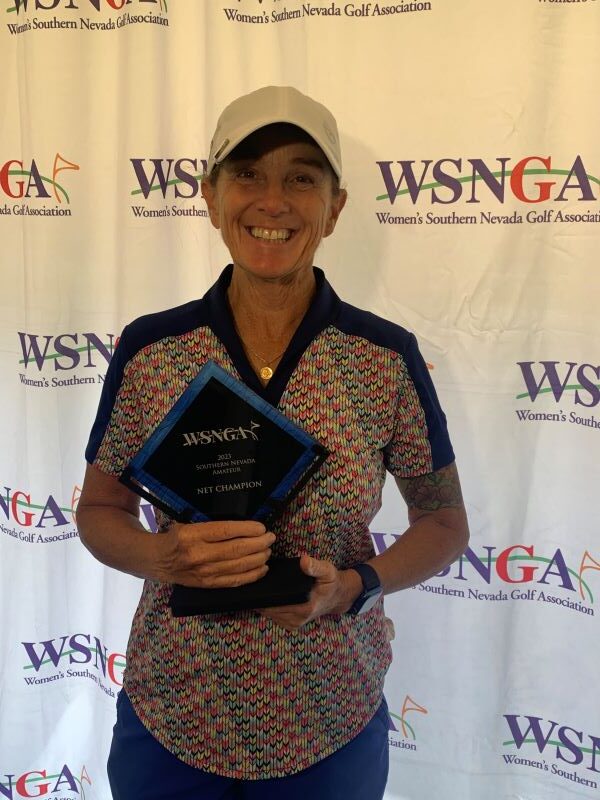 Net
Jill Morrison, 71-71—142
Helen Welsh, 70-72—142
Tracey Blake, 77-66—143
Silver Cup Qualifiers
Nine gross and nine net players qualified for the squad that will represent the South team at the 2023 Silver Cup which will be played Sept. 12-14, 2023, at Dayton Valley Country Club.
The tournament pits the South against the North in a Ryder Cup style format.
After winning last year's match, the North holds a 17-12 edge.
"Overall, this team has a lot of experience," said Regina Quintero, co-captain along with Christina Soscia. "We only have three or four first timers and that should be to our advantage."
The South is coming off a loss in 2022 and now trails 17-12.
Quintero said the team will be working hard to get back into the winner's circle.
"We're going to work hard from now until the competition dates," she said. "We're going to make sure we get out on the course and play the different formats. They may be playing again their teammates but they will still get the chance to feel the pressure of maybe being down in a match and trying to come back. It's just going to give the players the chance to play the different formats and see how everyone reacts."
In the end, the qualifiers have impressed Quintero.
"I think we have, on both the gross and net sides, people who can play well," she said. "And they are going to be able to hold their own.
2023 Southern Nevada Silver Cup Qualifiers
Gross players: Ronda Henderson, Regina Quintera, Brittany Bronson, Rusty Beckel, Christina Brandt, Carrie Langevin, Renee Rocco, Yoshie Masuda and Laura Smith. Alternates: Debbie Love and Margie Caswell.
Net players: Jill Morrison, Brenda Knott, Deb Headley, Donna Roush, Sherry Jackson, Karen Schroeder, Robin Rakusin, Kathy Yee and Leinani Yosaitis. Alternates: Faye Geddes and Juliet Hebert.